Cincinnati Bengals Ring of Honor | Inductees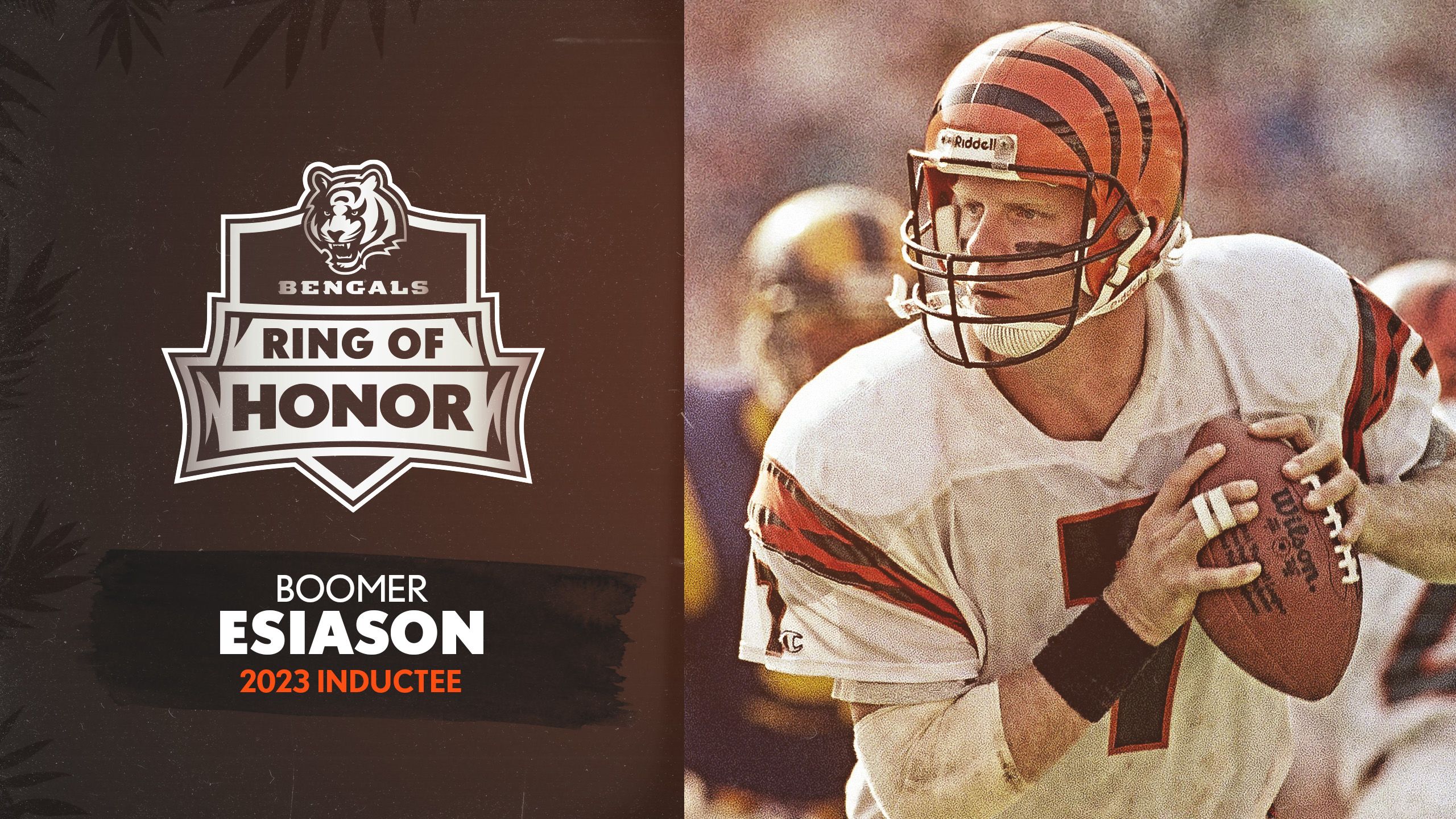 Boomer Esiason
Esiason is regarded as one of the greatest locker-room leaders in Bengals history. In 1986, he earned his first of three Pro Bowl bids with the Bengals while leading the NFL's most productive offense. In 1988, he led the NFL with a 97.4 passer rating and helped the Bengals win the AFC Championship. That year, Esiason was named the NFL's Most Valuable Player by the Pro Football Writers of America and the Associated Press. He again was the NFL passing leader in 1989 as Cincinnati claimed another division title.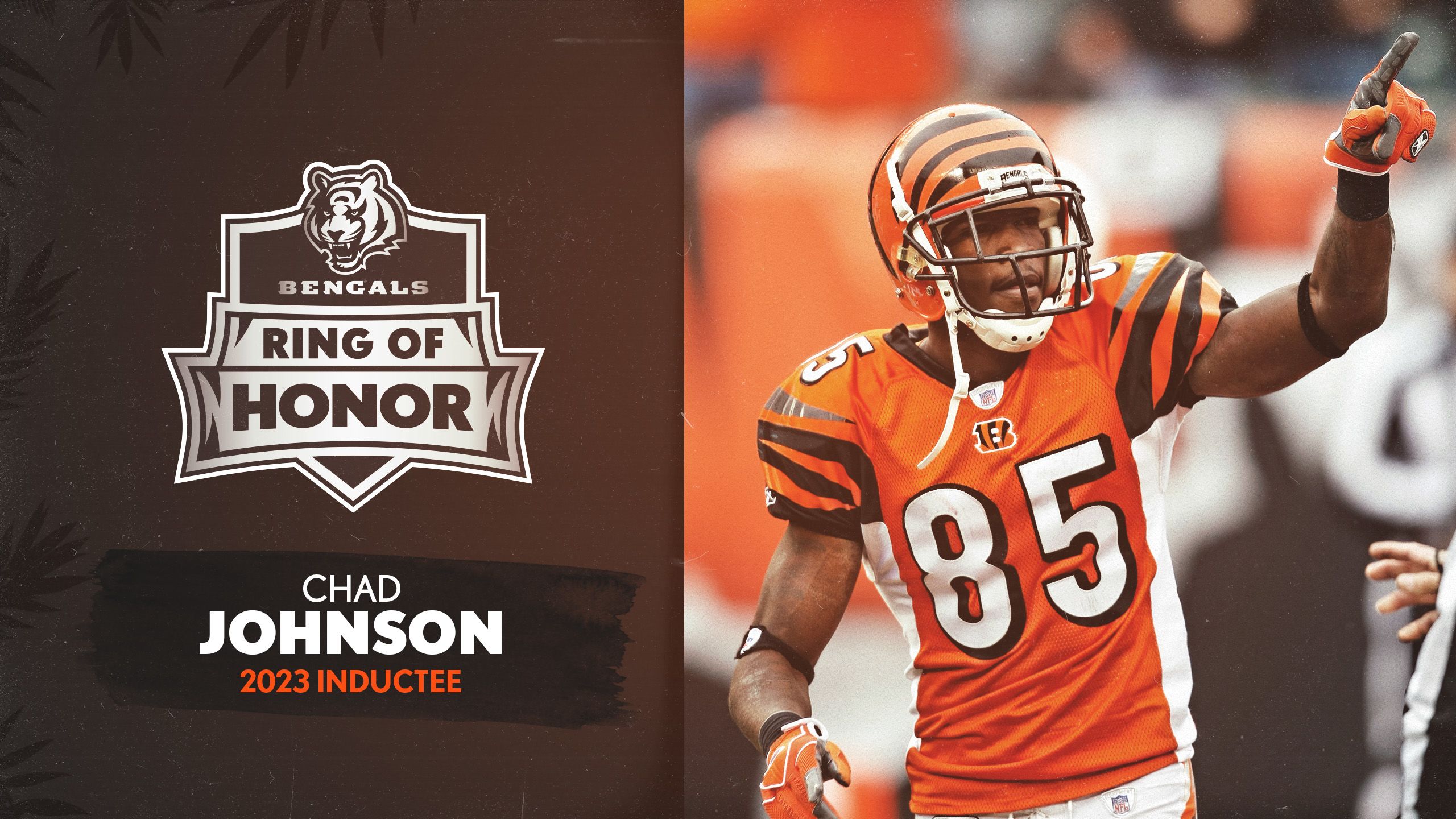 Chad Johnson
One of the most popular players in NFL history, Johnson's fun-loving charisma intersected perfectly with the rise of social media and transformed a quotable star athlete into a Twitter pioneer. Between his elaborate choreographed touchdown celebrations and bombastic boasts, he was one of the most electrifying players of his era. During his ten seasons in Cincinnati, Johnson became the franchise's all-time leading receiver with 10,783 yards, the third most in the NFL during that stretch.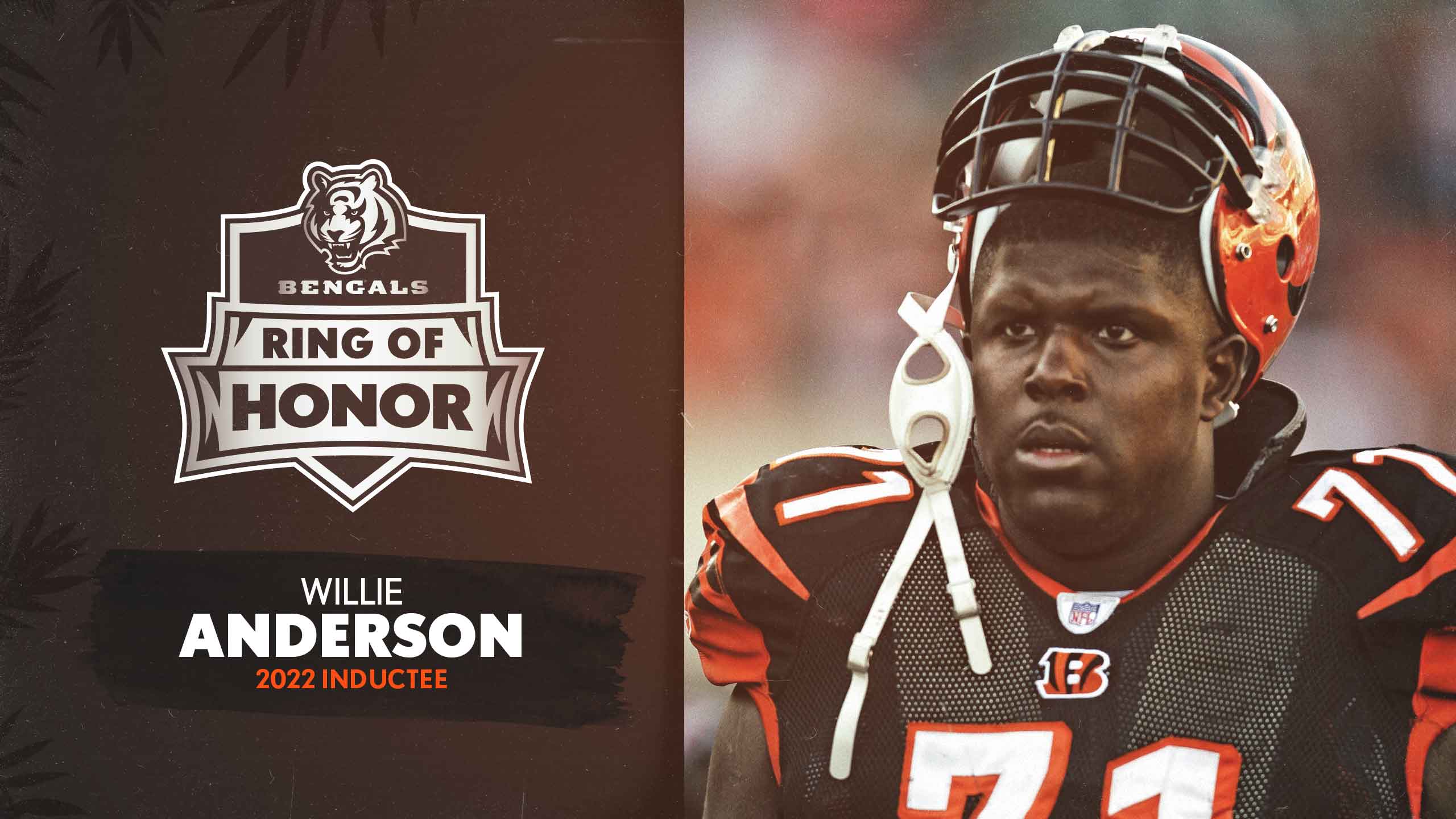 Willie Anderson
Generally regarded as the greatest right tackle of his era and the bookend tackle to Anthony Munoz on the all-time franchise team, he went to four Pro Bowls as a powerful presence on the field and in the locker room. Studious and savage, he combined a massive body with ballet feet to confound the greatest defensive ends. While he played 15 games against Hall of Fame pass rushers and allowed one sack, his run blocking was just as legendary. From 1996 to 2001, when the Bengals had seven different starting quarterbacks, Anderson helped running back Corey Dillon average 1,252 yards in those six seasons. Indestructibly reliable, he played all 16 games ten times. Only Munoz with 185 games played more than the 181 he played on the Bengals front during a stretch Dillon and Rudi Johnson put up the top five Bengals rushing seasons in history. He remains an influencer in the game as a coach and adviser for high school and college players through his Willie Anderson Offensive Line Academy.
Isaac Curtis
The prototype of the modern NFL wide receiver with Olympic speed and Herculean hands who was so good he made them change the rules. After he stunned the league with 18.7 yards per 45 catches as a rookie, Bengals head coach and influential NFL competition committee member Paul Brown convinced the owners to eliminate the cutting and roll-blocking of receivers downfield while also restricting the defense's contact with eligible receivers and proudly called them "the Isaac Curtis rules." In five of his first seven seasons he averaged at least 18.7 yards per catch and after he came into the league only five receivers have caught more than his 416 balls while averaging better than his 17.1 career yards per catch: James Lofton, Wesley Walker, Stanley Morgan, Mark Duper and DeSean Jackson. His 108 yards against the Jets and 147 yards against the Chargers were defining, clutch milestones of the 1981 Super Bowl season. A four-time Pro Bowler, his 17.1 leads all Bengals with more than 93 catches. His dozen seasons and 167 games lead all Bengals receivers.