It turns out there is plenty of room in the Bengals Ring of Honor for the franchise's two biggest personalities.
After a vote of Season Ticket Members, the club announced the selections of 1988 NFL MVP Boomer Esiason and Bengals all-time leading receiver Chad Johnson.
"They were both exceptional players," says Bengals president Mike Brown. "If you look at the statistics, Boomer has a long list of quarterback firsts here. And Chad was a superb athlete who was probably the quickest receiver we have had here. They had moments when they just carried the team by themselves."
They are also arguably the two most recognizable Bengals alums, thanks to Esiason's 25 years of NFL broadcasting and Johnson's celebrity reach on social media.
Mike Brown summed it up pretty well when he relayed the reaction of both as they begin preparing for the Paycor Stadium Ring of Honor ceremony at halftime of the Sept. 25 Monday nighter against the Rams in a rematch of Super Bowl LVI.
Brown told Esiason that his granddaughter, Elizabeth Blackburn, director of strategy and engagement, had created a suit jacket for each honoree. "A great jacket," he told Esiason. "It has a special tiger stripe lining."
"Well, I hope Chad doesn't wear it inside out," Esiason said. When Brown told Johnson that, Johnson said, "Oh, he got me there."
Esiason, who joins Ken Anderson in the ROH as an MVP quarterback who took the Bengals to a Super Bowl, played all of his 134 Bengals games in Riverfront Stadium. Johnson is the first Ring of Honor member to play his entire career at Paycor Stadium. But they had plenty in common when it came to saying whatever was on their minds as Esiason led the Bengals through the 1987 strike and Johnson dared opponents to stop him and coaches to reign him in.
"Is it Chad Ocho Cinco? Is it Chad Johnson? Is it Superfly? What are we calling him now?" asked Esiason, joking about The Ocho's name change late in his Bengals career. "I thought he was certainly a character and I'd like to think he brought a lot of positive attention to the Bengals for his play on the field and I'd like to think the same for me."
The selections of Esiason and Johnson increase the ROH roll to eight names, seven players and Bengals founder Paul Brown. Johnson, the second wide receiver to go in after Isaac Curtis went in last year with right tackle Willie Anderson, is the first Ring of Honor member to have played his entire career in this century.
The Bengals' history of producing some of the best offensive players the NFL has ever seen is reflected in the Ring. Cornerback Ken Riley, set to be inducted into the Pro Football Hall of Fame Aug. 5, is the only defensive player.
"That's dope," said Johnson of going in with Esiason. "Obviously Boomer being a staple in not only the community and the Bengals organization, but what he's done for that team as well. It's pretty dope."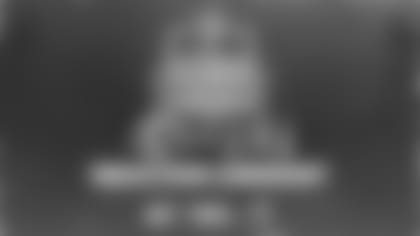 Ring of Honor Induction Ceremony
The 2023 Class will be inducted at halftime of the Rams-Bengals Week 3 game at Paycor Stadium. Get tickets now!