Voting for the Bengals Ring of Honor began Monday amid preparations for the Pro Football Hall of Fame induction of one of its inaugural members as the family of Ken Riley continues to plan for the Aug. 5 ceremony at the Canton, Ohio shrine.
They're making sure that "The Rattler's" teammates and Bengals alumni sit near the family when the bust of the late Kenneth Jerome Riley is unveiled on the 25th anniversary of Super Bowl XVI teammate Anthony Munoz's induction. That includes Ring of Honor members and Hall of Fame candidates Ken Anderson, Willie Anderson, and Isaac Curtis, as well as a string of players on this year's Ring of Honor ballot starting with Riley's long-time roommate Lemar Parrish.
"When Little Ken called, I told him, 'It would be an honor to sit there with you,'" Parrish said this week. "It's my pleasure. My honor. Rattler is my friend. That's the reason I'm going. I believe in the man. Ken Riley."
Ken Riley II, Riley's son, has a core of his dad's teammates with whom he keeps in touch regularly. Curtis. Ken Anderson. Reggie Williams, the 14-year linebacker and ROH candidate. Plus, The Rattler's two partners on the corner who bookended his career. Louis Breeden was supposed to replace Riley but started a Super Bowl with him. And Parrish, otherwise known as "Leapin' Lemar," another walking future Hall-of-Fame exhibit who played his first eight seasons with Riley as a Dream Team tandem.
"It's a natural thing. I'm still good friends with my roommate who was a corner. It's the hardest position to play," says Riley, who played college ball for his dad. "He and Lemar definitely had a good relationship. To this day I feel like I can call him if I need him. We've stayed in contact. Like Hank Aaron and Willie Mays. They both played the same position and had different styles and at the same time were both Hall of Fame worthy. A great tandem. They just happened to be in the same division with the Steelers and (Hall of Fame cornerback Mel) Blount."
Parrish and Ken Anderson head up a list of the next candidates to join Riley, Munoz and Bengals founder Paul Brown in Canton. Ken Anderson has more NFL passing titles than all but two players. Willie Anderson is the best right tackle of his era. Curtis, the prototype of the modern pro receiver, made them change the rules. Tim Krumrie, a Ring Of Honor candidate, is the most prolific tackling nose tackle of all time. Two more ROH candidates, running back Corey Dillon and wide receiver Chad Johnson, dominated their positions as the NFL morphed in the late '90s through the turn of the century.
And Parrish, Deion Before Deion.
His first game in 1970 was Riverfront Stadium's first football game, a preseason win over Washington Parrish baptized with a 55-yard fumble return touchdown that became a familiar flashy path for Bengals fans. During his 13 NFL seasons (his first eight in Cincinnati), he racked up an electrifying 13 return touchdowns. His 13 fumble recoveries give him 60 career takeaways on top of his 47 interceptions. He took two punts back in 1974 for the Bengals and that 18.8 yards per return average for the season is still the league's best since the merger. Parrish is one of six cornerbacks with at least eight Pro Bowls and the only one not in the Hall of Fame.
While "The Odd Couple," dominated '70s TV, the Bengals' Odd Couple dominated on the corner in the early years of the merger with the silent assassin Riley and the flamboyant playmaker Parrish. The Bengals were in the NFL's top ten defense four of the eight years Riley and Parrish were a tandem while playing in three postseasons.
But were they all that different? Both came out of historically black colleges as offensive players who made the most monstrous of transitions in just one season. Riley was the swashbuckling Florida A&M quarterback, a sixth-round pick in 1969. Parrish was a Lincoln University running back with 15 touchdowns who became a seventh-round pick the next year. And both returned to become head coaches of their alma maters.
"We were different in a lot of ways, but we had so much in common," Parrish said. "We came up together. We were both young and wanted to be great. I'm just happy to have him as a roommate for eight years. We never had any falling outs. We had total respect for each other. We talked about life, family, business. It just wasn't limited to football. We shared ideas, techniques, fundamentals. Riley and I, we wanted to put the ball in the end zone. We wanted to go above and beyond and do what we could to help the team.
"I'm so happy he's going in and it's just an honor for me to be there."
Riley II is one of many who thinks their story on the corner won't be complete until they are roommates for eternity in Canton.
"I don't know about Deion. I just blazed the trail. I was blessed with speed and quickness. I just used the best of my ability," Parrish said. "Rattler deserves to be there no doubt about that. Leapin' Lemar does, too. If it's God's will, it will happen."
Ring of Honor voting continues through June 9 in the Official Bengals App for Bengals Season Ticket Members and Suite Holders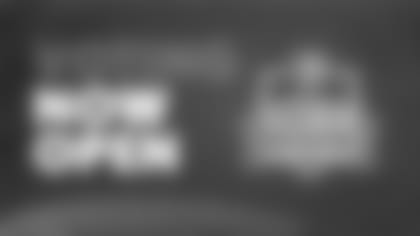 Ring of Honor Class of 2023
Learn about the Ring of Honor and how to vote for the 2023 inductees.