Louis Breeden, who has more interceptions in Bengals history than anybody but Ken Riley, was all set to spend Sunday morning hitting golf balls.
Then the call came from Isaac Curtis telling him that their beloved mentor was all of a sudden gone and, just as suddenly, Breeden found himself back home writing down his reflections of the man he says taught him to play NFL cornerback.
A massive heart attack. At 72.
"I was just talking to him the other week about how he had to cancel his golf tournament," said Ken Anderson, the other Kenny from those Bengaldom glory days who played quarterback and who shared with him a claim to the Pro Football Hall of Fame as well as charitable endeavors. "He was going to come up here this season for our Legends Weekend. So sad. Only 72. Only a year older than me. A consummate pro. Just such a great person, a great teammate."
A lot of guys took Breeden's lead and spent Sunday reflecting on one of the most popular and prolific Bengals in history.
A franchise-best 207 games in 15 factory-approved seasons of unvarnished efficiency. An all-time club record of 65 interceptions, fifth best of all-time, 27 of them during seven crafty seasons after he turned 30. Anderson never remembers him having a bad game. Cris Collinsworth never recalls a false step in practice.
The quintessential teammate in the ultimate team game. When he walked out of the locker room to give the halftime speech at his final Riverfront Stadium game in 1983, his teammates lined up chanting the nickname he won as a rookie. "Rattler, Rattler, Rattler," from the mascot of his beloved alma mater Florida A&M. Collinsworth compares his goodness of personality with the gentle greatness of Tony Dungy.
"How great is that?" Breeden asked. "How great is it that he had 65 interceptions at a position he never played until he got to the NFL? That's how frickin' good Ken Riley was. I had to learn from Kenny. What I knew, Kenny taught me. Kenny took me under his wing. He was quiet. Smart. The quiet guys gravitated toward him. I was a lot like Ken. Not a rah-rah guy, but just go out and play."
How great is this? Breeden was supposed to replace Riley when he was drafted in the seventh round in 1977. But Riley taught him so well they ended up starting at corner together four years later in Super Bowl XVI.
It turns out Riley didn't restrict his mentorship to the secondary. Bengals radio analyst Dave Lapham, one of the best in the game, plies his trade with reflections and he had plenty thinking back to his rookie season of 1974 on the Bengals offensive line. By that time Riley had made a seemingly seamless transition from Rattlers quarterback to a six-year NFL cornerback already with 18 career picks for two AFC Central winners.
"The first thing I thought of today when I heard was that big smile," Lapham said. "For whatever reason, we clicked right away. As a rookie, it's hear no evil, see no evil, you know? You don't talk. But he would come up to me. He'd say, 'Keep it up. Things are going to work out for you.' Stuff like that. As great a player as he was, he was just an incredible human being."
Count the wide receivers, too. Count two of the greatest Bengals receivers as Riley mentees, drafted eight years apart in Curtis and Collinsworth. They say practicing daily against Riley forced them to learn quickly.
"I was just in my second year as a wide receiver," said Curtis, who had just moved there at Cal a year before the Bengals took him in the 1973 first round. "He would give me tips."
When Curtis showed up, Riley and Lemar Parrish were the two aces in the hole at cornerback for those early Bengals teams that thrived on defense. It was nothing for Riley during practice to come up in a bump-and-run look, tap Curtis' helmet and bark, "Head up, Rook."
"Going against Kenny and Lemar in practice I didn't go up against any corners who were any better in a game," Curtis said. "He was one of those guys that have great character and you look up to. Guys that make you better just being around them."
When Collinsworth arrived in 1981, Riley was supposed to be at the end at age 33. But he had three years left and in the last two he led the AFC interceptions. But it went beyond those practices for Collinsworth. It was actually after one of those rookie practices and Collinsworth was walking out the Spinney Field door.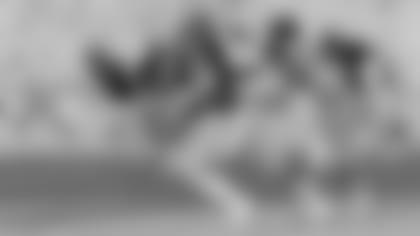 He was going to pick up his free Thanksgiving turkey at some God forsaken outpost that had been mapped out by the veterans. Until Riley stopped him.
"Cris," he told him. "Don't go. There's no turkey. It's a prank."
"What a sweet man," Collinsworth said. "I never gave him up and his teammates probably would have been mad. But he just had a great personal kindness."
He could also give a rookie receiver fits. But still kindly.
"You'd think there was this young guy with fresh legs coming in, but Kenny wasn't a speedster, anyway, and you couldn't get away from him," Collinsworth said. "Nothing you could do could fool him. Not only would you not fool him, afterwards he would tell why you didn't fool him. Then you would try something else and he'd tell you why that didn't work, either. He was a coach on the field is what he was."
Collinsworth is not only an Emmy Award-winning NFL TV analyst, but he's also the man behind the profootallfocus.com website that doles out what many believe to be the most credible media player grades. Imagine the underappreciated, underrated Ken Riley in the PFF era. Collinsworth says there's no way he'd be un-anything now.
"He would have killed it. No doubt in my mind," Collinsworth said of Riley's PFF cornerback ratings. "He would be one of those guys like Chris Harris for us. They're different players, but they're the kind of guys nobody knows about until someone starts keeping score and now (Harris) is one of the highest-paid defensive backs. Until someone started to watch and grade and would see the positive impact with so few negative plays and then you start to look at that number and that's when you know you have the Richard Shermans of the world."
Breeden prefers to think Russell Wilson or even Tom Brady. Yes, a quarterback. Breeden is six years younger than Riley, but he knew that Riley was one of the most exciting college quarterbacks in the country at A&M and that he helped stage one of the great national showdowns in 1967 when he led the Rattlers into a showcase game against Grambling's future NFL quarterback James Harris in a game between the two top black college football programs.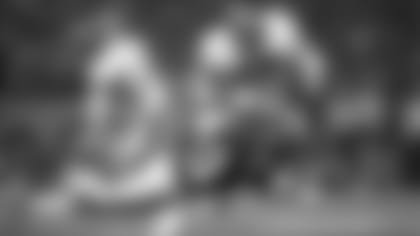 These were the bad, old days. The two great teams met in Miami in the Orange Blossom Classic even as segregation ran rampant in the south. A&M lost a heartbreaker, but Riley's legend was written in stone. And yet that wouldn't be enough. He'd have to change positions in the NFL.
"He was a hell of a player. A hell of an athlete, a hell of a quarterback, but it was an era where it didn't really matter," said Breeden of black quarterbacks in the late '60s. "You weren't going to play (quarterback). You could be Tom Brady. It didn't matter. You were not going to play quarterback in the NFL. You just didn't have the so -called mental capacity, leadership qualities to play that position. That was life in the NFL. It was pretty pervasive everywhere you went in corporate America."
Riley, who was in the mix for a Rhodes scholarship before he got his Master of Education, brought quarterback smarts to the position. His family now has the journals he kept on every receiver in the league to prove it.
But Breeden, who has 33 interceptions of his own, wants to leave you with just how hard it is to get 65. Only four players in the history of the NFL have more. If you said Paul Krause, Emlen Tunnell, Night Train Lane and Rod Woodson, you win two tickets to the induction ceremony that should be held to honor Riley.
"He'd always get on me and say, 'Louis, if you had caught all the ones you were capable of catching, you would have had just as many or more than me,'" Breeden said. "You have to be instinctive to catch it. He had an innate ability to catch the ball. You have to know where the ball is going and you almost have to be ready for it not to be thrown at the right spot. It's one thing to get there and just bat it or knock it down. Catching it is a whole other skill set."
Maybe it can help Riley's Canton cause that PFF himself says his numbers are purely Hall of Fame.
"I don't know how you put a number on intelligence. And I don't know how many touchdowns he saved the Bengals because he knew what was coming," Collinsworth said. "But how many times in your life have you been told that football games are decided by the turnover margin? And here's one of the greatest to ever do it."
On this day of reflection, one of the things Breeden wrote down was a number.
"There are some numbers that lie. There can be deceiving numbers," Breeden said. "But not in this case. He's well deserving."
Looking back at the career of Bengals legend Ken Riley, who passed away at the age of 72. Riley played 15 seasons for the Bengals as a defensive back, with 65 career interceptions for 596 yards and five touchdowns -- all franchise records.