PHOENIX, Ariz. _ The euphoria of the announcement and the surrealism of the luncheon have given way to the busy nuts-and-bolts of inducting a Pro Football Hall-of-Famer.
As the wonderful whirlwind weekend sped on amid the backdrop of the latest Super Bowl, the family of Ken Riley started grappling with the details of the Aug. 5 event in Canton, Ohio, a date that is now circled on all Bengaldom calendars far and wide.   
"But it's a great busy," says Ken Riley II, looking at his engineer wife Tiffany and older sister Kenisha, manager for a cancer hospital. "I'm lucky to have these two as planners. They're very creative. They try to plan everything. They planned this weekend."
There is a bust to be chiseled, a ring to be sized, artifacts to be chosen, a guest list to be weighed, a speech to be crafted and a party to be planned.
 But first there are the photos of the late Kenneth Jerome Riley, the man they call, 'Dad," the scholarly cornerback his teammates call "Rattler," and the guy Barbara calls the love of her life who passed away suddenly at 72 less than three years ago in the 51st spring of their marriage.
Jon Kendle, the Hall archivist, is already peering into the Rileys' phones and seeing the familiar images from 50 years ago of one of the greatest defensive players who ever lived. Kendle needs a photo. Not so much as a starting point for the lockers they are building as the exhibits for each new inductee, which is on a fast track, too, but for the graphic of the 2023 class that is going in the lobby and on the banner outside as soon as possible to greet the visitors.
Not to mention the photo currently introducing the Hall's web site at profootballhof.com
"You like that one, too?" asks Ken of Barbara, looking at a head shot of The Rattler in the middle of his prime, probably about the middle of the '70s, with the moustache topped by a slight Afro. There's no Fu Manchu moustache that sprouted now and again and that the son might like to see on the bust.  
"You don't have to do anything right now," Kendle says. "Maybe on your way home or whenever you get the chance."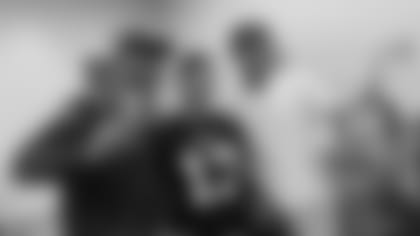 While they measured classmate cornerback Ronde Barber for his Gold Jacket, the Rileys were at the other end of the room getting introduced to the ring they'll receive in August.
A carat and three quarters worth of diamonds. The diamonds on the outer edge are in the shape of a stadium and represent the fans. The blue stone is for power and integrity. The center stone stands for Riley. The surrounding diamonds rep his support community. On one side is the name of his position and and etching of his bust. On the other side is his name, the Hall logo and year of induction. On the ring's under carriage is the year he's inducted with the number of his induction.
Since he is the 368th player elected, it will be 3-6-8. As Kenisha tries on the ring of the great Chiefs safety Johnny Robinson (Hall-of-Famer No. 326), Ken realizes that the ring is standard for all Hall-of-Famers. He had been thinking about some glinting orange and maybe a spot for the number 65 to go with an image of a rattler somewhere.
After all, even before he picked off those iconic 65 passes, still good for fifth most all-time, it was Bengals defensive coach Tom Bass who gave him the lifelong nickname that first training camp when Riley arrived as the pride of the Florida A&M Rattlers.
But they are surprised and thrilled to learn that this is the first year the Hall is giving a ring to the families of players elected posthumously.
"I'm happy, but I can't be ecstatic because he's not here. This is what he's missing. He's in all kinds of Hall of Fames. He's in an education Hall of Fame," says Barbara Riley of Florida's Polk County, on his list with the sports Hall of Fames of Florida, Florida A&M and Tallahassee, as well as the Black College Football Hall of Fame.
"In '83 when he retired he said he'd have to wait five years to get in and from '88 until now he has been waiting. In 2019 he said to me, 'I'm done waiting.' That's all he said about it. 'It won't happen in my life time.' And I said, 'Wow.'''
Barbara got the call of a lifetime two weeks ago when she was doing the wash. Her son had just got the call from the other Bengals Hall of Famer, Anthony Munoz, Kenny's teammate on the Bengals' first Super Bowl team and all she heard was, "He's in."
"When he called (a few months ago) and said he was in the final three, I couldn't get excited," Barbara Riley says of the nod from the Hall's senior committee. "'No, I'm not going to get excited. Been waiting too long.' I was taking clothes out of the machine and I guess I didn't say anything right away. He said, 'Hey, Mama, did you hear what I said?'"
While classmate Joe Klecko is signing footballs with the flourish of "HOF '23," at a table in another room, Joe Horrigan is talking to the Rileys about any signature items they may have to give or to loan as he and Kendle begin to build the lockers. No one has been doing this longer or better than Horrigan. After he retired a few years ago in his fifth decade of doing everything at the Hall from writing press releases to serving as executive director, one of the first things new Hall president Jim Porter did in a string of subtle but strong moves was bring back Horrigan from writing history books and making him a senior adviser.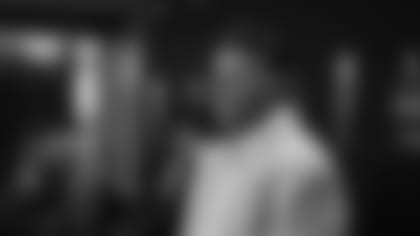 "There's this big plaque we gave him. For the man who has everything," Barbara Riley says with the smile of a long-ago birthday or Christmas. "It has the date of all his interceptions and who threw it and all that stuff."
"I'm going to have to slow her down," her son says. "She'll give them everything."
"There's this big scrapbook I have. It's got everything in it. It's got pictures from when he signed his first contract with Paul Brown and the Bengals," she says.
There is also an Olympic torch from the 1996 games in Atlanta, when Riley was chosen to run a three-mile stretch in the relay when it came through Tallahassee.
Horrigan is telling her she can give the scrapbook to the Hall, where they can digitize it.
"Whatever they want to do. It's always up to the Hall-of-Famer and his family," Horrigan says. "We're better prepared to preserve it forever. They can do both. They can print out what we digitize. Whatever makes them feel the most comfortable."
The Rileys have already worked with the Hall on preservation. The second floor of Ken Riley II's Houston home has already turned into a mini-Hall of Fame. In the three years since his dad passed, every time he returns from visiting his mother in Bartow, Fla., he brings back more things. He figures he has about 30 of those balls that he intercepted and his mother has ten others. Most still have the tape on them from that day equipment manager Tom Gray set them aside. Maybe, Kenny says, his dad started numbering them by interceptions. Or maybe Gray did.
"He didn't start keeping them right away," Ken Riley says, showing a picture in his phone of him climbing up to a shelf to place a ball.
"The Hall of Fame recommended we work with Wilson on the best way to preserve them and present them," Tiffany says. "They gave me tips on not changing the condition. Not trying to clean them. We wanted them to be in pristine condition and yet try to keep them in the original state. Only the insides have been refurbished, not the outside. Don't put white laces on old balls. And they recommended to replace some of the bladders."
Just the kind of thing Horrigan is eyeballing.
"You can have all the jerseys you want, but what contributed to his motivations?" Horrigan asks. to "He saved (his) interception balls. Nobody probably knew that other than his family. Yet it shows it is significant to that player. He captured it and he kept it. That doesn't define the man, obviously. That's the one thing about statistics. Yes, he had the 65 interceptions. But he made a heck of a lot of tackles and was in on many game-changing plays. You're looking to represent his whole body of work."
Kenny Riley II shakes his head. His dad always talked about the notebooks he kept on the receivers he faced and there is no trace of them. There's a shed they haven't looked in for years and, well, maybe?
"As much as we talked," he says, "there just always seem to be more questions I wish I had asked."
But is no question there are just some things he's not going to let go.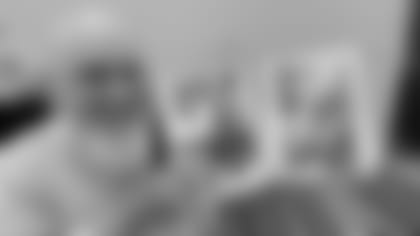 "Not yet," Kenny Riley II says. "I've got his helmet. I've got the real one. That's special to me. That's something I really cherish. The most important ball? Probably the last one. The 65th. Against Minnesota."
Classmate DeMarcus Ware is in a chair getting a tape measure wrapped around his head as they begin preparations for sculpting his bust, but it's hard to measure what they are telling the Rileys across the hall in a room they are given plan books for induction weekend. With the Black College Hall of Fame now housed in Canton, Ken Riley Sr. is a dual Hall-of-Famer that weekend.
The only one in this class.
"We're honored to have him," Horrigan says. "When I came back a few years ago, I was on the committee that put together the centennial class and I was honored to give Ken's presentation. To say I was disappointed he didn't get in would be accurate."
Blair Buswell, who has already sculpted two Cincinnati icons in Munoz and Oscar Robertson, now is working on a third, although one of his assistants could end up doing the bulk of the piece. There are, after all, nine to be done in six months. The man who has done more than 100 Pro Football Hall of Fame busts could have put Ken Riley II in Ware's chair to get close to the measurements.
But the sculptor to the stars works methodically with the independent streak of his monstrous wagon train that runs for a city block that he's been building for 20 years in Omaha, Neb.
"I look at different pictures from when they played. Different angles. Profiles. Three-quarter views. I put them on my walls," Buswell says. "For Ken, I'll be looking at his height and weight and comparing him to players built similarly."
Buswell, a college teammate of Bengals Super Bowl punter Lee Johnson, meets with the families of the posthumous inductees and gently tells them the big thing he wants to get right is the expression. He shows them the simmering scowl of Bill Cowher's intensity and the jut-jawed Jimmy Johnson and tells them he won't finish until he gets what they want. He remembers talking to the widow of Reggie White and her saying he was "such a teddy bear." Yes, Buswell said. But it's not the Teddy Bear Hall of Fame. It's the Pro Football Hall of Fame. "He was one intense guy. I did more of a smile, a little in between.
"There'll be a lot of back-and-forth with pictures," Buswell says.
When quarterback Ken Stabler was elected after he died, Buswell reached out to just not family members, but coaches and teammates. He called John Madden, his coach, and asked, "Tell me about Stabler. What kind of expression do you see?"
"Madden said he was a riverboat gambler. He had this little smirk," Buswell says. "He's got something his hand and he's not going to let you know."
Twenty-five years ago Buswell spent a day with Munoz at his Mason, Ohio home, and calls the finished product one of his favorites. They talked faith, family, football so Buswell could get a sense of the man, the first Hispanic in the Hall of Fame.
"He is so good. I just like the guy," says Buswell, looking at the classic stare he ended up giving him. "The Ethnicity was fun, it was different. He's just a great guy … I softened it up, but stayed with intense."
He can talk to guys like Munoz and two of his defensive mates, Louis Breeden, the guy he mentored at cornerback, and linebacker Reggie Williams. He won't get the smirk of a riverboat gambler, but a self-assured mask of an accomplished poker player.
Or as Williams says, dad coming home for dinner.
"No matter what he was dealt, you never knew what he had," Breeden says. "Rattler didn't show a lot of emotion and his personality didn't waver up and down one bit at all. It wouldn't be an intense look. It would be something like, 'Everything is OK. I got you.' Nothing bothered him. A poker face … Because he was unfazed by all the things going on around him. He wasn't going to sweat. That's what the great DBs do."
Over the weekend, Williams posted a photo on Facebook of Riley greeting him holding the ball he just intercepted in his other hand. He posted it because in the background Munoz is going back on the field after the turnover. Both Bengals Hall-of-Famers on the field at the same time.
But when Williams thought about it, he's thinking that's the expression that is worthy of a Canton bust.
"In that expression, Rattler has such a cool confidence. It wasn't a smirk, it was just a cool confidence," Williams says. "He still had the ball in his hand. He was shaking my hand, but he was basically looking at all of us like we were his kids and he was the daddy and he was coming home with dinner. When I see him, when I remember all that he accomplished, he was calm, cool collected about everything. None of his accomplishments surprised him."
Ken Riley II, who will present his dad, already has so well for so many years. And now even though he he's finally here, there is still even more to do between now and Aug. 5.
"A good busy," the son says.