Leon Hall, 34 years young, is humbled and horrified that he is one of the 10 Bengals legends honored at halftime of Sunday's Paul Brown Stadium game (1 p.m.-Cincinnati's Local 12) against Jacksonville as part of the NFL's 100-year celebration.
"I'm not a fan of the word. 'legend.' It implies old," says Hall, who better not get too near Bengals defensive coordinator Lou Anarumo, down three of his top four cornerbacks, or he'll end up on that corner in The Paul he owned for a decade.
"Can't do it," Hall says. "I work out, but the things you have to do in this league to play, I'd pull my hamstring warming up."
Hall retired last year after Paul Guenther brought him out to Oakland and he broke down one last time. The body allowed 26 interceptions, fourth most in Bengals history. The last one came after two torn Achilles', a 19-yard pick of the Rams' Nick Foles in a 2015 PBS game.
But when the body broke again and Hall ended up on injured reserve with the Raiders, he knew he missed his three kids more than he'd miss football. So he came back to the Cincinnati suburbs to help wife Jessica steer them to soccer, flag football, basketball and where ever else parents bring snacks. They're 10, seven, five and their dad is a legend.
"It's really an honor," Hall says. "I played nine years for the Bengals and I still have close friends down there. The people in Cincinnati have been great to me. I like staying here. A great place to live. That's coming from a San Diego kid. That says a lot about Cincinnati right there."
Hall is looking forward to seeing some of the current guys he played with, like A.J. Green. "Jesus, he was a problem," says Hall of those countless one-on-ones in practice. "Everybody sees it on Sunday, but they don't see Wednesdays and Thursdays."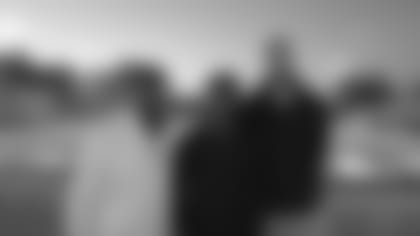 He'd also love to see Dhani Jones, his middle linebacker from the 2009 AFC North champs, a team he loved. "That was a defense where everybody did what they were supposed to do when they were supposed to do it and you knew they were going to do it and it let you play free." And he played with Big Willie Anderson for only a year but, "When I hear his name all I can think about is how big his face mask was. I was like, 'What's that?' The fact he was such a dominant player was awesome."
But the guy he really wants to see, no, make that a guy he'd like to sit down with and get to know is the guy he simply calls, "Mr. Riley."
Ken Riley, of course, the best cornerback not in the Pro Football Hall of Fame. Bengals founder Paul Brown drafted the Florida A&M quarterback 50 years ago and after he took him in the sixth round he sent defensive coordinator Tom Bass to Jacksonville to tell him he was playing cornerback, a position that never crossed his mind. Riley, 72, makes the trip this weekend in reverse as one of the legends with those 65 interceptions, the most ever by a man with the same team, and the fifth most by anybody, anywhere.
"I met him in passing. I never really had a nice sit down with him as far as getting to know him," Hall says. "Playing in Cincinnati for so long, you gradually learn about him. He's probably one of the most underappreciated players in NFL history. I'm a little biased. I played in Cincinnati. I played corner. It's crazy to even fathom 65 interceptions. It sounds like 1,000. I feel like I played for a long time. I feel like I played well. I feel like I had a decent amount of interceptions (27 in total) and I'm not even sniffing that number."
The youngest legend meets the second oldest. (Bob Trumpy has Riley by two years.) Riley is getting honored 50 years and a day after his first NFL pick at Riverfront Stadium, a 66-yarder off someone named Pete Liske. (That's why 65 picks in that era are so huge. The Broncos threw 16 passes that day, one by running back Floyd Little.) Sunday is ten years and a week from that seminal game for the '09 AFC North champs in Baltimore, a defensive masterpiece, a 17-14 win Hall secured in the final seconds picking off a desperate Joe Flacco heave to make sure Zimmer got the game ball 72 hours after his wife Vikki died suddenly.
"That was pretty special," Hall says. "What he had to be going through and to coach that game and call the game that he called, it was unreal, really. Not a lot of people could have done that. Certainly that's one of the games you remember that year. That year was so special. We hung out down there together."
They share more than a legend. Riley and Hall may be the two most under-the-radar players in Bengals history. Riley had the taciturn personality of a coach he would become. The spare-speaking Hall loved to avoid the cameras and was hard to find during media periods.
"Playing in Cincinnati for so long, you gradually learn about him. He's probably one of the most underappreciated players in NFL history. I'm a little biased. I played in Cincinnati. I played corner. It's crazy to even fathom 65 interceptions. It sounds like 1,000. I feel like I played for a long time. I feel like I played well. I feel like I had a decent amount of interceptions (27 in total) and I'm not even sniffing that number." Leon Hall on Ken Riley
Riley led the AFC in interceptions three times and never made a Pro Bowl. Hall was a relentless man-to-man corner with riveting versatility who moved seamlessly in and out of the slot, the signature of Mike Zimmer's defense that secured three AFC North titles and four top seven finishes in a five-year stretch and never made a Pro Bowl. A blueprint for the current corners.
"It would have been nice to look at that on paper, but that was never my focus," Hall says. "I worried about winning, getting over the hump, getting to the playoffs. That was the focus. It's why I loved the Bengals locker room so much. Especially the people that were there when I was there. Nobody was saying I want to do this and I just want be All Pro. But we wanted to win games, win play-off games, get to the Super Bowl and win the Super Bowl."
But Hall just can't believe Riley never went.
"His numbers are through the roof and he was never voted to a Pro Bowl. That's sad to put it quite frankly," Hall says. "Numbers speak louder than words in my mind. I'm not sure how they picked it back then, but it can be a popularity contest. To a certain extent, that's what it is now. If you make it one year, you make it the next unless you play terribly."
He's got it about right. Riley calls it "a farce."
"The year I got nine (interceptions) Emmitt Thomas was hurt and he went and I didn't," Riley says of the 1976 season he ended picking off Joe Namath three times in Joe Willie's last game on Broadway. "I just did my job. You see it today. Some of these guys do ridiculous things to get attention. I just went out and did my job. I would never do that."
Legends in their own times.
When Bass met with Riley after the draft to work him out, Florida State wide receiver Ron Sellers was also there. The Patriots had just taken Sellers with the sixth pick in the draft and it was the first time Riley, a native of Polk County, Florida, had been on the field with a white player. 1969. Fifty years ago.
"We knew those guys. They knew us. We would play at their high schools," Riley says. "We were separate, but we had mutual respect for each other."
Sellers may have thought Riley would throw him some balls. But Bass showed him some cornerback drills to work on before training camp ("it starts with the stance") began at Wilmington College.
"We were there forever and it was a good thing because I could take time to learn," says Riley, who was known as a blistering 9.8 100 man at Bartow High School. "I had the speed, quickness and the hands. I just had to get the discipline of zone. Once I figured out if one goes in then one has to come out, I was all right."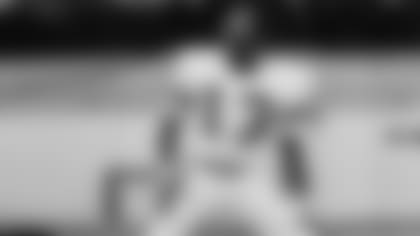 In training camp, Riley broke on an out route and picked it off and could feel the confidence seething around him. Charlie King got hurt, he thinks, in the fourth game, and he got his shot.
"That was it," Riley says. "He never got his job back."
The first time Hall saw The Paul was a few weeks before the 2007 draft, when the Bengals took him with the 18th pick. He ran into the Bengals all-time leading receiver Chad Johnson, coming off his fourth straight AFC receiving yards title.
"Jesus," Hall says. "He talked. He was always talking. Never stopped."
That was the first of what Hall figures was "a million times," Johnson told him he was going to beat him.
"He didn't beat me a million times," Hall says. "I won my share. But, yeah, he talked. But he could back it up."
Ten years ago. 2009. T.J. and Henry were gone. Johnson barely had 1,000 yards, but Hall and fellow cornerback Johnathan Joseph were the team's co-MVPs for the No. 4 defense that swept the six AFC North games by allowing less than two touchdowns per game.
"To go undefeated in that division," Hall says, "a rarity."
Hall straddled two eras of potent offense. He got the end of Chad, T.J. Houshmandzadeh, Chris Henry getting balls from Carson Palmer and the prime of A.J. Green receiving from Andy Dalton.
"Two good dudes and A.J. was a problem," says Hall, who knows Johnson is still talking this weekend. "When you take what Chad could do and you take what T.J. could do and you take what Chris Henry could, you saw a little bit of everything. It made you better."
Riley was a young legend, like Hall. After Riley retired at 36 after 15 seasons and a Bengals-record 207 games, head coach Forrest Gregg left the Bengals for the Packers and wanted to take Riley with him to play. If not, to coach his secondary.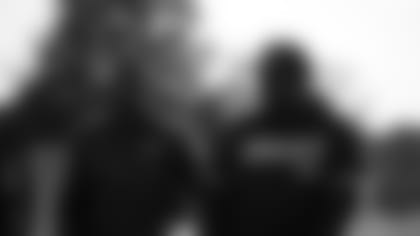 Riley decided on the latter. And that was a tough call because Paul Brown talked to him about staying with the Bengals and assisting secondary coach Dick LeBeau. But Riley thought he was too close to his teammates and had to get away to Green Bay.
Yet when LeBeau arrived for the last four seasons of Riley's career, he may have helped him more than Bass did. He had 21 interceptions and led the AFC in his last two seasons, 1982 and 1983.
"Dick really helped me with the little things," Riley said. "I had fallen into some bad habits and he was able to pull me out of them."
You can imagine the juices flowing in that '83 season that began with Riley five interceptions behind LeBeau on the all-time list. LeBeau had 62 in 14 years with the Lions, thanks to Riley the second most by a player with one team. Then when Riley ended his career with two interceptions in Minnesota, he remembers LeBeau throwing his arms around him saying, "You can't get them if you drop them."
Hall also remembers an interaction with a coach. It was his rookie year and he thinks the Bengals were in Kansas City. Assistant secondary coach Louie Cioffi approached him and told him he may have to play safety.
"I said OK, but in the back of my mind I didn't know the defense. I didn't really know what I was doing," Hall says. "I hated that feeling. I told myself that was never going to happen to me again. I literally learned every part of the defense so they could throw me in anywhere. Either as a WILL backer or safety or nickel, it didn't make a difference. I pride myself on being able to play anywhere. Where ever they need me. Injuries happen to every team. It's a matter of how you deal with it."
The low-key Riley has been getting some high praise lately when they talk about the Pro Football Hall of Fame. Even before they planned to expand the senior class to ten members in 2020 to celebrate the 100th anniversary, he was already getting buzz as a leading candidate whose career ended at least 25 years ago. He and former Bengals teammate Ken Anderson always seem to on everyone's list. Everyone above Riley on the interception list is in. The man tied with Riley, Charles Woodson, figures to go in 2021. The next two, Ed Reed (64) and Ronnie Lott (63) are in. So is LeBeau.
For a man who is in everything from the Black College Football Hall of Fame to the Polk County Hall of Fame, Riley has no answers.
"People ask why I'm not in and I say I don't know," Riley says. "I'm really embarrassed by it because I've got my high school petitioning. The county commissioners petitioning. I appreciate it, but it's embarrassing. I'm not like that. I guess I just didn't get the exposure."
If anyone can relate to that, it's Hall. Like how the whole legends things bothers him.
But he's glad he's here. And he'd like to sit down and get to know another legend.
"Mr. Riley," Hall says. "That would be awesome."
For a limited time, save 50 percent when you purchase "This Day in Bengals History" online. Visit Bengals.com/book to learn more.