We are down here on the corner talking to three cornerbacks about one of the greatest NFL corners to ever live. They're all trying to explain just how hard it is to get an NFL interception.
Charles Richard LeBeau, Ken Riley's last position coach with the Bengals, had 62 of them, made the Pro Football Hall of Fame and fondly recalls talking him out of retirement with Riley passing him on the all-time list as the incentive.
Mel Blount, one of the most influential players in history for Pittsburgh's Super Bowl champagne-drenched Steel Curtain, had 57 of them and went to the Hall of Fame studying Riley, his AFC Central counterpart in Cincinnati.
Ken Riley II, who buries his father Saturday in Bartow, Fla., isn't sure how many of them he had playing for his dad. He started all four years at Florida A&M, the first three when his dad was the Rattlers head coach. Maybe he had six or seven.
Not many, but enough that Ken Riley the son was invited to the 1995 NFL scouting combine, proof he was among the best in the county that year. Good enough to be invited for a tryout at the Bengals rookie minicamp. He didn't make it, but the awe has survived.
"When I was a kid, I just thought it was normal," says the son of his dad's 65 interceptions. "But then when I got up there, that's when I realized how unbelievable it was. To do it for so long and so well at the highest level."
Those 65 interceptions are the fifth most all-time, the most anyone ever has had for one team, the most by a pure cornerback who never strayed to safety. They also may be the most underappreciated numbers in NFL history.
"I just thought he had been overlooked for the Hall of Fame," says Blount, one of Riley's more avid supporters for Canton. "But I was just reading that he had also been overlooked for the Pro Bowl. The way he played for 15 years and he didn't make one Pro Bowl? That's a disgrace. I just can't believe that."
Blount remembers getting re-acquainted with Riley during gatherings at the Black College Football Hall of Fame and how Riley would tell Blount that he made sure to always check in on his interceptions. They both retired after the 1983 season, 122 interceptions between two respected titans.
"Every chance I got, I wanted to see what he was doing. Just like he said, every year he wanted to have more interceptions than me. That's just part of being a competitor," Blount says of his film work. "He was a student of the game. He had a high football IQ. I think that was coming from the offensive side being a quarterback. I think he kind of knew what formations were going to bring you. I think he knew the timing of it. I think he knew how the placement of the ball mattered because he was a quarterback on the other side of the ball. He had a higher I.Q. than most of us in the game."
LeBeau says he used that competitor's urge to help keep Riley playing. When he arrived as the Bengals secondary coach in 1980, LeBeau knew he had in Riley a 12-year vet with a Master's in education that had other things to do in life.
In Riley's 14th and 15th seasons in the league, LeBeau says the conversations would start about next year with "Coach, I think I'm going to retire." But LeBeau would pull out the all-time list. After the Bengals went to the Super Bowl in 1981, Riley had 13 seasons in with 52 picks. At that point, only 18 men had 50 picks. But there was LeBeau with 62, fourth all-time behind the 68 of his old Lions teammate Night Train Lane.
"For two years I kind of talked him into it and I think it was the right thing. He continued to be a very productive player, incidentally," says the ever laconic LeBeau, still getting straighter to the point than a 40-yard dash after all these years. "I'd say, 'C'mon man. You can't pass me if you quit.' Hell, I wanted him to keep playing. I was coaching the defensive backs. We were helping each other."
Riley always said that LeBeau revived his career and took him out of some bad habits. In each of those two last seasons he led the AFC in interceptions and that last game to end the 1983 season set the stage for what LeBeau calls, "My favorite Kenny Riley story." Riley had two picks of Wade Wilson that day in Minnesota and it was Riley now in fourth place with 65 and LeBeau in fifth.
During the plane ride back home, LeBeau walked down the aisle wishing his guys a Merry Christmas and a good offseason and spied an open seat next to Riley.
"I sat down and Kenny says, 'Coach, don't even start. I'm retiring. Don't even start,'" LeBeau recalls. "I'd lost my biggest argument, that he couldn't pass me if he quit. 'But I don't think you should quit just because you passed me. You should build on it now that you have it.' And he just said, 'Coach, don't start.' I love that story. It's a great memory for me."
The competition sizzles on the corner. Before he came back to be the head coach of the Bengals at the beginning of the century, LeBeau gained even more prominence as coordinator of Pittsburgh's famed Blitzburgh defense that terrorized the 1990s. One of his main men was cornerback Rod Woodson, a new guy LeBeau could coax to greatness.
When Woodson passed LeBeau with No. 63 on a 2002 hat trick against the Titans while playing for the Raiders, Woodson called the next day and LeBeau still has to laugh recounting the conversation.
"'LeBeau, you said I wouldn't pass you and I did yesterday,'" is how LeBeau remembers Woodson saying it. "I knew I had to come up with a response. So I told him, 'But Rod, the last 15 came with you at safety. That doesn't count.'"
Woodson ended up with 71, good for third all-time and a first ballot Hall of Fame selection and that's LeBeau's argument now. Forty years later he's gone from trying to convince Riley to keep playing to trying to convince voters to put him in the Hall. All four guys ahead of Riley on the list are in. He's tied at 65 with Charles Woodson, another likely first ballot guy next year. The next two behind them are two more safeties, Ed Reed (64) and Ronnie Lott (63) who are in.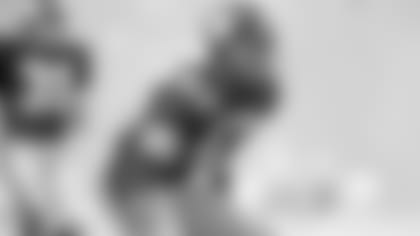 It's LeBeau who says, "Kenny Riley represents what the Hall of Fame is all about, in my opinion … I think Kenny's stats merit that. I definitely do. Look at how many games, how many years that he played. The productivity he exhibited. The leadership that he exhibited."
How hard is it to get 65 interceptions?
Remember, it always hasn't been Madden and shotgun and sub packages. When LeBeau played and for much of the careers of guys like Riley and Blount, it was an air show if teams threw it 20 times in a game. LeBeau says if you had a pick coming your way, you better hang on to the damn thing because you might go another month before you'd get another shot.
"Not many play cornerback for 10 years and you have to average five a year to even get to 50 and it's hard enough to average two a year," LeBeau says. "Kenny to a certain extent and me definitely, when I played teams ran the ball 60 to 65 percent of the time. Pound, pound, pound, play-action. Kenny overlapped that era a little bit. Now they run the ball 35 percent of the time and pass, pass, pass."
Blount, the great Steeler who was really a linebacker at 6-3, 205 pounds playing corner and changed the game as much as anybody because he could detonate receivers as well as deceive them, thinks maybe he could have had a season with 15 or 16 interceptions the way the ball gets thrown around now.
How hard to intercept an NFL pass? It's an art of precision and prodding. LeBeau says he didn't do much to Riley's game. All he did, he says, is during that first practice in 1980 he moved Riley 12 more inches to the outside at right corner.
"It just helps you see the flow better," LeBeau says.
"Oh man, the game is so sophisticated, so conditioned to precision routes and timing. For any one to get an interception is remarkable," Blount says. "And you get a guy that gets 65, that tells you what kind of athlete he is. It's hard to explain to people how great you have to be running backward and a guy running at you and to be able to stop and change direction. Jump in the passing lane or get in the way of a receiver to beat him to the ball. It's just a tremendous talent.
"The thing about Kenny you might overlook is how hard it is to go from the other side of the ball and become great. It's not something that everybody can do. Kudos to a guy like that to play at the highest level the way he did. "There aren't enough accolades to give the guy."
Ken Riley II knows all about how his dad never took a snap at cornerback until Bengals founder Paul Brown drafted him in the sixth round of the 1969 draft. Ken Riley was one of the most exciting quarterbacks in the country at Florida A&M and when Kenny II came home from Houston last month to bury his father's mother, they talked about the pressure of that rookie season of '69.
"You come to training camp and there are 40 other cornerbacks," Riley says. "You've never played it before and there's Paul Brown. If you make a mistake, you're gone. It didn't matter if it was camp or the 13th game."
Father and son texted or spoke or both every day. The day before his dad passed, Kenny sent him a story that listed his dad as the No. 2 NFL player in MEAC history behind Bethune-Cookman and Dolphins guard Larry Little. He can no longer text his dad, but he can reach out to Hall voters.
"Even more," the son says of his efforts to get his father to Canton. "That was my plan. My dad was my hero. He was just too modest. I wish he would have been a little more … you have to toot your own horn a little bit at some point. Dad really didn't get the recognition he deserved for whatever reason. That wasn't him. I feel like that's my job."
The son says his father wasn't bitter. He wasn't that guy. Never was.
"He would say it doesn't matter. I know that it did. He can say it didn't. But I knew it did," the son says. "That's the right thing to say. That his personality. I know that he knows he should have been in there. At the same time he'd say, 'It's out of my control.' He's done everything he could do. I know he felt he deserved to be in there. I know that 100,00 percent."
Down here on the corner, you won't get an argument that Kenny Riley has hailed down a bust in Canton.