One of Bengals scout Bill Tobin's stopwatches.
INDIANAPOLIS _ As the football world flocks here for the NFL scouting combine to pay annual homage to the 40-yard dash, it's only fitting that Bengals president Mike Brown is believed to be only owner left who times the NFL's most hallowed steps.
Paul Brown, his father and the man he helped mid-wife the Bengals into the world 50 years ago, is generally regarded as inventor of the 40-yard dash during the training camps he ran while coaching the Cleveland Browns in the late 1940s.
"I can't remember my phone number," Mike Brown says. "But on draft day I know 40 times."
The legend is that 40 yards was the length of an average punt back then and Paul Brown, looking to find the fastest cover guys, used it as a standard measurement for every player while wearing a football uniform sans helmet.
Mike Brown isn't so sure about the punt part.
"He made it 40 yards because he thought that was the longest anyone had to run on a football field for the most part," Mike Brown says. "Running 60, 80, 100 yards happens every once in a while. What counts is immediate speed."
Paul Brown used to line them up in pairs and Mike says that made for "great duels." He wasn't there to witness it, but he heard about one of the great ones between two Browns running backs, renowned sprinter Bobby Mitchell vs. Jim Brown, the best player in the game.
"Bobby won by something like a chest, or a few inches, in a real close one," Mike Brown says. "Jim was 230 pounds and the people today just don't realize how fast he was.
"And the other purpose was to put players on notice. Because it was being measured in this way at the onset and that they should put their best foot forward. It drove players to show up in shape."
Once a training camp incentive and coaching tool, the 40 has not only stood the test of time in a game that no longer resembles Paul Brown's sport, it has also evolved into a national pastime thanks to big contracts and NFL Network. With every 40 now beamed live, prospects pay big money to be trained like an Olympic sprinter and get almost as much coverage. Fifteen of the top 17 40 combine times in history have been run in this century.
Take Washington wide receiver John Ross. Lindbergh-like headlines have greeted his entrance to Indy after one of his training runs last week, a 4.30-second blister, a speed bettered by only 13 players in combine history.
Paul Brown was ahead of his time there, too. In order to make sure his 40s were timed fairly so players wouldn't cry favoritism, Brown called in Baldwin-Wallace track coach Eddie Finnigan, the coach of four-time Olympic gold medalist sprinter Harrison Dillard.
But P.B. could have brought in the international dateline and somebody would have griped. That's because 40 times are like fingerprints. Everyone times the 40 differently. It's why the Bengals use five times in order to determine the consensus time on draft day.
Duke Tobin uses a consensus 40-yard dash for the draft grades.
They take times clocked by two of their own scouts, Steve Radicevic and Mike Potts, as well as the times recorded by two combine scouts, and the electronic time.
"We throw out the high time, throw out the low time and average out the three in the middle to get a Bengals consensus time," says director of player personnel Duke Tobin says. "That takes out the misses and everybody misses some."
Timing the 40 is an art in itself. Bill Tobin, Tobin's father who is the Bengals' Midwest scout, has been timing 40s since 1971, when he was a scout for the Packers. That's when the stopwatches were a clock and there were no such things as a third number and a great 40 was somewhere between 4.5 and 4.6. When Tobin moved to the Bears, he found himself one day in the country in 1976 scouting Arkansas State linebacker Jerry Muckensturm.
Tobin took out his tape measure and spaced out 40 yards on the little used road in front of Muckensturm's house and timed him. It was fast enough for Chicago to sign him after the draft and he ended up playing 81 games for the Bears during seven seasons.
Say all you want about the 40. For every Antonio Brown who runs a glacial 40 into the Hall of Fame, there are three Leon Halls who validate their resumes with speed.
"Judging talent is subjective and if you can get as many objective things as you can get you should be better off," Bill Tobin says. "It's valuable. If you can't run on either side of the ball you've got problems."
Bill Tobin always makes sure he has two stopwatches everywhere he goes. One around his neck and one in his pocket in case it breaks. He starts his watch, now digital and flashing to three numbers, when he sees the hand on the ground move.
"Bo Jackson, 4.29," Tobin says.
But Duke Tobin starts on the first movement.
"To each their own. You have to have a feel when to stop it or not," Duke Tobin says. "You can't anticipate the stop. You have to let the guy go through the lane."
Timing the 40 is a subject of good-natured ribbing in the Bengals' front office.  The Tobins used to be the two clocking it until they passed it to Radicevic and Potts. Mike Brown says his 40s are a little fast. His son-in-law, Bengals vice president Troy Blackburn, who also times the 40s, kids him about anticipating the start. Everybody can see the finish. The line is right there. But the start …  
"The tell-tale sign is the thumb," Duke Tobin says with the needle. "They're an amateur when they click the button with the thumb. Real timers use the index finger."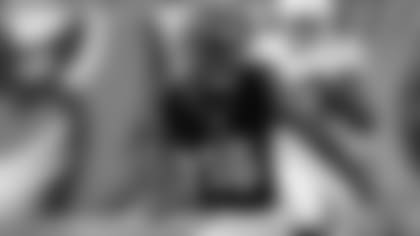 Cody Core ran a faster 40 that first-round teammate Laquon Treadwell.
The bottom line is you can't give the finger to the 40. Bengals special teams coordinator Darrin Simmons, who times every player, hears all the talk about how the 40 is overblown and wonders how people can say that.
"Sure it matters. Especially at the combine," says Simmons of the slower times that aren't as friendly as the campus workouts. "The ultimate measuring stick is how they play on tape, but it's worth a lot. It made (former Bengals cornerback) Leon Hall a lot of money. The knock on him was he couldn't run but when he went 4.4 at his combine, that put him in the first round instead of the second."
Simmons and the Bengals swear by the tape. The 40 is nice, but of the top 17 combine times only Champ Bailey's 4.29 is going to the Hall of Fame. There have been as many scorchers by guys like Rondel Menendez as there has been Chris Johnson. Both ran 4.24.
But Simmons says there are rules when it comes to position groups and there's a 40 number you pretty much have to hit. One of the Bengals' internal studies center on 40 times by wide receivers taken in the first round in the last several years and only one has run slower than 4.4 It's why Mississippi's Laquon Treadwell, taken last year by the Vikings with the pick before the Bengals at No. 23, wasn't a consideration for them.
Treadwell's Ole Miss teammate, wide receiver Cody Core, ran 4.47 at Indy last year and the Bengals took him in the sixth round. Core did what Duke Tobin advises prospects considering not running at the combine. They should because if they run well they don't have to run at their pro day instead of putting all their eggs in one basket. As a late-round pick, Core had no choice but to run, yet he was able to take his pro day off with that 4.47.
"I'm also making notes on guys because you remember the fast guys when you play them," Simmons says.
Simmons is another two stopwatch guy and often ends up rescuing one of his combine cohorts that has blown a battery or just plain lost it.
"If you only have one, you get screwed," Simmons says.
Simmons sits across the field from the 40, away from the maddening crowd of timers. That's OK, he says, he can see the first movement from there, and even though they don't use his time, he trusts it and puts it in his immediate notes because he won't get the Bengals consensus time until later.
"Your own time is consistent, so you can go back five years and relate it," Duke Tobin says.
Mike Brown used to be in the middle of it all right on top of the runners.  Now he's moved across the aisle, but he's still right there. He goes back to the days when the scouts jealously guarded their times.
"Won't tell you," Brown says of his fastest 40 with a smile. "It might let you know how I do it."