CORAL GABLES, Fla. - Giovani Bernard, all 5-9 Bengals Man of the Year of him, took a break from helping the kids paint the mural.
So did Nate Solder, the Giants Man of the Year, so aptly, standing a foot higher than Bernard.
But everyone was standing tall Friday morning before the Super Bowl, one of those rare NFL events you get during the year where all 32 Walter Payton Man of the Year nominees gather in a community spot to give back one more time.
This time it was at the Boys & Girls Club of Miami-Dade and during a water break Solder, the Giants left tackle, approached the man he only knew as Cincinnati's dynamic little running back that always seems to be making a play and asked him about his foundation.
"I was curious," Solder said. "It never goes wrong when you get to know a guy personally and hear his story. I was kind of surprised what he was telling me. It was inspiring."
Bernard gave Solder the cliff notes version. How his parents came to this country from Haiti on a boat ("Crazy," he said) and how his mom died when he was young and his dad sent him home every summer to his grandmother's. ("Other kids went to camp, I went to Haiti"). How he built a school in his mom's memory in his grandmother's town. An observer told Solder, "He's the guy that brought the town water and electricity. He's the 'Water Guy.'" How the people just didn't have much of anything. ("It's just so different.")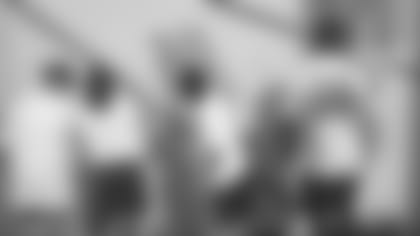 Solder told him about his recent mission trip to Uganda and how people manage to make so much with so little.
"We put a pipe out the front door for the community," Bernard told Solder, "and this lady showed up with about 10 jars and filled them up (with water) and put them in a wheel barrow."
You have to go some to inspire Solder, nominated for this award by two different teams. Barely had he arrived from the Patriots and joined the Giants two years ago when he and several teammates traveled with Americares to Puerto Rico on a three-day trip to deliver aid and medical supplies to areas hit by Hurricane Maria. Through Compassion International, a faith-based nonprofit devoted to holistic child development, he and his wife started 11 new child development centers through churches in Thailand, Uganda and Burkina Faso reaching out to more than 1,650 children.
But that's not the half of it. The Solders have done all this with their four-year-old son Hudson battling cancer since a tumor was found in both kidneys when he was three months old. They have been shuttling back and forth between New Jersey and Massachusetts, all the while helping raise funds for New England's storied Jimmy Fund that benefits Boston's Dana-Farber Cancer Institute, where Hudson has flourished.
"He's doing better," Solder said.
And that's the kind of guy inspired by Bernard.
"This is one of the great things about an event like this," Solder said. "You get to meet other guys from around the league that do so much. I knew who Gio was as a player. Just a great player. You hear how he's honored his mother and that's just awesome."
Solder caught that Bernard's parents landed in Miami.
"So you're from around here?" Solder asked.
"Fort Lauderdale," Bernard said.
He and Solder find out the winner of this year's Payton award Saturday night at NFL Honors, the annual awards ceremony to be beamed live on Cincinnati's Fox 19. This year it's at the Adrienne Arsht Center in downtown Miami.
"It's a really nice building. It's new," Bernard said. "It's been up for about five, six years and I've driven past it a bunch of times. I always wondered what it was like in there. Plays. The ballet … "
It turns out Bernard and his fellow inspirations are center stage.
SUNNING SAM: Bengals right end Sam Hubbard, the lifelong Cincinnatian, has changed his off-season address to Fort Lauderdale, largely because he can train at the facility of Mike Barwis in Deerfield Beach.
"I've lived there my whole life. I'm just looking to refresh myself and get a re-set," Hubbard said. "They've got everything there. It's an awesome facility."
Hubbard has quickly made himself at home. A few weeks ago he visited linemate Carlos Dunlap at the Miami breakfast spot he owns in the West Brickell section, Honey Uninhibited, and this week he's seeing a bunch of people coming in for the Super Bowl.
One of them happens to be one of his buddies from Ohio State, who just so happens to be LSU quarterback Joe Burrow, the guy ticketed to the Bengals at No. 1. Hubbard is endorsing him all the way in the hopes they become teammates once again.
"One of the best leaders I've ever been around," Hubbard said. "Great guy. Love the way he carries himself. I've got a lot of respect for him. Believe me, I'll vouch for his character. I'm campaigning hard."
Hubbard was a freshman when Burrow visited campus and they became good friends when Hubbard roomed with one of the quarterbacks. Hubbard and Burrow are going to the Super Bowl together and are hoping things go well for another good Ohio State buddy, 49ers defensive end Nick Bosa.
"Never been to a Super Bowl before," Hubbard said. "The place is crazy."