Now we are hitting the Chad Generation of wide receivers.
Stanley Morgan, who already followed Chad Johnson a few years before Twitter and The Ocho, also knew he wanted to play in the NFL before he went to the game that day when he was ten years old and his youth football camp got on the field before Johnson's Bengals played his Saints. But after standing in front of Johnson during the national anthem under the dome in New Orleans, he really knew he wanted to make it.
Even before Johnson's 190 yards bested Drew Brees' 510 in that indoor air show on Nov. 19, 2006.
"That pushed me," Morgan said Saturday morning as rookie minicamp suddenly broke up in Johnson's old locker room. "It was just amazing to be in that stadium so big being so small. "I probably just said, 'Hey,' or something. I just looked at him for a long time. I was like, 'Wow, this is crazy.' I was star struck."
Because Chad is still Chad, he reached out to Morgan again when he slid through the draft two weeks ago and ended up signing with his old team as a free agent.
"He talks to me on Twitter all the time," Morgan said. "He told me it's not about getting drafted. It's about how you come in and perform. He told me it's about taking advantage of your opportunity."
And there is opportunity on this depth chart. After their two 1,000-yard receivers in A.J. Green and Tyler Boyd, the speed of John Ross and the return ability of reliable slot man Alex Erickson, they're looking for consistency and production. Since they didn't draft a wide receiver for the first time in 12 years, they must believe Nebraska's Morgan and Troy's Damion Willis are good enough to contend for those last few spots.
At 6-3, 204 pounds and seven catches of at least 40 yards with an average grab of 18 yards, Willis is believed to be the free agent with the highest rank on the Bengals' draft board. And after becoming Nebraska's first 1,000-yard receiver, the 6-0, 202-pound Morgan had been rated a fourth- or fifth-rounder, according to Ourlads Scouting Services.
Bengals wide receivers coach Bob Bicknell can't tell you why they were waiting for his call after the draft. But he'll gladly take them. Morgan is symbolic of the divide between draftnicks and draft rooms. His 4.53 seconds in the 40-yard dash, vertical jump of 38.5 inches and broad jump of 10 feet, five inches were in the top 10 of all receivers at NFL scouting combine, according to a published report that also notes he had the second-fastest time in cone drills and fourth fastest in the 20-yard shuttle.
So much for the gurus and big boards and daily mocks. After 28 wide receivers got drafted, Morgan was on the horn with Bicknell.
"Who knows?" Bicknell asked Saturday as he came off the field. "It's just the reality of the way the league is. Certain guys fall through and all of a sudden you just want to get them as a free agent. … I liked Stanley coming out … He's a physical, productive kid … I think we had a draftable grade on him. I think everybody in the league had a draftable grade on him. For whatever reason he didn't get drafted and we were lucky to get him. He was an important one for us to get.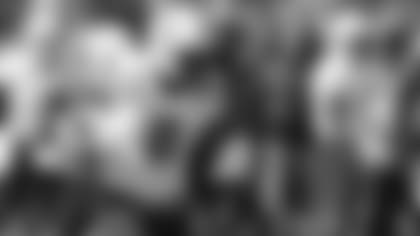 "A lot of my really good friends are on that (Nebraska) staff and they speak very highly of him as a worker and that's how he came into these three days. He attacked it."
Morgan isn't exactly devastated. He's lived pure devastation. As Hurricane Katrina bore down on his hometown barely a week before his ninth birthday, his grandmother and mother convinced his grandfather to leave their home in the Seventh Ward with hours to spare.
They fled to Baton Rouge and even though the 80-mile drive took them 16 hours and by the time they got there the power was gone at the tail end of the storm, they knew they had escaped with their lives. When they returned, everything was gone and that's why there are precious few photos and videos of Monique Jason's only child.
"I never want to go through anything like that again," Morgan said. "To be split up from different parts of your family … Having my inner family was a blessing, but I never want to go through that again. We lost everything except for a few things we could take. We had to get new clothes. Everything."
But they came back to re-build the home and his grandparents are still there. His mother now lives elsewhere in New Orleans. That trip to the dome to see Chad helped him get through all that. Even at a young age Morgan wasn't so much wrapped up in Johnson's histrionics, but his play.
"His attitude towards the game. His readiness," Morgan said. "Just his consistency, his balance, his releases."
Following Johnson made him a fan of the Bengals of his youth from afar because he still liked the Saints. But the Bengals lured him.
"I had respect for the Bengals," Morgan said. "The uniform, the culture."
Before he made the trip to minicamp he and his mother talked about how funny it was that he ended up in that uniform. Plus there is his Twitter relationship with his new team's all-time leading receiver. Not only that, his new head coach still holds the Nebraska season record for touchdown passes.
"The first thing we said to each other was just '"Go Big Red,'" Morgan said of the Zac Taylor intro.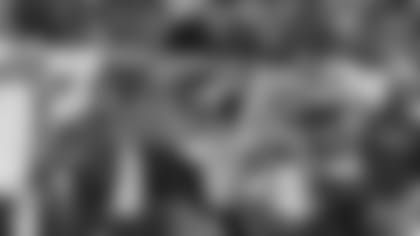 Taylor never threw to a 1,000-yard receiver. Not even Johnny Rodgers or Irving Fryar caught 1,000 yards in a Cornhuskers season before Morgan caught a 12-yard curl in last season's finale against Iowa on his way to 1,004.
"It was towards the end of the game, but it really wasn't at the end of the game," said Morgan, who sensed his coaches and mates were trying to aid history and help him get it. "I just kind of knew because they were calling plays for me."
Which tells you how highly they regard him in Lincoln. Fittingly, he reached 1,000 on a curl. He says the curl and slant are his favorites and that's how he views himself. A solid catch that can move the chains consistently. And if the height and 40 time conspired to doom him on Draft Saturday, Bicknell doesn't buy it.
"We have a really big group in here right now. Six-foot is pretty good size in the NFL," Bicknell said. Everyone is looking 6-2, 6-3, which is obvious. And every once in a while you get A.J. Green (6-4) who's got all of it. But (Morgan is) plenty big enough. He's not a small receiver. He runs well."
But after more than a decade of following the most prolific Bengals receiver of them all, Morgan has a good idea of how he'll get one of those striped helmets of his own.
"Catch everything," Morgan said. "Be consistent. Be that guy that's reliable."