The hit of the first day of rookie minicamp turned out to be fourth-round pick Renell Wren out of Arizona State for just showing up and casting a behemoth shadow in the doorway of Paul Brown Stadium.
The man is a chiseled 6-5, 318 pounds and looks like he walked out of textbook designing modern NFL defensive tackles. With a bow to long-time Bengals supporter James Brown sitting in on his Friday news conference, head coach Zac Taylor said Wren's size was so impressive that "he'll lead us out of the tunnel with J.B."
Plus, there was last year's fifth-round pick, Virginia defensive tackle Andrew Brown at 6-3, 296 pounds, and try-out player Aime' Walvenski, a 6-3, 285-pound defensive end out of Florida State.
"They are three good looking dudes," Taylor said. "I know one of them is on our roster and one was a draft pick and the other we (brought) in, but it was a good-looking group over there as well."
NO. 36: Remember how you celebrated your 36th birthday? Zac Taylor had the ultimate Friday when he coached his first rookie minicamp practice. Taylor wouldn't have had it any other way. His wife started the day by getting him a coffee and it moved on to two on-field practices: "That's a good birthday," he said.
Part of the day included Taylor, a former Nebraska quarterback, watching college free agent Stanley Morgan, Nebraska's first 1,000-yard receiver. Morgan, Troy's Damion Willis and Tiffin's Charles Holland are guys getting some looks to push the current group of receivers since the Bengals didn't draft a receiver for the first time in 12 years.
"They're three guys that could have been drafted," Taylor said. "You're encouraged about what you see in the individual period, but those are some of the groupings I am talking to when they are running routes for the first time and having to work releases. There's a little bit of that uncertainty there, but we'll get that corrected and get those guys playing full-speed. But in individual (drills), I thought those guys all showed good traits."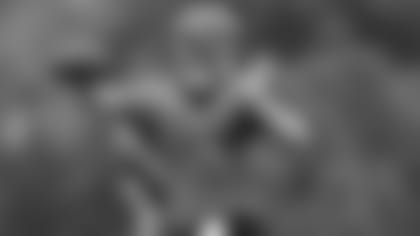 QB CORNER: Taylor had good things to say about his two rookie quarterbacks when it came to fourth-rounder Ryan Finley's comportment and free agent Jake Dolegala's big arm. Dolegala, a 6-7 flamethrower who ended up at Central Connecticut after a devastating injury his senior year of high school in the Buffalo area, thought he'd end up anywhere from the fourth round to priority free agent.
Not the end of the world when he didn't get a call. He was able to call his shot after visits to the Bengals, Jets, Giants, Bills and Browns and after the draft he was also talking to the Eagles and Vikings. The hometown Bills would have been nice, but Dolegala says they had two quarterbacks each with two years left on their deals.
That's why it's nice to have a choice. Plus, while the other teams were hesitating, the Bengals came with a solid offer. It didn't hurt that one of the Bengals coaches that spent the most time with him, quarterbacks coach Alex Van Pelt, was a long-time Bills player.
"It's an even playing field now," Dolegala said. "Obviously the guys that get drafted have a little more up front, but it will all work out in the wash. I think here I have the best opportunity to rise up the ladder as quickly as possible. (A new coaching staff) is a great opportunity. We're basically all learning together."
RODNEY EYES CAMP: Sixth-round pick Rodney Anderson, the running back from Oklahoma rehabbing an ACL tear, is shooting to be on the field for the start of training camp at the end of July. That would be ten months after surgery. Here's another guy that looks the part at 6-0 224 pounds. He played at Katy High School just outside Houston and graduated nearly a decade after Bengals quarterback Andy Dalton and remembers going to a camp where Dalton was helping out while he was in high school.
But don't ask him anything else.
"I don't know. Probably," said Anderson when asked if he got an autograph or caught a ball from Dalton. "I don't remember."
Why should he? Anderson said it was when Dalton was a junior or senior, which would have made Anderson seven or eight.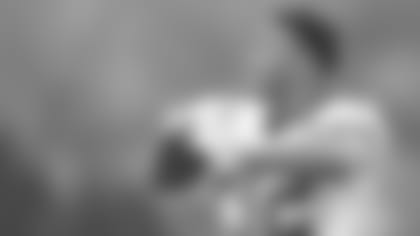 TRAYVEON'S TRAVELS: Anderson knows someone else on the Bengals. A fellow Houston product and running back who was also drafted in the sixth round. Texas A&M's Trayveon Williams just happens to be the defending SEC rushing champion who is cut out of marble. He's listed as 5-8, 206, but is stacked like he's three inches taller and 15 pounds heavier.
He's also an interesting guy. He's got a Biblical verse tattoo ("Philippians 4:13 I can do all things through Christ who strengthens me,") as well as one with the words "Blood, Sweat, Tears." He went on Twitter after falling to the sixth, but he was a little more low profile Friday.
"In the draft I didn't go as high as I wanted or where I was projected," Williams said. "At this point I'm not trying to prove the league wrong. I just want to prove the Bengals right for believing in me."
He's surrounded not only by Anderson, but by two guys he had running the ball last year in College Station: offensive line coach Jim Turner and college free agent guard Keaton Sutherland.
"We're bringing the Aggie attitude," he said.