Zac Taylor unveiled the first major personnel move of his head coaching career along the Bengals' first team offensive line during Monday's first practice of the spring when he moved incumbent left tackle Cordy Glenn to left guard to make room for first-round pick Jonah Williams' debut as the left tackle.
If it holds up for Opening Day in Seattle on Sept. 6, that marks the first time since 1980 and Hall-of-Famer Anthony Munoz that the Bengals line up a rookie at left tackle on Opening Day. Taylor isn't saying anything of the sort yet.
"I think every day it will be a conversation," Taylor said. "What you saw out there today is where we wanted to start and give that group the first look. It could change daily, it could for the next four weeks remain the same."
Williams, the rookie that center Billy Price of Ohio State describes as, "We got a good one out of Alabama," lined up as advertised with seamless SEC efficiency.  
"It's a good feeling, but it doesn't mean anything if I don't prove them right for making that move. That's my challenge every day," said Williams after his first day was over.
It was another day where Taylor let slip some more clues about his embryionic administration. Glenn and Williams had plenty of chances to get on the same page during a break-neck practice where about 100 plays were run as Taylor set his demanding tempo. And the kids aren't going to sit. Not only did Williams run with the ones, but second-rounder Drew Sample got enough snaps for wide receiver A.J. Green himself to observe, "The young tight end looked real good today."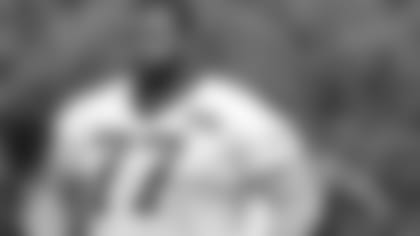 Both rookies got their chances because of injury. Left guard Clint Boling, the only player on the line with more than 100 NFL starts, has been out all spring with an unknown ailment and Taylor has indicated he may not be back until training camp. Starting tight end Tyler Eifert (ankle) and back-up Mason Schreck (ACL), like Green (toe) don't figure to return until camp and Sample got plenty of work with the first team.
Of course, everybody got plenty of work as the offense kept rattling off the plays, whether it was quarterbacks Andy Dalton, Jeff Driskel or Ryan Finley calling for the ball. Taylor and Dalton both called it "sloppy." But Taylor's tempo, like his culture last month, has been set.
"It's intense. It's the NFL. Really talented guys across the board. The game moves fast," Williams said. "It was a good first day. A lot to improve on. We got a lot of plays in. A lot of rep to watch on film."
But it was probably Glenn, the guy with 91 NFL starts, that had to make an adjustment almost as big as the rookie next to him. All of those starts came at tackle. The last time Glenn played guard in a game? How long has it been? Boling was his left tackle during Glenn's next-to-last year at Georgia.
"I'm at a new position. My eyes were kind of wide the first four plays," said Glenn, who says he's all in on the move. "I'm out there right now practicing. As soon as they told me, I'm doing everything to prepare. It's doing your job."
But Glenn knows the guard job has a different prospectus. The inside is faster, quicker.
"Everything is right in front of your face," Glenn said. "On the outside you can be a little more patient. Take a couple of more steps. On the inside it's happening right then and there. I just have to get my muscle memory back. It's been a while."
Once Glenn gets squared away, Williams can use his experience at one of the NFL's more demanding positions. But he says he already has.
"He's a veteran guy. He knows his way around," Williams said. "He has a lot of experience. He knows how to get things done. It's helpful to have a guy like that next to me. We communicate with each other to make sure we're on the same page and all that. So it definitely helps."
Glenn is taking it all in like you'd think a seven-year vet would after the apparently brief meeting with offensive line coach Jim Turner that Glenn called "A man-to-man talk."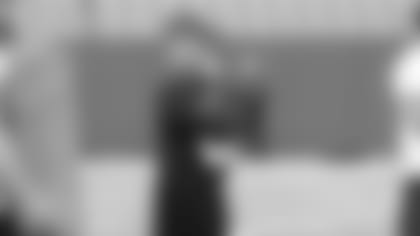 "That was the end of it," really, said Glenn, who knew what could happen the night they drafted Williams.
"When we drafted Jonah,it was going to be different. Especially with that type of investment," Glenn said. "You have to do whatever to help out the team. That's what it comes down to, honestly … I ain't trippin. It's different. Just embracing it and trying to get better."
Here's how he says he can right now: "Just working on footwork and making those first couple steps, getting them in the ground and that type of stuff. There is always something to work on."
Williams is saying the same things.
"There's a lot of things to work on," Williams said. "I just felt good to be out there again for the first time since January and feeling like a football player again."
Price, another first-round character pick in the bid to overhaul the offensive line that began last season, likes the view from the middle.
"We got a good one out of Alabama," Price said. "He's a very solid kid. Very mature for his age. He understands the role of being a first- round draft pick here and that expectations are extremely high and he's living up to it. He's got to continue to grow into the system and he'll be OK."
The system is off and running at a pretty good clip after day one.
Take a look inside the first day of the Bengals' Organized Team Activities at Paul Brown Stadium.