Andy Dalton, who knows a little something about what a second-round draft pick is supposed to look like, has joined the ever growing list of rookie tight end Drew Sample's admirers that have notarized him as advertised after all of four practices.
"He's picked up on things quickly," said Dalton after Tuesday's back-to-work session for his Bengals. "He's what you want in a tight end. 'Polished,' is a good word for him. Some of these guys, you wonder if it's going to be too big for them and all that stuff. But he comes in and he fits right in. It's good to see. When you get a guy like that in the second, you want him to be what he is. So it's good to see him out there with everybody and see how he fits."
A first-rounder who plays the same position like Tyler Eifert also has an idea. He says the sample of Sample has passed the test.
"He's been thrown in the mix right away and he's done a great job understanding the offense," Eifert said. "He's making some plays out there and knowing where he's supposed to be and just doing the right things."
That goes for fifth-round picks, too, which is where new tight ends coach James Casey came from ten years ago after he shattered the Rice record book with 111 catches and 13 touchdowns. When Casey watches Sample this spring, he finds himself thinking back to his own rookie OTAs with the Texans in 2009, not to mention others in a career that spanned 100 games, five of them in the postseason, during seven seasons.
"He's way better than I was coming out," Casey said as he walked off the field Tuesday, still without the rehabbing Eifert and Mason Schreck. "His learning curve is a lot less than mine because he was in a more NFL style offense in college playing against good competition. Now he just has to keep hammering away at the details and take his game to the next level.
"He's more advanced than what I'm typically used to seeing (come into the NFL), but that doesn't mean he's going to jump out and be ready to go," Casey said. "I've been very impressed how even keel he is. The moment's not too big. … I was more on edge than him. He's a well-rounded guy out there and that's going to help him out in Seattle week one in a very loud environment."
Sample says that's good to hear from a guy like Casey that played the position so long. Yet he's also hearing it from a guy that re-invented himself from that first spring in 2009, which is what the hard-driving Casey did.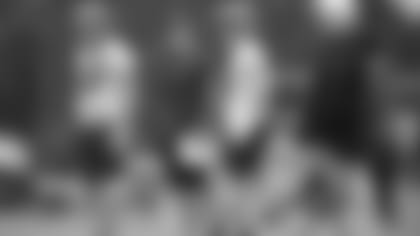 Casey, 34, entered the league as an offensive conglomerate after a career he had not one but two lifetime games with one touchdown each running, passing and throwing. His NFL totals (72 catches and six touchdowns) never came close to that senior year at Rice. But when he retired after he played with the 2015 Super Bowl champion Broncos, he left with a highly-respected rep built on toughness and versatility as a master tradesman when it came to blocking the C gap on the back side or running a third-down route to the sticks. Five of Casey's seven teams finished in the top ten in rushing.
"I mean, I'm reading up on this guy and he dominated," said Bengals tight end C.J. Uzomah of research on his new coach's college run. "Did you see him when he played? This guy was rocked up … He had some pipes … He was a Swiss Army knife back there in college and then he transitioned into playing anywhere they wanted him … He can say, 'Let's talk about how we can go about doing certain things.' A push-pull kind of coaching style, which is cool. He's fresh out. He knows what we're going through."
Uzomah and Casey have a lot to talk about. They were both gifted athletes good enough to play quarterback in high school and make the switch to tight end. The Texans made Casey the 152nd pick in 2009. Six years later the Bengals made Uzomah the 157th pick out of Auburn.
Sample gets it. Casey came out all-world in the passing game. Sample comes out as the best blocking tight end in the draft. Casey wasn't supposed to be able to block and Sample's not supposed to be able to catch. But then Casey found himself on a team with Andre Johnson, Arian Foster and Owen Daniels. If he didn't block, he was gone. Sample plans turning that around like Casey did. He already feels at home catching the ball. Last week, during the first day of OTAs, Sample was all over the place with some nifty catches, plus some smooth moves after grabs. They didn't go to him as often Tuesday in a practice geared for the red zone, but he was available often in seven-on-seven working against linebackers.
"(Casey) knows the ins and outs of playing tight end in the NFL," Sample said. "He's seen different guys do it. He says the biggest thing is in the details. What can you do to separate (yourself)? Extra film study. Details of the playbook. Taking care of your body. The guys who are professionals outside when they leave the stadium, those are the guys that have a lot of success. He's seen that and he was able to do that and that's something I can take from him."
The Bengals knew maturity wasn't an issue with Sample or their first-rounder, Alabama left tackle Jonah Williams. It's a big reason they went with both of them so decisively. Williams made national news with his analytical approach to practice sessions and Sample is already in his second year of marriage expecting a child after his last two seasons at Washington saw him win the Don James Perseverance Award and the Iron Husky Award.
So you can imagine what this spring has been like for them as hotel roommates.
"It's been fun. We've got similar personalities. We've gotten to know some of the other rookies and gone out to dinner a couple of times and getting to know Cincinnati," said Sample of a group that took in last weekend's Ninja Warrior event. "Jonah and I knew each other before so it's a good connection."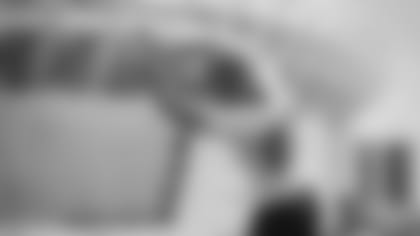 They've spent a lot of time together watching film and getting to Paul Brown Stadium early to get a jump on the day. That's been helpful as Sample starts his transition to two-way player. He says he's already got a good start because Washington's offensive requirements for tight ends aren't much different than what Zac Taylor has going on in Cincinnati.
"Just the way we move around tight ends. We did that a lot in Washington. Going in motion and different stuff like that," Sample said. "There are some concept carry over, it's just called differently. There are different details and little adjustments on the routes."
Casey is looking to take care of that with a heavy diet of film study of other NFL tight ends and Sample can just look at the two veterans ahead of him in Eifert and Uzomah. Casey knew he was getting a physical, tough player and Sample has given him a whiff of that even in the non-contact spring with the strength of his punch in blocking drills. But Casey also senses a buzz in the pass game that he thinks can be improved with a high-end tinkering of his routes.
"I think he's shown some things out here catching the ball," Casey said. "He's shown some burst after the catch. We still have to clean up some of his top ends. Taking direct angles at the top of his cuts and just burst out of his breaks, but I think he's done some good things (with the ball). He's shown enough we all feel good about it."
Eifert is the keeper of the tight end room even though Uzomah has played two more games (45-43). But Eifert has been to a Pro Bowl and when healthy he's one of the most destructive weapons in the NFL and he's got the respect of those that play the game. He likes what he sees in Sample because it's what he sees in the rest of the room. You won't find two nicer guys on the team than Eifert and Uzomah, although there is a room fine if they think any of the tight ends is grandstanding for the cameras during media sessions.
"We've got a great position room. I'd argue maybe the best on the whole team," said Eifert, who admits Sample catches grief for being a rookie. "Good guys. Don't take themselves too seriously. But we get our work done and work real hard. (Sample) is a good sport. You have to bust him a little bit. But he's also going to help us win. He won't have it too bad."
For Dalton, it's all good as another target emerges.
"Second round," he said, "is the best round to go in."
Check out some of the best images from the Bengals' Organized Team Activities from Paul Brown Stadium.