Week In Review: Training Camp Underway
Training Camp 2019 is officially underway. The Bengals defense has spent the spring and summer quietly rebuilding its swag. During the first padded practice of the season they noisily came out of the shadows with a rambunctious stand in the second half of practice that dominated day.
Taylor Tries On His Different Hats
Zac Taylor is getting more curve balls thrown at him than Mookie Betts and Mike Trout combined during his first training camp and he's calmly taking two and going to right. Taylor had to wear the varied hats of a head coach as he played meteorologist and a doctor when he met the media Tuesday during a topsy-turvy first week of camp.
Bengals Host Family DEY This Saturday
Zac Taylor will lead his first public practice inside Paul Brown Stadium during "Family DEY" this Saturday. Family DEY features free parking, kid-friendly activities, prizes, an open practice and player autographs after practice. Admission is free and gates open at 2 p.m.
Wide Receivers Get Their Shots
With murmurings of wide receiver A.J. Green missing at least six weeks, the Bengals will look to a group of receivers that includes Cody Core, Alex Erickson and Josh Malone to pick up the slack. The wide receivers are going to get a slew of snaps in pre-season practices and games to show they can produce.
Willis Catches Attention At Camp Zac
Damion Willis has plenty of company as one of the most watched players of Bengals training camp. Despite snubbed by his state school, uninvited to the NFL scouting combine and disinvited in the April draft, Willis, the Bengals rookie wide receiver from Troy, has caught the eye of the two most important figures in the Bengals offense.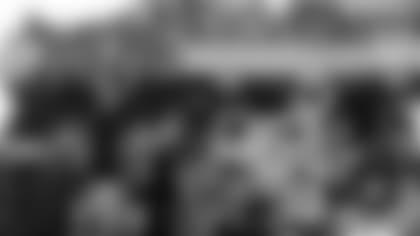 Purchase Bengals Tickets
It's a NEW DEY. Claim your place in The Jungle!
Taking It A Day At A Time, Sample Adjusting Well
When the Bengals chose to draft tight end Drew Sample in the second round in the 2019 NFL Draft, it raised some pundits' eyebrows about where he was selected. However throughout the offseason, the Washington product has opened some eyes early in his NFL tenure.
A.J. Green Named No. 58 on NFL Top 100
The Bengals have a second player on the NFL top 100 list, as wide receiver A.J. Green came in at No. 58. It's Green's eighth consecutive time appearing on the Top 100, which is voted on by players throughout the league.