Updated: 11-21-08, 12:55 a.m.
PITTSBURGH - The Bengals' hand-crafted lineup knitted one of those efforts Thursday night at Heinz Field that had all the homespun traits of heart and grit. But they just didn't have enough yarn to trip up the AFC North-leading Steelers, who came away with a 27-10 victory.
After their undermanned offense took a 7-0 lead late in the first quarter on wide receiver/Chad replacement Glenn Holt's 10-yard touchdown catch, the Bengals watched their defense get depleted as the Steelers relentlessly wore them down in the second half.
"We need to change," head coach Marvin Lewis said. "I'm talking about how we play, not anything other than that. We need to do a better job coaching and playing. I'm talking about me, too."
Asked if he has thought about if he's coming back next year he said, "I have not."
The Bengals lost defensive ends Frostee Rucker and Robert Geathers to knee injuries in the first half and had to go with Jonathan Fanene and tackle John Thornton at end to try and pressure Steelers quarterback Ben Roethlisberger.
(And Fanene got hurt early in the fourth quarter, but he did return later.)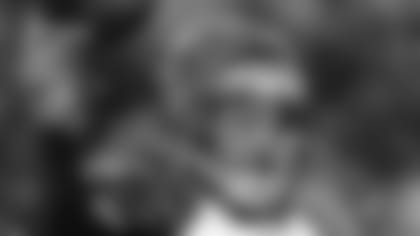 Ryan Fitzpatrick was 20-of-37 passing for 168 yards on the night. (AP photo)
Roethlisberger (17-of-30 for 243 yards) had plenty of time to revive a Steelers passing game that had been flagging of late. Roethlisberger heated up and the running game that had been stifled in the first half got rolling. Running backs Willie Parker and Mewelde Moore both bounced 15-yard runs to the Bengals' barren left perimeter over big blocks against cornerback David Jones as the Steelers hogged the ball for 11 minutes in the third quarter.
Moore also popped a big screen and tight end Heath Miller ran unmolested through a zone for 19 yards to set up Gary Russell's 2-yard touchdown run to give the Steelers a 20-7 lead with 21 seconds remaining in the third period as the Bengals got no pressure anywhere.
The big stat of the Steelers series sweep, the second straight?
The Steelers have the third-worst pass protection in the NFL going by sacks per pass with 35 after 11 games. The Bengals didn't have one sack against them all year.
And the offense that started so well missed on eight straight third-down tries after making three of their first four. When the middle of the Bengals line got blown up on third-and-one with 14:23 left in the game, running back Cedric Benson (16 carries, 35 yards) lost a yard.
At that point Bengals quarterback Ryan Fitzpatrick had only 81 yards passing. Left guard Nate Livings and left tackle Anthony Collins held up pretty well in their first NFL starts and the Bengals allowed only one sack on the game. But blitzes from cornerbacks and inside backers forced Fitzpatrick into some early throws, and he had at least three tipped at the line.
One series in the third quarter started with Fitzpatrick's play-action fake, but he threw much too low to wide receiver T.J. Houshmandzadeh, and on the third-down incompletion where Fitzpatrick did have time but couldn't get it to him, Houshmandzadeh went ballistic claiming cornerback William Gay grabbed his facemask.
Cincinnati's total of 208 yards was their third fewest this season
The Bengals put together a drive late, but it took them 11 plays to go 37 yards for Shayne Graham's 37-yard field goal with 6:47 left to cut the Pittsburgh lead to 20-10. Fitzpatrick threw a short, low incompletion to rookie wide receiver Andre Caldwell open inside the 5 and he overthrew Houshmandzadeh on the goal line in the corner when he looked to be triple-teamed.
Lewis then opted to kick the field goal instead of going for the TD on fourth-and-goal from the 8.
"The opportunity to score a touchdown there was difficult, so I took the points with the ability to kick the football off," Lewis said. "We had an opportuinity for a play that didn't materialize on the kickoff. And then we had a chance to stop them and get the ball back but we ended up having to kick the ball deep and at that point we never stopped them."
Bengals hang close in first half
The Bengals had a great chance to tie or take the lead late in the first half, but they couldn't convert a recovered fumbled off a punt in the last minute and went into the locker room down, 10-7.
After linebacker Rashad Jeanty fell on a punt that bounced up and hit the Steelers' Limas Sweed on the hand at the Pittsburgh 39, the Bengals eschewed a 51-yard field-goal try and went for it on fourth-and-five from the 34.
Gay knocked down Fitzpatrick's passed intended for Houshmandzadeh, but he got plenty of time from the massively revamped left side of the Bengals offensive line.
He didn't on the play before, when Pro Bowl outside linebacker James Harrison shot between Livings and Collins and forced Fitzpatrick to throw it quick for no gain.
But Collins and Livings were more than OK against the NFL's co-sack leaders. The Steelers got one, but only when Fitzpatrick tried to run it when cornerback Fernando Bryant came off the edge on a delayed blitz.
The O-line kept Fitzpatrick clean enough to generate a touchdown on Holt's second catch of the season, a 10-yard arrow from Fitzpatrick on third-and-six that capped an 11-play drive for a 7-0 lead 12 minutes into the game.
Holt, playing for the benched Chad Ocho Cinco, beat Bryant on a slant over the middle. Fitzpatrick converted three first downs in the drive (a 14-yarder to wide receiver Chris Henry and an 11-yarder to Houshmandzadeh) and the march featured a four-yard run to Benson off a direct snap.
But after the Bengals stopped the Steelers on their first three third downs and took a 7-0 lead into the second quarter, Holt was all alone on the sideline on a third-down pass and dropped it and Pittsburgh then parlayed a 30-yard Kyle Larson punt and 37-yard catch by receiver Hines Ward against a zone off Roethlisberger's pump-fake into a 7-7 game with 10:16 left in the first half as Roethlisberger hit Miller with a three-yard touchdown pass against another zone and smudged an excellent defensive outing that held Parker to five yards on his first seven carries.
But short yardage, just like Sunday against the Eagles, was a mess. In the 7-7 game the Bengals were at their own 48 when inside linebacker James Farrior was unblocked and he stuffed Benson for no gain that forced a punt to the Steelers 9.
And here's the story about this rivalry since 1992: The Bengals then couldn't stop the Steelers on third-and-one (running back Carey Davis bored into the Bengals' right side and it unleashed a 72-yard drive that ended with Jeff Reed's 37-yard field goal that gave Pittsburgh the lead, 10-7, with 1:52 left in the half).
Bengals cornerback Leon Hall struggled with wide receiver Santonio Holmes during the half and on that drive he gave up a 22-yarder when Holmes deked him outside and took him across the middle. But cornerback David Jones, playing for the injured Johnathan Joseph, knocked down a third-down pass to Holmes over the middle to force the field goal.
The Bengals offense started four players making their first NFL starts and they started with a three-and-out when safety Troy Polamalu dumped Benson for no gain. Besides Holt, there was rookie receiver Andre Caldwell, as well as Collins as well as and Livings.
The Bengals defense, holding Parker to 14 yards on 11 carries in the half, started the game well with a four and out with one first down and then forced a third-and-five on the second series. But it was costly. Rucker, already playing for the injured Antwan Odom, had to be helped off the field with a left knee injury after holding Steelers receiver Nate Washington to a four-yard run on a reverse, but Rucker did return later. Then Hall had good coverage on Washington when Roethlisberger had to hurry his throw on a play that forced a 28-yard punt.
But the Bengals punt return team continued their flags from last Sunday. Safety Kyries Hebert got called for a hold and instead of having the ball on the 48 they got it on their own 38.
The Bengals went down to just one healthy defensive end (Fanene) late in the half when left end Robert Geathers left with a knee injury. The Bengals were using linebacker Darryl Blackstock in his spot at times, particularly on third down.
Benson banged his head against the No. 1 rush defense with just 27 yards on 10 carries and Fitzpatrick again had another half with no mistakes and a nice passer rating of 98.4 on 11-of-16 passing for 70 yards. Caldwell got his first NFL catch on the first series of the second half on a quick six-yard throw to the sidelines after Holt started the half with another sideline drop.
After the game most of the discussion centered on Lewis's decision to deactivate Ocho Cinco for violating a team rule.
Lewis: "Chad will be back. He should be fine.
"I don't know that it hurts that way. If you have to deactivate a guy like that we had other guys step up and had an opportunity to make plays."
Houshmandzadeh: "They did what they wanted to do. It doesn't matter if I agree with it or not. (Lewis) coaches the team. Mike Brown owns the team.
"I imagine he would have helped if he had played but we've lost eight games with him, so I don't know. But Chad is a good player. He would have helped.
"It shocked me. It's something they haven't done before."
John Thornton: "I don't think it hurt us. I don't know what happened to be honest. I know he's done worse. I think this was just a statement from Coach with the kind of season we're having. We all have to be on the same page. He told us what happened and we moved on, so I don't think it had a big effect on the game."
Leon Hall: "I don't think it had any effect from the people I talked to. I think it was good. Sometimes you have to put your foot down. You may not like some of the stuff that happens but you have to live with it and roll with the punches."
PREGAME NOTES: As the Heinz Field personnel pulled the tarp off the field Thursday night, the Bengals were getting pulled back by the national TV analysis of the Chad Ocho Cinco deactivation.
With conflicting published reports surrounding the Wednesday night meeting that ignited the move, the Bengals were preparing to play their first game in 113 straight without their combustible wide receiver.
The news got worse when the starting lineups came out. The Bengals confirmed that rookie left tackle Anthony Collins and left guard Nate Livings were making their first NFL starts against the NFL's top defense. Also out was strong safety Chinedum Ndukwe (foot) with Chris Crocker making his first Bengals start in his third game with the club. Also not starting in the secondary was cornerback Johnathan Joseph (David Jones got the call), but he's expected to get some snaps despite nursing a foot injury.
Rookie defensive tackle Jason Shirley was active for the first time in his career.
According to ProFootballTalk.com, Jay Glazier of Fox reported that Ocho Cinco showed up at the 8:30 p.m. offensive meeting groggy and when offensive coordinator Bob Bratkowski told him to sit up straight, he got up and left and had "heated words" with head coach Marvin Lewis.
But indications were that it was a one-way shouting match with Lewis doing the shouting.
According to Ocho Cinco via Bengals radio play-by-play man Brad Johansen, he said he "begged and begged" Lewis not to sit him after he overslept an 8:30 p.m. meeting.
Amid reports that the two had a verbal confrontation, The Ocho indicated to Johansen that he didn't have one.
Ocho Cinco told Johansen that he didn't have a problem with the way Lewis handled the situation.
"He sounded like Chad. He was upset but he understood that rules are rules and he wants to get back and keep it positive," Johansen said.
Whatever happened, Glenn Holt got the start for The Ocho. Rookie receiver Jerome Simpson didn't make the trip with an ankle injury, but when the Bengals made the move with Ocho Cinco a day after putting wide receiver Antonio Chatman on injured reserve, they flew Simpson in here Thursday morning.
With Livings and Collins getting the nod, Elias Sports Bureau said the last two players to make their first career starts on the same line in the same game were guards Tony Moll and Jason Spitz of the Packers on Sept. 10, 2006.
Ocho Cinco and agent Drew Rosenhaus are saying the right things and they aren't saying it very often. They couldn't be reached for comment, but both said they respected the club's decision and that Ocho Cinco plans to be at practice Friday in preparation for the next game against Baltimore Nov. 30.
So his 113-game playing streak is finished. But his 102 straight games with a catch carries into the Ravens game.
In what was rapidly turning into a surreal night at Heinz, former Bengals head coach Dick LeBeau was presented with a plaque before the game by the NFL for his 50 straight years in the league as a player and coach. LeBeau, now the Steelers defensive coordinator that leads the NFL in all three major categories after serving 18 years with the Bengals, was feted with a five-minute film tribute on the scoreboard after his brief speech highlighting his 14-year playing career with the Lions.
Virtually none of the injured players made the trip. Quarterback Carson Palmer (elbow) also had to tend to some personal matters.
The Bengals sent out safety Kyries Hebert as special teams captain for a toss the Bengals won and they deferred to receive the second half kickoff. Rookie defensive tackle Pat Sims got his second straight start.
The Bengals offensive lineup started out in three wides, meaning rookie Andre Caldwell and Holt were also making their first NFL starts.