Three years ago, the day after the Super Bowl, Zac Taylor signed on to coach the Bengals.
Three days after this Super Bowl, Taylor signed an extension through 2026 before heading to Wednesday's Washington Park rally honoring his Bengals and their just-miss loss to the Rams in Super Bowl LVI.
"He's a good young coach," said Bengals president Mike Brown, back in his Paul Brown Stadium office handwriting thank you notes to his well-wishers.
"Zac has come into the league and worked to develop the foundations for a winning program that can be successful over time. The fruits of Zac's efforts were seen this year, and Zac is well-regarded by our players and coaches. I know the effort and passion Zac brings to the building and to our team, and I am pleased by his approach. And I think the city of Cincinnati sees him the way the players and I do. He's brought excitement to the town and deserves credit and recognition for that."
It was Brown and the city that Taylor acknowledged with game balls after the Bengals won their first playoff in game in 31 years, a thrilling 26-19 Wild Card win in a sea of sound supplied by the largest Paul Brown Stadium crowd ever.
After linebacker Germaine Pratt's interception at the Bengals 2 with 12 seconds left, Taylor pointed to Brown's patience through the 6-25-1 record of his first two seasons. Then he went to Mount Lookout Tavern to hand out some game balls to fans, igniting a playoff tradition. 
"If I coached in any other organization in football, I probably wouldn't be here right now in my third year. That's the truth," Taylor said.
The patience paid off when a team that lost 13 one-score games in that stretch became the first team in history to win three straight postseason games by just 13 points.
And after Taylor began his career unable to win his first 15 road games, he delivered the franchise's first two road playoff victories.  
"He's excelled managing the team. When he first started, he was someone who had dealt with one side of the ball. I think he's learned to manage the whole thing," said assistant head coach and special teams coordinator Darrin Simmons.
"It just comes from experience. He has a great way with our players. When he talks to them, it's heartfelt. It's to the point, but heartfelt and everybody listens to what he says and they take what he says to heart. It's well thought out. It's structured. All the guys that matter are listening. He's also helped select the right guys to build the foundation and get the culture he wants."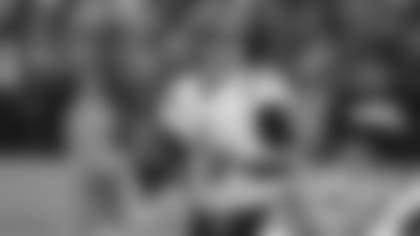 Mike Brown spent his first years in pro football watching his father, Browns head coach Paul Brown, dominate the game in the 1950s with quarterback Otto Graham. That cemented his belief that the coach and the quarterback are at the top of the list when it comes to winning in the NFL and he's got faith in the team of Taylor and Joe Burrow.  
Then as he helped his father build the expansion Bengals, he saw how patience could be a virtue.
"I watched what he did. He was doing a good job when sometimes the results weren't what we wanted," Brown said. "There were reasons for it. Once we got Joe in the harness and some other guys playing the way they can play, we got to the point where we can pretty much play with anybody."
It was also not lost on the offensive-minded Brown that the 2021 Bengals scored 444 points in the 16 games the starters played. That was four short of the franchise record set by the iconic 1988 offense. Clearly, he likes the new wave offense Taylor runs. 
"In this league, if you want to get to where you wish, getting to the Super Bowl, you need a lot of things," Brown said. "All of those are important. But certain people, and I would be one, would say the most important part is being able to score. These days 30 points is at a level you're able to win week in and week out. It's something we're shooting for in the future. We have the ability to do it if we're going right. Zac is the reason we can do that. It's his system. He teaches it effectively and our guys have bought into it."