Cornerback Darqueze Dennard had one of Wednesday's three interceptions.
Tight end Tyler Eifert stretched with the team before Wednesday's mandatory minicamp practice but just watched the rest of the way. That may or may not be what we see when training camps starts in 43 days as he continues to recover from back surgery. Lewis said he doesn't know if Eifert is going to be ready for July 26.
He said there has not been a setback, although Eifert did work against defenders in drills in the weeks leading up to this week. Lewis indicated one of the reasons they're keeping Eifert out of the mandatory is because the Bengals are working on the slick, new synthetic field that was placed in Paul Brown Stadium earlier this month while the grass fields are re-sodded.
"There's no reason to get him jostled," Lewis said. "Just ease his way into things. No setback. We're trying to make sure we manage everything they want him to do.
"When they tell him they release him, he'll be ready. The main thing is he keeps up with it mentally. When he was getting the reps he was getting before, when there was a defense over there, it was good."
THREE-PICK DAY: Defensive coordinator Teryl Austin has been banging the drum for more turnovers sine he signed back in January and Wednesday was his kind of day when the defensive backs came up with three interceptions. With the free-agent courting of safeties in an offseason capped by the drafting of ball-hawking safety Jessie Bates in the second round, seven-year safety George Iloka gave them something to ponder after he dropped back in a zone over the middle and stretched to pluck Andy Dalton's ball out of the air intended for wide receiver Brandon LaFell. Lewis called it the best catch he's seen Iloka make on an NFL field. The play also showed how popular Iloka is among his mates because the sideline exploded.
"That was a nice football play. That was good to see for him. For George, that's a good confidence play for him," Lewis said.
Another regular, cornerback Darqueze Dennard, read backup quarterback Matt Barkley's eyes in the red zone on third-and-six from the 6 and cut in front of slanting rookie wide receiver Auden Tate for another pick. First-year corner Sojourn Shelton held on to Barkley's ball thrown virtually right at him.
"It's all right, but we gave some up," Austin said. "We have to do better. That's good. Those are things we want, but we also want to make sure we don't give any up."
By the way, Tate, the 6-5, 228-pounder the Bengals took in the seventh round, displayed his reliable hands. He made a nice tip-toe catch along the back line of the end zone and made a diving catch despite jamming his foot as he dove.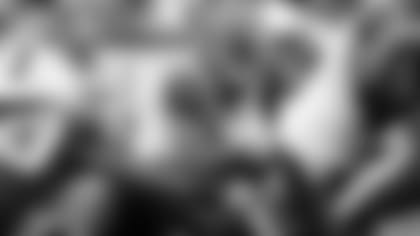 Joe Mixon (28) is shaking off his rookie inexperience.
JOE ON GO: Running backs coach Kyle Caskey has been bullish on sophomore Joe Mixon and says he's taken a big step this spring. Offensive coordinator Bill Lazor says it's been fun to watch him develop after he challenged his No. 1 to be a complete back.
"When you're a rookie back and being part of a backfield that had as many as three guys playing, some of the more intricate things went to the veterans because there are only so many reps," said Lazore before Wednesday's minicamp practice. "Then you get to a point, 'This guy should be able to do it all.' Whether it's a multitude of runs, different specialty plays, the passing game, protections, running routes. If you're as talented as we thought when we brought you in here and you're a smart guy, let's do it all. Let's have all that stuff in the toolbox … I'm really excited for him."
Lewis, always careful to rave, didn't mince words on Mixon.
"His role will be expanded," Lewis said. "Joe has been great since the day he walked in this door. His effort, his energy. Now his sophomore year, he understands his attention to detail has to be better."
Lazor is also a big Giovani Bernard guy, a third-down back that can also carry the load.
"He's more than a year back off the knee injury," Lazor said. "Think of all the big plays, all the production he had last year coming off that (ACL) injury."
SLANTS AND SCREENS: Pro Bowl defensive tackle Geno Atkins didn't make it out to the field until about 75 minutes into Wednesday's two-hour practice. Lewis said he had a personal matter to tend to. "That's one of the ten times he's talked to me in 10 years," said Lewis of the famously silent one.
_Out of practice but expected to be OK for training camp in seven weeks: tight end Tyler Kroft, guard-center T.J. Johnson, cornerback Darius Phillips, tackle Justin Murray and wide receiver Devonte Boyd.
_Right tackle Jake Fisher, cleared back in February following his November heart procedure, has been dealing with a shoulder issue much of the spring and has been working in and out. This week Lewis says he's been released "somewhat," and Fisher acknowledged before Wednesday's practice he's rusty.
With a training camp battle looming with Bobby Hart, Lewis says it's the right time: "He doesn't want to give up too much of a head start … he can work his way back so when training camp comes around he's up and running."