John Ross put his numerous skills on display for the longest stretch of his NFL career this past month.
A.J. Green has never been a numbers guy but as he went off on summer vacation Thursday he did reveal one he'd like to get. The nice round number that comes with 100 touchdowns. He just likes the sound of it. And he says he wants to do it as a Bengal.
Green turns 30 the week training camp starts but he didn't look a day over 25 during the minicamp just completed. With 57 TDs and his contract up after next season, that means another extension and the Bengals' all-time TD record. Running back Pete Johnson currently has it with 70 and Chad Johnson has the receiving TDs record with 66, which means he could break both this season.
Only eight wide receivers have at least 100 TDs and one of them is still active with Larry Fitzgerald's 110. All seven who are retired are in the Hall of Fame and Fitzgerald is headed there. Green is tied for 11th on the active receiving TDs list with Mike Wallace and Demaryious Thomas, two behind Antonio Brown.
ROSS CAMP: John Ross, Green's fellow first-round receiver, is looking for that first NFL touchdown catch and he feels closer to it as camp finished. It capped his most consistent practice time as a pro and his last play of the spring summed up what he does best. The man is just plain dangerous in space. Like he says, "I want to be a problem for other teams. That's kind of what I'm going for."
This particular problem surfaced with about five minutes left in the workout:
Third-and-five and offensive coordinator Bill Lazor's last words are, "Get the first down." He sends Ross on a drag route across the middle of the field to emphasize his speed and Ross just happens to be running it against the guy that is probably the second fastest player on the team in cornerback William Jackson. Quarterback Andy Dalton hits Ross in stride, making Jackson a tad late, getting the first down and sending Jackson into an anguished reaction.
"Good job, John," said Lazor as Jackson seethed.
"In a game situation that possibly could have been a touchdown," Ross said after practice. "When I get routes like that and I see the coverage and I know I'm one-on-one, I get to showcase my speed, especially against someone fast like that … that's always fun."
Ross had some big days in camp. He did struggle at times with contested catches, but overall receivers coach Bob Bicknell is pleased with what he got from Ross in his first look at him. Lazor also loves Ross' attitude because he wants to be known as a player and not the fastest guy in the history of the scouting combine.
"He's really got that elite speed and quickness and he can catch the ball," Bicknell said. "He can catch the ball as well as anybody in drills. When he's running right at me where you can really judge how he reaches and catches it, he frames it perfectly. He just needs to be more consistent, but he's an impressive guy."
Ross is the first to tell you he's working on his confidence. "Mentally is the biggest part. It can carry you." He's getting a lift from his fellow speedster since Jackson, the first-round pick from 2016, also lost his rookie year to injury.
"Me and Will talk about it all the time. That was the first thing Will and I talked about this year," Ross said. (Jackson said) "'Look at me. I got hurt and last year I had a good year. You got it. You work hard. You've got what it takes. Just work hard every day and you'll l be OK.'"
Ross admits he's still trying to get past last season's injury in the mind's eye, like on one deep ball late in practice on Wednesday that he approached tentatively as it fell to the turf. But after going through two shoulder injuries and a knee problem, he seems to be bouncing back well.
"Not to make excuses, but once I shift my mind to, 'you're going to be OK and don't be such a baby about it,' I'll be fine. I have thought about it. Don't overdo it. It's only minicamp. But as soon as we get to camp it's going to be completely different, I'll have much more time in recovery. I'll be fine. I think it's still me progressing every day and not trying to overdo it."
During the break he also plans to keep working out with former Bengals wide receiver T.J. Houshmandzadeh, a routine he began in early April in California.
"He saw how much I wanted him to be a part of it and how serious I am," Ross said. "I like to improve. I don't like to stay the same."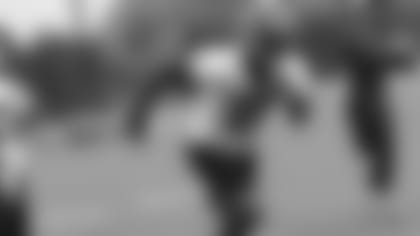 So far, Auden Tate has been a catch.
_A little throwback Thursday up front when three of the more well-known linemen in Bengals history surfaced at practice. Pro Football Hall-of-Fame left tackle Anthony Munoz and Pro Bowl nose tackle Tim Krumrie, two of the top three vote-getters in last year's Bengals First 50 fan vote, were on hand as well another first 50 Bengal, Max Montoya, the franchise's all-time right guard.
New offensive line coach Frank Pollack immediately came over to greet them and needed no introductions, especially since he played in Munoz's golf tournament on Monday. Pollack, a backup O-lineman for the 49ers in the '90s, doesn't think he ever played against Krumrie. But when Krumrie was an NFL defensive line coach for three teams and 15 seasons, he developed a well-known reputation 
"I told him I enjoyed when he was coaching D-line working guys out for the draft process. He wore them out," Pollack said. "It was fun to watch and he had an approach that I respect and like, too. He was an intense guy as well."
Pollack actually overlapped playing in the league with Munoz and Montoya.
"That was cool seeing those guys. Those guys were special," Pollack said. "I wouldn't say Munoz overshadowed Montoya. But, the greatest of all-time, people say, right? He had some really talented players with him. Montoya was a Pro Bowl player. He was a freaking stud."
Krumrie, accompanied by 27-year-old son Dexter, recently moved back to Cincinnati from Colorado, in large part to be around his former teammates. It's been a good month for that with Thursday's reunion and Munoz's tournament, as well as last week's NFL Alumni golf outing. 
  _There is going to be no break for first-round pick Billy Price. He says he'll be here until camp starts rehabbing his shoulder surgery that kept him out of the spring drills as the starting center. But he's about a month ahead of schedule and can pretty much do it all. He's doing the exercise that partially tore his pectoral, the bench press, and reported on Thursday while his teammates were scattering to the four corners he bench-pressed 315 pounds four times. The only restriction is that rehab chief Nick Cosgray has to watch him lift.
_Seventh-round pick Auden Tate, the monstrous Florida State wide receiver and last of the Bengals' 11 draft picks, is making a real run at the roster. At 6-5, 228 pounds Tate has caught everything despite his marginal 40 speed but there are no indications they're moving him to H-Back. Asked about Tate's catch radius by Bengals radio voice Dan Hoard, Ross gave him a great future training camp bite with, "I think it's ridiculous. It looks like the ball is always out of his reach, but it's never out of reach for him."
_ A good day for sophomore safety Brandon Wilson. He got the defense's fourth interception in the last two practices when a pass glanced off wide receiver Alex Erickson's hands over the middle and Wilson got the tip. Also, right after Lewis reminded him to play tighter ("play the force,") Wilson forced an incompletion when he punched the ball from Erickson as they collided in the middle.