With a decision drawing closer on the status of Carson Palmer, the Bengals on Friday signed quarterback Jeff Rowe to the practice squad and head coach Marvin Lewis said Palmer "probably" will sit out next week's game in Houston as well as Sunday's game against the Steelers.
That means backup quarterback Ryan Fitzpatrick would get the start at the scene of his spectacular 2005 NFL debut, where he came off the bench to throw for 310 yards and three touchdowns against the Texans in leading the Rams to a 33-27 overtime victory.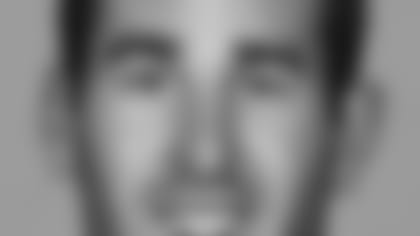 The addition of Rowe is evidence that the Bengals are leaning to shutting down Palmer's inflamed throwing elbow for the rest of the season as he mulls surgery and/or rest.
But Lewis said no decision has been made.
"It's just to get somebody else some of the snaps in practice and service the defense some so you don't wear the other two guys out," said Lewis, who also said Palmer's questionable situation is unchanged. "We're going to let Carson rest."
The Bengals then host the Jaguars before their bye week, but Lewis said "we'll see" about the Nov. 2 Jacksonville game.
A Bengals fifth-round choice in the 2007 draft, Rowe spent his rookie season as the third quarterback on the inactive list. A three-year starter at Nevada, he amassed 7862 career passing yards and posted a plus-22 differential between TD passes (55) and INTs (33).
Also Friday, tight end Ben Utecht (chest) didn't dress for practice, indicating he'll be out Sunday. The two veteran wide receivers with gimpy ankles were on the field practiced. T.J. Houshmandzadeh was limited Thursday and kick returner Glenn Holt didn't work until Friday.
Even though Houshmandzadeh and Holt came back to practice Friday, Lewis still wants to get snaps for rookie receivers Jerome Simpson and Andre Caldwell.
"I look for big things from them," Lewis said. "I'm glad we have them. They're as good or better than I expected . Their attitude is wonderful. They're good-spirited and athletically talented."
In other words, they earned it. Lewis is hesitant to play young players in the name of development even though at 0-6 that would seem to be the way to go.
"It's not fair to people. It's a whole different chemistry in a football locker room. If you start doing those things, you really alienate players because then they look around and say when is it going to be their turn," Lewis said.
"If I'm doing it right, doing it good, I'm still the best player, then I deserve to play because I put my butt on the line for you all the time. You can hurt your team down the line. We want to get a chance to play young players as much as we can and get them involved because we think their athleticism can help. If a guy is going to help you win the football game, that's one thing. As opposed to throwing this guy out there and he hasn't proven himself in practice."
Also out Friday were cornerback Jamar Fletcher (hamstring) and safety Herana-Daze Jones (hamstring).
Kicker Shayne Graham (groin) said Friday before practice that he felt closer to kicking after some limited work Thursday but that he's still not 100 percent and that he's not sure if he'll kick. One option continues to be Dave Rayner kicking off and Graham kicking field goals.
"That depends on our health," said Lewis, who also said he'll check on Graham on Saturday and Sunday before making a call.
"It hurts me not to be out there," Graham said. "But I've got to be smart about it.
"Dave is completely capable. I don't think we'd have him here if we didn't think he was."
Graham, who took the field, doesn't usually kick Fridays. He didn't kick as much Thursday.
"We're doing everything humanely possible," said Graham, who missed last Sunday after kicking in 86 straight Bengals games. "I didn't want to push it. I did a little bit. We'll continue to get it to 100 percent. I'd want to give my team 100 percent and if I don't feel I'm 100 percent, I wouldn't put my team in that position that they couldn't count on my best talent."
Not only have the Bengals never beaten the Steelers at home under Lewis, but they've never lost three straight home games under Lewis.
"We haven't played our best football at home and we need to do that," Lewis said. "Coming here on Sundays has to be special. We've talked a lot to the team. We work here (every day), we get comfortable too much, maybe. Sunday has to be a different day. We have to be ready to go."