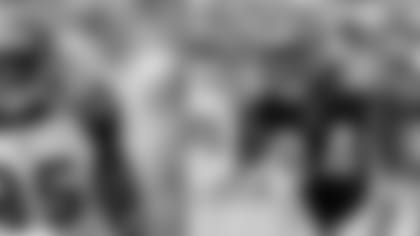 Chad Johnson (left) and T.J. Houshmandzadeh give the Bengals a potent 1-2 punch.
Cris Collinsworth, who caught 246 balls in the Ken Anderson era and 171 during the age of Boomer Esiason, prefers to compare Carson Palmer and this Bengals offense to Troy Aikman and the Dallas teams of the early 1990s that won three Super Bowls.
"Unlimited in their potential," says Collinsworth, who does the Chad Johnson River Dance on HBO's Inside the NFL this week as national interest in his old team continues at flood stage.
But he also sees opposing defenses treating Cincinnati like another current high-powered offense.
"Teams are starting to do to them what they've been doing to Peyton Manning and Indianapolis for the last year and a half," Collinsworth says. "They don't want to give up the cheap long one and with the sort of self destructing with penalties, they're going to try and make them go 10, 12 plays."
Welcome to the Jacksonville defense the Bengals may have to play Sunday night without wide receiver T.J. Houshmandzadeh, questionable as of Wednesday. The Jags haven't allowed a pass longer than 33 yards since the first half of the opener and last week they allowed Broncos quarterback Jake Plummer to beat them with four scoring drives of at least seven plays that aided 38 minutes of possession.
Bengals offensive coordinator Bob Bratkowski and his staff anticipate the Jags plan to attack them much like the Texans did last week in protecting against the long ball, taking away big-play man Chad Johnson, and forcing a Bengals offense that has been plagued by penalties to drive down the field in the din of a hostile crowd.
"We can do that. We did it. We had long drives," says Johnson of the 16-10 victory over Houston in which his longest catch was 15 yards. "We can do whatever. If you want to play that way, we'll just smash it down your mouth. If you try to do it the smashing way, we'll hit the big play. We'll get it one way or the other."
The X-factors against such a defense are Johnson's running mate, Houshmandzadeh, because, as Bratkowski says, "You need somebody to take over a game if they take away Chad," as well as preventing the penalties that snagged the Bengals in the red zone last week.
"It's going to be hard to hear with the noise and the way their defense jumps around," says Bratkowski, who saw red with four penalties for 44 yards inside the 20 against Houston. "Hopefully our poise will come back to us. We'll be at risk because this defense is good enough without you stopping yourself. We're going to have to be efficient."
But it was also last week Houshmandzadeh responded for a season-high eight catches for 105 yards while the Texans blanketed Johnson, lifting Johnson and Houshmandzadeh into sixth place on the list of the NFL's most productive 1-2 receiver tandems. Their 622 yards is 41 behind fifth-place Randy Moss and Jerry Porter of Oakland.
But there is some concern about Houshmandzadeh's availability for Sunday night. He didn't practice Wednesday and showed up on the field with his right hand in a cast-like object. Houshmandzadeh insisted Wednesday that he's fine and said earlier in the week that he didn't break his hand.
NFL's Top Receiver Tandems:
Larry Fitzgerald (27 catches for 368 yards)-Anquan Boldin (26-385), Cardinals 53-753 Terrell Owens (32-506)-Greg Lewis (18-203), Eagles 50-709 Darrell Jackson (29-376)-Bobby Engram (27-316), Seahawks 56-692 Torry Holt (30-442)-Kevin Curtis (20-226), Rams 50-668 Randy Moss (19-466)-Jerry Porter (16-197), Raiders 35-663 Chad Johnson (26-374)-T.J. Houshmandzadeh (20-248), Bengals 46-622 "He's working hard to get ready to play," is all Bratkowski would say after Wednesday's practice, and this is why the Bengals haven't pulled Kelley Washington's scholarship.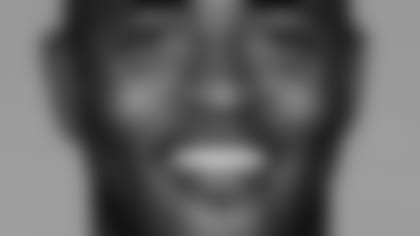 After playing in all 32 games in his first two seasons and the opener this year, Washington, the third-round pick from Tennessee, has been sat down three straight weeks in favor of rookie Chris Henry. If Houshmandzadeh can't go, Washington moves into the mix.
"This is why Kelley is here, why we (drafted) Chris Henry and Tab Perry," Bratkowski says. "We wanted to upgrade what we had there because of when teams take away Chad. Every week he hasn't played, Kelley has worked hard to prepare and be ready like he's going to play."
Foes are only giving the Bengals a few chances a game for the big play. They had three passing plays of at least 20 yards, but none longer than 22 against Houston. That was their most since three in the opener. They've made them count. Of their nine 20-plus passes, four have been for touchdowns. Three of Palmer's nine touchdown passes have been at least 36 yards.
"Chicago tried, but they got antsy," says Houshmandzadeh of how defenses have tried to take away the long ball. "Houston took it away and that's the nature of Jacksonville's defense. We can nickel and dime you. We've got Rudi (Johnson) to run the rock for us. Take what they give you. Work the ball and they figure they'll make a stop or you'll make a mistake. We'll find out. They don't give up the big play. We haven't seen it on tape. If you have a special type of player, sometimes you can beat that."
Make no mistake. Bratkowski is concerned about a club that has been called for 31 penalties in its two home games going on the road to play a mistake-free defense in prime time. Especially when 11 of last Sunday's 14 penalties were on offense.
"It's a number of things in a number of situations by a number of people," Bratkowski says. "Yeah, it's hard to practice, but you point it out and hope they learn from it."
Offensive line coach Paul Alexander says the line has discovered why they've had a number of illegal procedures. "I really don't want to say what it is, but we think we know what is and we're working on it," he said.
With the Bengals on pace for an NFL-record 180 penalties (the club record is 126 by the 4-12 team in 1999), the problem isn't going unheeded. Chad Johnson isn't sure that should be a defense's strategy.
"We're not always going to do that," Johnson says. "We'll stop and we'll continue to grow."
Here are the kind of flags the Bengals don't want lingering from last Sunday:
Red Zone Mistake One: The Bengals lost a touchdown pass to T.J. Houshmandzadeh when Rudi Johnson split wide and was flagged for lining up on the line of scrimmage when he should have been off it. Running back Chris Perry ran the play in practice instead of Johnson, but Bratkowski said it was still Johnson's responsibility to know it. Red Zone Mistake Two: Head coach Marvin Lewis took the blame for this one, a first-and-goal from the 8 late in the third quarter of a 10-10 game, but then, he always takes the blame for a time snafu. With the play clock staring right at him, quarterback Carson Palmer has to see it ticking down.
"Everybody at the game knows we run a no huddle and the quarterback gets a certain comfort level when you've got 30 seconds to call the play at the line of scrimmage," Bratkowski says. "But that wasn't a no-huddle play, so all of a sudden you don't have that time at the line and it caught him out of sync. You hope they learn from it and be more aware next time."
Once they get over those little things, Collinsworth, the second all-time leading receiver in Bengals history, is convinced the Bengals will take their place next to the Cowboys.
"I mean, Carson's a star. He does everything," Collinsworth says. "Chad Johnson is as good as anybody playing the game, and T.J. was incredible (Sunday). Then they play gin rummy with the offensive line and the cards still come out all right.
"And they haven't gotten to where they'll be yet. They're like that Cowboys team that was horrible, then hung around .500, and then just went ka-boom. You feel this team has that kind of possibility doing that."
Collinsworth won't compare Palmer to Anderson or Esiason, but goes for his former Fox Network colleague.
"Like Troy, he's a very quiet, dynamic leader for the team," Collinsworth says. "He's the model citizen. He's not going to be the flamboyant type, but he has that Michael Irvin like Troy did. I think you need that energy base, and Chad's great at it. They spread you out with three great receivers and then you've got a moose coming through in Rudi that's a hard guy to tackle, especially when you've got a fifth defensive back in there. They've got a lot of neat things going on."
Collinsworth doesn't have a lot of football going on. With his move to NBC, he's studying up on the Winter Olympics as well as prepping for the network's move back to the NFL next season. But he's still doing the weekly HBO show (which re-runs nightly after its original 10:30 p.m. Wednesday airings), where he lost a bet to Dan Marino and had to do the River Dance that Johnson tapped out in Chicago.
"I checked with Chad and he showed me," says Collinsworth, still never dancing around a subject.