For at least five or six weeks or maybe even all season, the Bengals have to replace Cedric Peerman, their Pro Bowl special teamer.
The Bengals kicking game that has had as much to do with their run of five straight post-season berths as the A.J. Green-Andy Dalton connection and the Geno Atkins-led defensive line has undergone a youthful facelift less than two weeks before the opener.
On Tuesday they released their primary punt and kick returner of the last five seasons when they let go wide receiver Brandon Tate and relented to the relentless youth movement staged by rookie wide receivers Alex Erickson and Tyler Boyd in the return game.
They also mulled icing Pro Bowl special teamer Cedric Peerman for the season with a fractured left forearm that needs surgery. But special teams coordinator Darrin Simmons holds out hope Peerman could return at some point during the season with a fracture he said is believed not to be complicated by ligament or elbow damage.
Whatever the doctors end up deciding, this is a decidedly different makeup than past seasons.
"It's a huge loss. He's a Pro Bowl player," said Simmons of Peerman after Tuesday's walkthrough. "He's the quarterback in a lot of area, so it's a big loss for us."
But the only special teams coach Marvin Lewis has had in his 14 seasons in Cincinnati is excited about the new era of Erickson and Boyd rotating returns with the dangerous Adam Jones.
"We've got options," Simmons said.
Erickson, the undrafted wide receiver from Wisconsin who is rapidly becoming a folk hero with a cartoonish punt return average of 41.8 yards and a 31-yard kick, return, also joins running back Rex Burkhead as the new kick return tandem replacing Tate and Peerman. 
"I think it shows how much I believe in these guys," Simmons said. "Alex earned that spot. Not that Brandon lost it, but I think he earned that spot with his play-making ability. You saw it. Everyone saw it.
"This is no shot across the bow at Brandon Tate, but Brandon Tate was Alex Erickson at one point. At some point it's the evolution of how the league works. You're going to keep moving and finding the next guy whoever that may be. Everybody deserves those opportunities. There are hungry guys all over the place."
Tate and Peerman aren't the only reasons for the specialists' success. Jones is an All-Pro returner whose shots are limited as a Pro Bowl cornerback. And the trio of kicker Mike Nugent, 2014 Pro Bowl punter Kevin Huber, and long-snapper Clark Harris is heading into their unheard of seventh season as a group.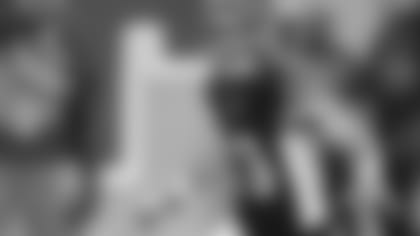 Rex Burkhead is a new kick returner.
But since Tate arrived off waivers a week before the 2011 opener to team with Peerman, the Bengals have ranked in the top eight of Rick "Goose," Gosselin's NFL special teams rankings three of the past five seasons and never below 15th. That includes a No. 8 ranking last year and No. 6 in 2014.
Jones, whose five punt return touchdowns are the second most among players currently in the NFL, calls Peerman "the pulse of our special teams."
Vincent Rey, Peerman's best friend on the team and fellow special teams co-captain, calls him the leader of the kicking game.
Derron Smith, an emerging sophomore who is one of the players that has to fill the void, calls Peerman's experience a confidence boost.
"He'll be tough to replace. It's very special," Jones said of Peerman's niche. "He knows all the ins and outs and plays at 120 percent. Special teams are all about will and effort and want to. There are some things you can coach and some things you can't coach. We're going to miss him.  But we'll be OK. We'll find a way."
Simmons isn't a wild fan of the waiver wire to add players. Teams are always looking to upgrade those spots after Cutdown Day because back-of-the-roster players are the only ones available. But for Simmons, if the talent level is about the same, he'd prefer to stick with the guy he has because he already knows the system. And maybe one or two at the most.
"That scares me to death to go through this claiming period and claim a whole bunch of players," Simmons said. "Week one becomes a mish-mosh. A nightmare."
So most of the answers are here. Rey ticks off the names of the guys that just got a battlefield promotion in the scrambling effort to replace Peerman's 69 career tackles. He's led them the past two seasons and was runner-up in 2013.
"I was devastated," Rey said. "Guys have to step up and it's going to have to be a team thing. Guys like James Wright, Feg (rookie safety Clayton Fejedelem), Derron Smith. They all have to step up now."
 Fejedelem, the seventh-rounder from Illinois, had been projected as a future special teams maven if he made the club. Peerman's injury and his team-leading four special teams tackles should about secure it. Smith the second-year safety who has been one of the team's top players both from scrimmage and on special teams this preseason, has been a key reason for Erickson's jaunts with his blocking in the vise on the outside.
"He has speed and he has no fear," Simmons said of what he's trying to replace. "Ced does a fantastic job of studying so he knows most of the time what's going to happen before it ever happens. I think anytime as a player when you can anticipate and you can foresee the future and know what's coming it makes your job that much easier and he can do it that much faster."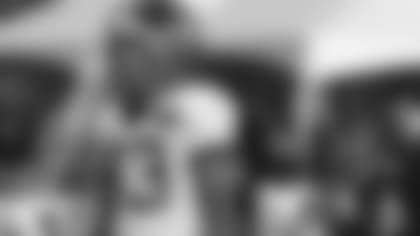 The Bengals also liked the way Tyler Boyd returned punts in the preseason.
And Wright? Simmons loves what the 2014 seventh-rounder can bring as a physical wide receiver who majored in special teams on an LSU team that had some receivers named Odell Beckham Jr., and Jarvis Landry ahead of him.
"If you get a wide receiver to cover, it's like stealing a position," said Simmons, who has done it in the past with some of his best cover players in Tab Perry, Kevin Walter and Andrew Hawkins. "It's like playing safety."
And he may have two because sixth-round pick Cody Core, the 6-3, 210-pound wide receiver from Mississippi, has been throwing his muscle around in all four phases.
"He's a work in progress," Simmons said. "That's what James Wright did at LSU. Core did a little bit of it at Mississippi."
Core is one of these guys Simmons would love to develop and he'll probably get the time to do it sine Core figures to be inactive early in the season on game day. Wright and Erickson are going to get plenty of action on teams playing behind Green, Boyd, and Brandon LaFell.
It would figure Burkhead, who has been the backup, would replace Peerman as the all important personal protector the punter, but Simmons said not to assume that and he wasn't going to tell the Jets who it is on Sept. 11. 
But it's fitting that the Age of Alex was ushered in against Jacksonville Thursday night and special teamer Dan Skuta, an undrafted free agent just like Erickson from the upper Midwest (Grand Valley). Simmons developed Skuta from a practice squad linebacker into a special teams hellion at the start of this decade before he became a starting backer with the 49ers and Jags.
It was Skuta, naturally, that first missed Erickson on the 38-yarder and Simmons made sure Skuta knew he saw it.
"The last thing I told him before the game was I was proud of him," Simmons said. "He went from playing defensive tackle at Grand Valley State to now he's a starting linebacker in the NFL and he's making a whole lot of money. I'm very proud of that and I hope I had a hand in some of that."
Camp Randall is a frenzied house, but it's still not MetLife Stadium on an NFL Opening Day. Yet Simmons has no qualms about sending Erickson back there against the Jets to take the first punt of the season.
"I trust him," said Simmons, who made sure he excoriated Erickson for letting a punt bounce past him 18 yards Sunday night. "I was pissed at him. He's got to come up and make the catch on that one. That's the thing. I keep talking about managing the play. He has to make that play. But I think he understands the importance of it after I jumped his butt.
"I don't want him to catch it off the bounce. I want him to catch it in the air. You never know what happens after the bounce. I want him to be decisive. I think he got confused about the height of the kick and where the coverage was. He's got to sort those two things out. It becomes a feel. I told him we're not at Wisconsin. These aren't rugby roll-outs end-over-end punts. These are NFL punts and an NFL returner has to make that play. Sometimes a fair catch is better than a 20-yard return."
Brandon Tate's legacy: play-off reliability with one lost fumble in five years of punt returns.
This is sacred territory. In Simmons' tenure, the Bengals lead the NFL with the fewest lost fumbled punts with three. Tate lost just one of his 143 attempts, but it was also his impeccable decision-making that allowed him to stick around so long. Fans hated the fact his longest return was 18 yards last season. Simmons loved the fact of those 27 attempts, none hit the floor and didn't cost them.
"I trust him," Simmons said, his ultimate compliment.
But it wasn't one play that sold Simmons. It was the body of work during three games. He didn't wheel him out for the first punt until Sunday night, and Erickson kept popping them, this time for 38 and 18 yards.
"We didn't have any evidence on that from Wisconsin. "It just kept happening," Simmons said. "Time after time."
Cincinnati Bengals travel to take on the Jacksonville Jaguars in week 3 of the preseason 8/28/2016