Dan Coats' first start at NFL fullback is going to be a doozy.
Marvin Lewis revealed at Wednesday's news conference that fullback Jeremi Johnson has been lost for the season with a knee injury he suffered in Monday's practice. That pits Coats, a second-year converted tight end, going against the Ravens' Pro Bowl inside linebackers that key one of the NFL's top run defenses in Ray Lewis and Bart Scott.
That left the Bengals one shy of the 53-man limit and Lewis said they may or may not add a player before Opening Day. One possible option, an industry source outside Cincinnati said Wednesday, is they are considering signing Reagan Maui'a, a fullback recently cut by the Dolphins after a rookie year he made nine starts following his selection out of Hawaii in the sixth round.
The Bengals confirmed Maui'a's signing late Wednesday afternoon. The 6-0, 260-pound Maui'a, a native of American Samoa who went to high school in California, played in all 16 games for Miami last year.
If they had filled the 53rd spot before the opener, it wouldn't have gone to a vested veteran like safety Eugene Wilson, whose salary would be guaranteed if on Sunday's roster. But wide receiver Chad Jackson, visiting Cincinnati on Wednesday, isn't vested.
But indications are that Jackson won't be signed this week, according to his agent.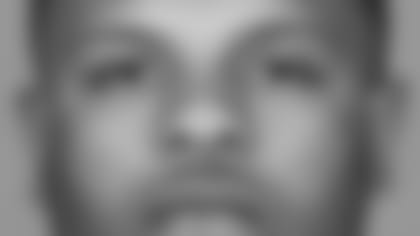 Lewis said Jeremi Johnson underwent a scope Wednesday, ending a brief stint on the field. Johnson, hampered by weight issues, didn't get on the field until a few days before the third preseason game against the Saints.
Coats did get a bunch of snaps in his stead and was the first-team fullback until Johnson returned. Coats, a free agent out of BYU, becomes the first fullback to play other than Johnson since Lorenzo Neal went to the Pro Bowl in 2002. The opener is the first game Johnson has missed in his NFL career, a skein of 81 that began when he was selected in the fourth round out of Western Kentucky in 2003.
MORE BACKS: Chris Perry is the Bengals' feature back but he won't be featured all the time Sunday in Baltimore.
Offensive coordinator Bob Bratkowski said after Wednesday's practice he's not looking to give Perry a heavy-duty number of carries right away and plans to spell him with Kenny Watson and maybe DeDe Dorsey. Back in the spring, Bratkowski said it would be more back-by-committee and with the release of Rudi Johnson it sounded like it will remain that way. At least early.
Whether Dorsey is going to be active or not Sunday depends on the makeup of special teams.
"We'll have packages for them as we go into the week with different things for them to do and different roles to play," Bratkowski said. Asked if Perry would get something like 25 carries, Bratkowski said, "I don't think that would be the plan initially. We want to be able to ease him into a full game. We have other good quality backs. Let some other guys take some turns and make sure he's strong all the way throughout the game."
Perry hasn't carried the ball in a game since November 2006 and the most carries he's ever had as a Bengal were nine in the second game of the 2005 season. Dorsey's career high is seven, while Watson carried it at least 30 times twice last season.
INJURY UPDATE: Johnson, obviously, was listed as out for Sunday as were safety Chinedum Ndukwe (knee) and defensive tackle Pat Sims (toe) on Lewis' first injury report of the season issued Wednesday.
Not participating in practice was defensive end Jon Fanene (illness) and limited was wide receiver Andre Caldwell (toe) and linebacker Brandon Johnson (hamstring). Also on the report practicing fully were wide receiver Chad Johnson (shoulder) and quarterback Carson Palmer (nose).
One of the two hottest days of the year didn't stop Lewis from grinding it Wednesday. The club's media session was supposed to start at 1:45, but the team didn't come off the field until 2:15. SHIELDING CARSON:
Palmer can breathe again for a couple of reasons, but he'll still have to wear a clear shield Sunday in the Bengals season opener in Baltimore.
Palmer broke his nose 11 days ago against the Saints, but he said Wednesday, "It's not as susceptible to being re-broken now that it's had a little over a week to heal. It kind of fit back in all the places where the cartilage needs to grow around."
Palmer has never worn a shield but he doesn't think his vision is going to be affected.
Another reason Palmer can breathe again is that Ravens Pro Bowl safety Ed Reed is listed as out with an injury. Palmer still remembers those three interceptions he threw Reed in his first year as a starter in 2004 even though Reed hasn't got him since.
"The best news I've heard in weeks is that Ed Reed's not going to play," Palmer said. "He's that guy as you go into game plans quarterbacks see if he's on the injury report or not. Same with (Steelers' Troy) Polamalu. They're just both guys that do unorthodox things and play out of position, but are successful most of the time they do it."
As for the possibility the Bengals might leave a day early for Baltimore on Friday to beat the hurricanes, Palmer said it's OK because the Bengals' hotel in the Inner Harbor is such a nice spot.
ADDS: The Bengals filled out their practice squad Wednesday when they signed cornerback Geoffrey Pope and tackle Dennis Roland. Both are classified as first-year NFL players.
The 6-0, 186-pound Pope, out of Howard, spent most of last season on the Giants practice squad. He played in two postseason games for New York after being signed to the roster following the conclusion of the regular season. He was with the Giants this preseason and was waived in final roster cuts. He was signed to the Giants practice squad this past Monday, and was then released the next day.
The 6-9, 325-pound Roland, out of Georgia, entered the NFL in 2006 as a college free agent with Dallas. He spent most of 2006 and 2007 on Tampa Bay's practice squad and was on Tampa Bay's 53-player roster for two games in 2007, where he was a Gameday inactive. He was with Tampa Bay during the 2008 preseason and was waived in final roster cuts.
VISITS: David Canter confirmed Wednesday that client Chad Jackson came to Cincinnati after not getting a deal in Oakland. Jackson, a third-year player who has 13 career catches, didn't hook on with the Patriots after they took him in the second round out of Florida in 2006. Canter later said his client would leave without signing a contract.
"I think Chad is a good football player and I am sure he will play for somebody," Pats coach Bill Belichick said after New England cut him. "It wouldn't surprise me if he played real well. It just didn't work out here, this year, at this point in time. I don't know any other way to put it."
The Bengals brought in veteran center LeCharles Bentley for a workout this week, according to an NFC source, but there were no indications the Bengals were in negotiations with the former Buckeye.
It's believed the club performed due diligence in physically checking out a former Pro Bowl center who hasn't played in two years because of a variety of serious knee ailments.
In a conference call with the Cincinnati media, Ravens head coach John Harbaugh woudn't confirm former Bengals right tackle Willie Anderson's visit on Tuesday night.
"Who?" he asked. "Nice try."
Former Bengals running back Rudi Johnson indicated to the Detroit media this week that he thinks the Bengals need some luck, but wouldn't elaborate.
"It was a situation it did not work out," Johnson said. "No love lost. Sign and move on. I wish (the Bengals) the best of luck because they are going to need it."
After being on the shelf much of camp with a hamstring issue, Johnson bristled at the notion he didn't work to get back on the field.
"You can check my background," he said. "I've always been a hard worker who earns what he gets. This is nothing to me; I've been doing this forever. So for me to go out and earn something, that's what I do and I look forward to doing it."