Jake Fisher is ready to go where ever the coaches put him. And that's been everywhere.
As Paul Alexander tells it, "I didn't really give him a box of Kleenex when I told," first-year right tackle Cedric Ogbuehi he was benched before Sunday's win over the Eagles.
But as they prepare for this Sunday's game in Cleveland (1 p.m.-Cincinnati's Channel 12), Alexander, the Bengals' long-time offensive line coach, did give his first-round pick from 2015 a handkerchief of hope.
"It's come a little slower than I thought, but I told him I still think you're going to be a terrific player. I really do," said a reflective Alexander after Wednesday's practice. "It doesn't come overnight to any guys really. Some catch on quicker than others and some guys once they get it they've got it forever it just takes longer. Other guys get it sooner but they never completely get it.
"He works hard. He tries hard. He does it in practice and then he doesn't go out in the game and do it."
For the moment, they're hoping that Jake Fisher gets it. Fisher, the book-end of their prized young tackles taken in the first two rounds in 2015, has played just 103 snaps this season, mostly as an extra lineman until the Eagles, when the Bengals rotated him with veteran Eric Winston.
But that doesn't mean Fisher has moved ahead of Ogbuehi in the pecking order. In fact, Alexander said we could see Ogbuehi again as soon as this Sunday. In fact, there is no pecking order when it comes to the kids.
"I don't have any way to know that," Alexander said when asked if Fisher has moved ahead. "After what I've seen this year, who cares who's ahead?"
If that's a bit unnerving for Bengaldom, Alexander wishes everyone would look at his current lineup and how it got there:
Pro Bowl left tackle Andrew Whitworth started as a guard, had some rough games as a rookie tackle, and needed three seasons to prove he could play left tackle.
Left guard Clint Boling, who was one of their best linemen this season before he injured his shoulder, was benched as a rookie.
Right guard Kevin Zeitler, who Alexander says is playing "unbelievable," and has just wiped out the two best defensive tackles in the game, was benched in the 2013 Wild Card Game when he couldn't handle the tackle-end stunts.
Even center Russell Bodine, who Alexander says gets better and better every day and is now settled in, got benched for two series just a week ago in Baltimore.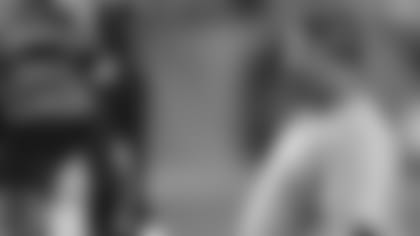 Offensive line coach Paul Alexander has benched first-rounders before.
"Russell pissed me off on a couple plays in the Baltimore game so I said the hell with you and put T.J. (Johnson)  in. That's coaching, right?" Alexander said.  "You look at where his craft is going, and he keeps getting better and better."
He says the same thing about Whitworth, who turns 35 the day after the Cleveland game and free agent the day after the Baltimore game.  ProFootballFocus.com ranks him the fourth overall tackle in the game and the second best pass protector. Alexander rates him a lot higher than that.
 "Whitworth didn't walk in. He wasn't a star right away, "Alexander said. "He is now. He's the best pass blocker in football no question."
"I don't know what cup he's drinking from, but I want some of it. He's having a terrific year, he really is. He seems to get better every year it's crazy. He's got the technical part of the game down now that it's just .. every practice we watch the film I say, 'Hey, Cedric, Fisher do it like that, would you just do it like that.'"
That hasn't happened yet. And Alexander isn't quite sure what happens next. What he does know is that there isn't a long-range view yet.
"I'm literally looking at right now we're going to see how it goes on Sunday," Alexander said. "I just have the philosophy that if you're having a bad day doesn't mean we have to have a bad day.  Really. I know a lot of people in the NFL are like 'oh, those are my guys and I'll stick with them.' I just don't do that. … If it's not going well for you, we've got to try to win the game."
Ogbuehi, who looked more natural as a left tackle at Texas A&M, is back working some at left tackle now and Alexander indicate that's his natural spot.
"I think the left maybe comes more natural to him because tackles are really, left tackles are really predominately right-handed people because they're going to protect their inside with their right hand," Alexander said. "Right tackles are predominately left handed people, ideally. In an ideal world. I think that probably comes a little bit easier for a right-handed guy. But there are better rushers over there so it's a wash."
But Alexander isn't sure if the left is in his future
"I don't know that. He's just out there working and we'll see how it goes," Alexander said. "The next step is just the next step. Just keep working. I thought Fisher had been looking good in practice and we thought 'hey, let's take a look there.'"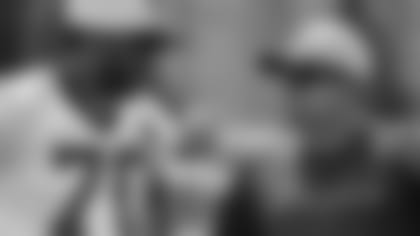 Alexander has told Ogbuehi (left) that he can still be a big-time player.
Fisher has played all over the place and in Sunday's game he even played in three spots, right tackle, tight end, and left tackle when Whitworth went out briefly. On Wednesday he indicated he liked playing in one spot.
"Whatever the coaches want,' Fisher said. "It took a little while to get in the flow of the game, but I felt better as it went along … I wasn't as consistent as I need to be."
Alexander thought the same thing and got on him for a shaky start, when he let Eagles end Brandon Graham blow up quarterback Andy Dalton on his first pass set so badly Graham got a penalty.
"Nervous Nellie," Alexander said. "Second half he was much better than the first half. I told him, 'Come on buddy, your leg has to stop shaking out there. You have to play.' He's athletic and he works hard. I'm happy to see what he can do."
No Kleenex or crying towel just yet.
Andy Dalton 2016 Man of the Year Nominee.