'Bama safety Minkah Fitzpatrick could be headed to Cleveland as a cornerback.

 
How early is too early for the first edition of the 2018 Bengals.com Media Mock Draft?

-Within 50 hours of the Super Bowl parade feting the most recent champions?

-Twenty or so days before the first formal 15-minute interview at the NFL scouting combine?

-Before the sonorous tones of Baseball Hall of Fame play-by-play man Marty Brennaman grace the air waves?

-Before last year's first edition of the 2017 Bengals.com Media Mock Draft?

OK, so we're a little early, beating last year's debut by a day.

But why not? The media has returned from a Super Bowl where the Butler didn't do it but someone did it to the Butler and the Browns are again poised at the top of the draft board.
Can't wait? Neither can we. Welcome to the earliest Bengals.com Media Mock Draft in history.
 

1.BROWNS -  QB Sam Darnold, USC; Tony Grossi, ESPNCleveland.com

John Dorsey's first call as Cleveland's personnel guru. Watch out, kids. Hue Jackson gets an overall No. 1 QB.

2. GIANTS - QB Josh Rosen, UCLA; Mike Eisen, Giants.com

Everyone loves Eli Manning in New York. Two rings, tough guy, Man of the Year solid. But he is 37 and if there is ever a time to get an heir apparent, this is it.

3. COLTS - DE Bradley Chubb, North Carolina State; Mike Chappell, FOX59.com

Just how early is this Mock? These guys don't even have a coach yet. But they haven't had a consistent pass rusher for longer than that. They haven't had a big-timer since Robert Mathis racked up 19.5 sacks in 2013. In the last two seasons their leading sackers have rung up 16.5 combined.

4. BROWNS -  DB Minkah Fitzpatrick, Alabama; Tony Grossi, ESPNCleveland.com

This could be the Joe Haden-Justin Gilbert Memorial Selection. Fitzpatrick is listed as a safety but has shown all the skills and traits of a shut-down cornerback. That's probably their biggest need on defense and it matches up nicely with the best player available at this point.


Barkley: 23 years after Ki-Jana Carter went No. 1.


5. BRONCOS - RB Saquon Barkley, Penn State; Mike Klis, 9News

Here's the scenario: Denver signs Washington quarterback Kirk Cousins in free agency and drafts Barkley to install the second major piece of a revamped offense that fits the go big or go home management style of John Elway a la the Peyton Manning blockbuster.

Barkley becomes the first Penn State back to go in the first round since Larry "We Hardly Knew Ye," Johnson in 2003. There was Booker Moore in 1981, Curt Warner in 1983, D.J. Dozier in 1987, Blair Thomas in 1990, Ki-Jana Carter in 1995, Curtis Enis in 1998, and Johnson. Only Johnson (two) and Warner (four) had 1,000-yard seasons and played at least 85 games.
6. JETS - QB Josh Allen, Wyoming; Rich Cimini, ESPN.com

They also figure to be in the Cousins Derby, so maybe the loser gets Allen. The Jets really like Allen's big arm but he's probably not going to be ready right away. If they don't get Cousins, they could draft Allen and re-sign Josh McCown, a perfect mentor-type.
7. BUCCANEERS - G Quenton Nelson, Notre Dame; Ira Kaufman, JoeBucsFan.com

The Bucs need a little bit of everything, so why not start with the highest-rated offensive lineman in the draft, at least according to Scouts, Inc.  They've got to protect the franchise in quarterback Jameis Winston and ranking 27th against the run won't do it. Nelson appears to be the consensus top O-lineman available and one draftnick (drafttek.com) compares him to current NFL guards Gabe Jackson and Richie Incognito.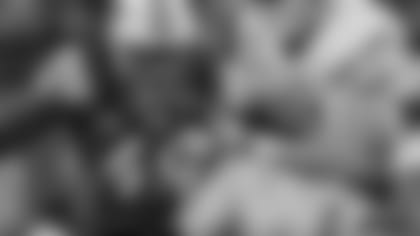 Edmunds: off the edge.

8. BEARS - OLB Tremaine Edmunds, Virginia Tech; Brad Biggs, Chicago Tribune

The Bears are looking to team a guy with Leonard Floyd, a 3-4 rusher they took with the ninth pick two years ago. Floyd is about all they've got at the backer spot and he's been plagued by injury but still has 11.5 sacks in 22 games as he comes off an ACL and MCL sprain.

(49ers and Raiders still need a coin flip later in the month to decide who goes first. We give it to Niners for beating Bengals twice in Super Bowl.)

9. 49ERS - CB Denzel Ward, Ohio State; Matt Maiocco, NBC Sports Bay Area.com
They've wrapped up their offensive future with the mega deal for Jimmy G. Now is time to go get arguably the best player on the board for a defense that finished 24th in yards allowed and 25th in points allowed at a position they are perilously thin. Looks like a defensive pick.

10.RAIDERS -  OLB Roquan Smith, Georgia; Scott Bair, NBC Sports Bay Area.com
How about this working out for the Bengals old linebackers coach who was their DC for the last four years? Paul Guenther likes his backers versatile and he's looking for a MIKE in the middle. He'll have to decide if 6-1, 225 is too small. But the guy they're trying to ease away from a lot of snaps, NaVorro Bowman, has been a great player at 6-1, 230 pounds.

11.DOLPHINS -  QB Baker Mayfield, Oklahoma; Armando Salguero, The Miami Herald
Maybe it has all caught up to Ryan Tannehill, who is suddenly 30 after being the most sacked QB from 2012-2016. He's also coming off two ACL surgeries and he'll have 400 days between starts. At the very least they get a backup and do you think that's important? A backup QB is the reigning Super Bowl MVP.

12. BENGALS - S Derwin James, Florida State

OK, we're going strictly by the board and since Bengals director of player personnel Duke Tobin isn't carrying his board around in his wallet the board we're using is the Scouts, Inc., player rankings on ESPN.com as of Feb. 9.

The first nine guys are off the board. The only guy ahead of James is Washington defensive tackle Vita Vea and maybe he's in the mix but it would be an uncharacteristic move. They haven't taken a defensive tackle in the first round since Big Daddy Wilkinson went No. 1 overall 24 years ago and they think they've got a guy who could have gone in the first round in 2016 in Andrew Billings. He struggled at times, but the current thinking is he got better as the season went on as he recovered from the knee injury that wiped out his rookie season.

Of course, taking James would be wildly uncharacteristic. They've never taken a safety with their first pick and the only first-rounder is Darryl Williams, taken at No. 28 as part of the 1992 draft where the Bengals moved down a spot with Washington to take quarterback David Klingler at No. 6. They drafted Rickey Dixon with the fifth pick in 1988 and he played safety, but he came out of Oklahoma listed as a cornerback.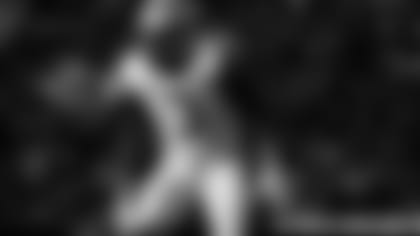 Derwin James: the AFC North's next big-time playmaking safety?

Tackles? Speaking of Oklahoma, Orlando Brown is only two slots below James and Notre Dame's Mike McGlinchey is four. So they really wouldn't be reaches on this board and you've got to put them in the mix, too. This is really the reason for a Mock. It's not so much to make the pick, but to project the universe of players they'll be choosing from.

So we said we're going by the board, so we'll stick with the 6-3, 211-pound James, a physical specimen with enough big-time traits that provide more impact than an interior player.

James did it all in Tallahassee this past season with 72 tackles, five for loss , one sack, two picks, 11 PBUs, three QB hurries and one field goal block. He played only two games in 2016 because of a torn meniscus, but we're talking about a guy who is going to blow up the NFL scouting combine in three weeks.

Before last season, NFL.com reported James bench presses 450 pounds while nearing a 600 squat. The site said he would have ranked in the top five for the broad jump at last year's combine with 11 feet, 3 inches, and there's a video out there of him leaping over a person. Coming out of high school in Haines City, Fla., his 40-yard dash time was 4.49 seconds.

In the same NFL.com story the Florida State strength coach who has worked with such NFL players as running backs Devonta Freeman and Dalvin Cook, says, "It'll be some time before I see another one like this. Maybe never."

So here's a guy that can cover slot receivers and play the run, plus he'd have two terrific mentors back there in starters George Iloka and Shawn Williams. This guy has all the tools to be groomed as a playmaker.

Is it time for the Bengals to take defense in the first round? In the last 10 drafts they've taken four defensive players with their first pick and the last three of them have been corners. The last non-corner defender to go No. 1 was linebacker Keith Rivers with the ninth pick ten years ago. In Marvin Lewis' 15 drafts, defense has been the first pick seven times with five corners (Johnathan Joseph, Leon Hall, Dre Kirkpatrick, Darqueze Dennard, William Jackson) and two backers (Rivers and David Pollack).

They haven't valued safeties this high, but James is the kind of hybrid player teams are seeking more and more for sub packages.

But it is always going to come back to tackle, isn't it? There is one view that there is a good crop in rounds two to four.  It could all change, of course. New offensive line coach Frank Pollack is evaluating the incumbents and the first 40 days or so of free agency could also dictate the pick.