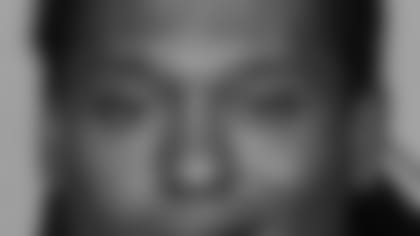 Both are 5-9, but Skyler Green has five pounds and the R and B singing on Steve Smith. Both play receiver and return punts, but Smith has the Pro Bowls and money and everything else on Green.
But that's not stopping Green from making a vow Tuesday in the Bengals locker room.
"When I got in the league there was concern about my height, but I've always felt if I just had the opportunity to show what I can do, I can probably play just as well as Steve Smith," Green says even though he's waiting for his first NFL catch. "I like his toughness. His want to for blocking and going and getting the ball when it's in the air."
Because of a lingering hamstring injury to Antonio Chatman and Green's ability to return punts, Green has moved from the bubble to the edge and is creeping ever so closer to a roster lock. He won't go away, just like his soothing singing on the back of the bus hangs with former college teammate Andrew Whitworth.
But Bengals special teams coach Darrin Simmons knows if any player is emulating Smith, he's not taking anything for granted.
Simmons coached Smith in Carolina, had a hand in drafting him out of Utah, remains close to him, and is glad his new return man picks his role models well. "The great thing to emulate about Steve Smith is his competitiveness," Simmons says. "He's the most competitive person I've ever seen. He's got little man's complex and he wears it on his sleeve. He just wants to prove everybody wrong."
Welcome to Skyler Green's world. Unlike Smith, his mission is not to live on the edge of NFL rosters. A short guy with good but not remarkable speed. A guy you can win with, yet a guy also scratching and clawing with his special teams talents.
But it's farther than a lot of people thought he'd get.
Here's a guy who has always had the ball in his hands and has always been around football players. Ever since Pee Wees at six years old. Heck, ever since he can remember because two cousins, Jarvis and Howard Green, are in NFL camps right now.
"It's always been about football after school," Green says. "As long as I can remember. Just going on the field after school, keeping you out of trouble and having fun. At every stage, just try to get better and better."
He's always had the ball in his hands. He rushed for 2,174 yards and 26 touchdowns while throwing for 1,000 yards at Higgins High on the West Bank of New Orleans. But the 5-9, 190 pounds stuff got him. He couldn't get a sniff as a quarterback to LSU and was recruited as a running back. When he saw the long line, Green went to then-coach Nick Saban and told him he thought he'd give receiver a shot and Saban gave him the green light.
So Green got the ball in his hands again and set the LSU record with four punt return touchdowns while surpassing 1,000 receiving yards and scoring nine touchdowns in 44 games, a solid niche in the SEC that included a flashy 13.8-yard average on 77 punt returns.
He'd always find a way because he had the ball.
"Ask him," Whitworth says, "about when he beat Georgia in overtime catching a pass even though he ran the wrong route."
But the 5-9, 190 pounds caught up to Green again and he only got a second-day gig with Dallas as the 125th player taken in the fourth round of the 2006 draft. He couldn't convince them to keep him at running back and got waived twice, but not before he returned three kicks and five punts. The second time the Cowboys assigned Green to the practice squad, the Bengals picked him up late in the season and everything happens for a reason, right?
Chatman, the projected punt returner, just can't get on the field and he says he's had an MRI on his hamstring to make sure it's not torn. Glenn Holt, another receiver and kick returner, just surfaced from a three-week bout with a hamstring problem. Another wide receiver, former LSU teammate Bennie Brazell, has spent time in the training room, as well as Tab Perry, the leading candidate for the No. 3 receiver job.
So Green and Reggie McNeal have received the lion's share of reps since camp started and Green appears to be the more versatile performer and reliable catcher.
At the moment, and this can always change with the intervention of the waiver wire next week following the cuts to 75 and 53, it would seem the two receivers to dress Opening Day behind Perry, Chad Johnson and T.J. Houshmandzadeh would be Green as the punt returner and Holt as the kick returner.
"I don't know; still to be determined," says Simmons, who has made Green his punt returner in the first two preseason games and probably will Monday in Atlanta.
"Like we've said, he can put his foot in the ground and get it upfield," Simmons says. "He's got short-area elusiveness, which is what you look for in a punt returner. And he's a tough guy with good hands."
The Bengals have been trying to upgrade at punt return since the job fell to rookie cornerback Keiwan Ratliff by default in 2004 and became something they couldn't hide after finishing brutally in the league last season with a 6.6-yard average.
The club believes Green is an upgrade and he clicked off a 37-yarder in the opener in Detroit. Mention him as a possible running back, and the coaches don't see it.
The idea surfaced when speed back Kenny Irons was lost for the season with reconstructive knee surgery and Green said he'd bring it up with the coaches, but it doesn't seem to be catching on. Although he had an 8.3-yard average on 31 carries in college, he wasn't a pure back. He said except for a few direct snaps at quarterback, he took those other carries as a receiver going in motion or on reverses.
"I'm using the same instincts I used when I was playing running back in middle school," Green says. "Everything happens so quickly and when you're catching the ball, you're able to focus up the field."
He's always been the kid with the ball in his hands, so he's not lacking for confidence.
"I look at Santana Moss and see my frame is similar to those guys," Green says. "And I think I'm capable of doing those kinds of things."
You'd think after his senior year at LSU he can do anything. Most of his family and their belongings escaped damage in Hurricane Katrina, but his fiancee's family lost pretty much everything and for a time he had 22 people living with him in his two bedroom, two bath apartment in Baton Rouge.
"It wasn't too bad once you could get to sleep by 3 in the morning," he says.
On Saturday night against his hometown Saints, he stayed up for the bitter end and caught a 14-yard touchdown pass with two seconds left. Listen closely and you can hear him singing.
"When we had camp at LSU we had to take buses to the field," says Whitworth, the offensive lineman who is his teammate here. "After practice Skyler would be back there singing. Pretty good. R and B."
Green laughs. He never sang with a group. He sings when he's home and to his fiancée, and it could be Tank or Marvin Gaye.
"New stuff and old school, too," Green says.
Old school is Green having the ball in his hands.
He just hopes it's enough for a new day.
"All I'm trying to do," he says, "is make this team."