Wisconsin's Alex Erickson is the lone undrafted rookie to make the Bengals' 53.
As injuries loomed over the Bengals on Cutdown Day Saturday, they still may have more moves in store Sunday when they kept both special teams Pro Bowler Cedric Peerman and first-round pick William Jackson on their 53-man roster in the hopes one of them can return later in the season.
But they could open up as many as two more roster spots as early as Sunday by moving Peerman (fractured forearm) and/or Jackson (torn pectoral) to injured reserve. That would mean only one of them can be designated to return after week eight. Saturday's move of keeping them on the roster is the first step in the procedure to return.
"We feel that William Jackson and Ced Peerman, from what we've been told, have an opportunity to possibly at some point be able to come back this football season," said head coach Marvin Lewis after the cuts were announced. "So we're going to try to keep that avenue open, at least that option open for us."
The Bengals got slightly older with the addition of veteran free agents Karlos Dansby and Brandon LaFell as their average age from last year's final cut rose from 25.84 to 26.30. But the addition of three rookie wide receivers helped slightly lower the average age of experience from 4.79 NFL seasons to 4.55.
And it still remained a hard club to crack. Last year they had 26-percent turnover and this year it is just 24 percent with 40 players returning to a team that won the AFC North with a franchise-tying 12-4 record.
Pro Bowl tight end Tyler Eifert (ankle), who has yet to practice, is also on the 53 and that would seem to indicate they expect him to return before the sixth game or else they would have put him on the reserve/physically unable to perform list (PUP) instead of leaving him active.  
But they may need extra spots on both lines. On Saturday they shelved defensive tackle Marcus Hardison for the year with what is believed to be season-ending shoulder surgery, leaving them with just eight defensive linemen after rookie tackle Andrew Billings (knee) was already put on injured reserve earlier this week.
The backups for one of the best fronts in the NFL consist of nine-year veteran Pat Sims and NFL neophyte DeShawn Williams at tackle and Margus Hunt and Will Clarke at ends. Hunt can play tackle on passing downs, but usually the Bengals keep nine defensive linemen and Lewis indicated there may be a replacement on the way.
Hardison, a 2015 fourth-round pick out of Arizona State who has flashed in both his preseasons, just can't stay healthy. He injured his shoulder in Jacksonville last Sunday a year after he injured his knee in last year's pre-season finale and spent the first three weeks of his rookie year on the injury report. He didn't play in a game last year, but he was expected to be part of this year's rotation up front.
"It's obviously a shame when a young guy has to go through that two years in a row," Lewis said. "It's disappointing for him and for us as a team. It just kind of forces us to focus and possibly look for adding some kind of replacement at some point here".
Williams, an undrafted free agent out of Clemson who spent last year on the practice squad after a big preseason, made the club this year and is also expected to contribute off the bench. He had a slower start this trip, but began to play better as he shed weight and he had a nice effort in Thursday's pre-season finale.
"We're pleased with DeShawn's progress," Lewis said. "I think he came in a little heavier than last year. He felt like he maybe needed some additional weight. I think as the preseason went on, we kind of talked to him and watched him morph his body again to show the quickness and suddenness he had last year. Hopefully he will be able to become part of our rotation at some point this season up front with the other players."
Even though right tackles Cedric Ogbuehi (toe) and Jake Fisher (knee) are questionable for the Sept. 11 opener against the Jets, the Bengals kept just nine offensive linemen with 10-year veteran Eric Winston ready to pinch hit at right tackle in New York and beyond. Joining him on the depth chart is Fisher, a second-round pick in 2015, rookie guard Christian Westerman, a fifth-round pick this year, and backup center T.J. Johnson. But they could decide as early as Sunday they need another healthy body while Ogbuehi and Fisher heal.
With just eight D-linemen, that allowed them to go heavy elsewhere (for at least Saturday) and they went with an extra linebacker when they kept all of them while suspending Vontaze Burfict to the suspended list for the first three games.
With Peerman dinged up, special teams were very much in mind as the Bengals cut the roster, hence, perhaps, a reason to go with seven backers instead of just six.
"Obviously guys that are not starting players in the NFL who play linebacker, safety, you have to be huge contributors on special teams," Lewis said. "And we feel like we have a good nucleus of those young guys in order to do that, kind of uplift us. We'll be without one of our best special teams players obviously for a bit in Ced Peerman. And we're going to have to other guys step up and pick up the slack there with Ced being out." 
As expected, the revamped wide receiver corps features three rookies, headlined by second-rounder Tyler Boyd and rookie free agent Alex Erickson. Also backing up A.J. Green and Brandon LaFell are third-year man James Wright and sixth-rounder Cody Core, giving them five NFL catches on the bench.
But they did step up in the preseason. Erickson ripped off five punt returns of at least 14 yards with one an 80-yard touchdown while adding two touchdown catches. Boyd averaged 18.4 yards on his five catches and Core led the team with eight catches for 135 yards.
"We feel good about their production. That's obviously the first part of it, is what they have done," Lewis said. "We really feel good about that. And I think in our minds you have to throw James Wright into that because of the fact that he's only had a little bit of time with us. So we feel really good about their production, feel good about their development of the weeks of the NFL season moving forward and them being able to contribute opening day, which is key.
Erickson, out of Wisconsin, is the only undrafted rookie to make it. All the draft picks other than Billings made it when they opted to go with seventh-rounder Clayton Fejedelem at safety and apparently counted cornerback-safety Josh Shaw as a corner in a secondary without cornerback Chykie Brown, the only vested veteran the Bengals terminated Saturday.
 But another shoe could drop back there because that gives them only five healthy corners and the operative number is usually six.
They could go to the waiver wire Sunday to bring in new bodies, but that hasn't been their M.O. lately. The Bengals haven't claimed a player the day after they cut to 53 since 2011, when they acquired Patriots wide receiver Brandon Tate, Eagles guard Mike McGlynn, and Dolphins tight end Mickey Shuler.
This could be the year because of the injuries, particularly on the defensive line, but they'll scour the wire Saturday night and decide if what they have is better.
Also Sunday they'll put together a 10 -man practice squad and wide receiver is again intriguing after cutting a trio of three more promising youngsters in Jake Kumerow and undrafted rookies Alonzo Russell and Rashaun Simonise. Kumerow, undrafted out of Wisconsin-Whitewater, was on the squad last year as a rookie. "We really felt good about the young college free agent players," Lewis said. "I feel like some of them showed very, very well and showed not only a great opportunity to develop physically, and I think that's the important part. We really feel like mentally they're up to it. We think they're up to the challenge of the NFL and they can handle the mental aspect of it. Now let's see if they can continue to develop physically."
Here's a quick look at the 53:
(Listed by years in the NFL)
Andy Dalton (6), Andy Dalton (2)
Wenning figures to re-join the practice squad. Sam Bradford is in Minnesota and McCarron isn't.
Brandon LaFell (7), A.J. Green (6), James Wright (3), Tyler Boyd (R), Cody Core (R), Alex Erickson (R).
Would you believe five new receivers from last year's Opening Day in Oakland? When Green and LaFell start, that means five NFL catches among the rest. And they all belong to Wright, who hasn't caught one since Nov. 30, 2014.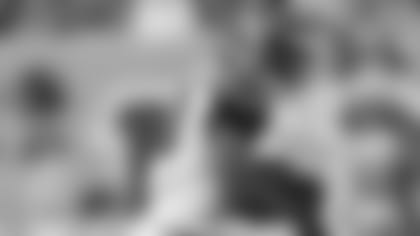 Cedric Peerman is a candidate for IR to return.
Cedric Peerman (7), Giovani Bernard (4), Rex Burkhead (4), Jeremy Hill (3).
They could still put Peerman on injured reserve Sunday. If they do, they have to decide if they need a fourth back or if they're better served helping out the banged-up offensive line. In Bernard (148 NFL catches) and Burkhead (17 career catches to go with 15 special teams tackles), that's a versatile crew.
With Eifert not yet taking a snap of practice, look for Hewitt to get plenty of work at tight end early.
Tyler Eifert (4), Tyler Kroft (2), C.J. Uzomah (2)
Because he hasn't practiced all training camp, Eifert is eligible to go on PUP and miss the first six games. But the fact they kept him on the 53 shows they think he'll be back before then. And they believe Kroft (knee) can start in New York.
LT Andrew Whitworth (11) T Eric Winston (10), LG Clint Boling  (6), RG Kevin Zeitler (5), C Russell Bodine (3), C-G T.J. Johnson (3), RT Cedric Ogbuehi (2), G-T Jake Fisher (2), G Christian Westerman (R).
With their top two right tackles hurting, it's a bit of a surprise they didn't keep Trey Hopkins and his versatility that allows him to play center and guard, as well as tackle. Either they think Ogbuehi and/or Fisher can go against the Jets, or there is another shoe to drop soon.
NT Domata Peko (11), T Pat Sims (9), RE Michael Johnson (8), T Geno Atkins (7), LE Carlos Dunlap (7),  E-T Margus Hunt (4), RE Will Clarke (3), T DeShawn Williams (1).
Losing Hardison for the year inside is a blow because they've already lost another tackle for the year in Billings. How long they go light with eight is a question and they could be in the market. Hunt can slide into tackle on third down but they may be looking for an end or tackle for depth.
Karlos Dansby (13), Rey Maualuga (8), Vincent Rey (6), Marquis Flowers (3), P.J. Dawson (2), Trevor Roach (1), Nick Vigil (R).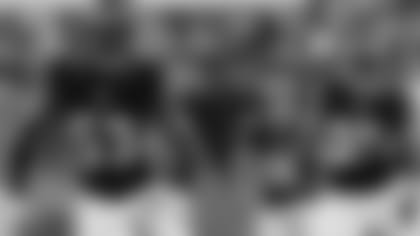 Marquis Flowers is one of seven backers to make it in a semi-surprise move to go heavy at LB.
They usually keep six, but with the Hardison injury they're going one heavy for now, which has to delight special teams coordinator Darrin Simmons. With Burfict now on the suspended list for the first three games, Rey is slated to start the opener, his 22nd start since 2014.
CB Adam Jones (10), S George Iloka (5), CB Dre Kirkpatrick (5), CB Chris Lewis-Harris (4), S Shawn Williams (4), CB Darqueze Dennard (3), CB-S Josh Shaw (2), S Derron Smith (2), CB William Jackson (R), S Clayton Fejedelem (R).
The thinking seems to be they'll put Jackson on injured reserve Sunday in a bid to bring him back later in the season. But that would leave them with only five healthy corners (counting Shaw) and that's stretching it because Dennard (ankle) has missed all but a week of camp after being shelved since Nov. 22 last year with a shoulder injury. They expect Dennard to play in the slot in New York, but another move may be coming because playing with just five corners is dicey.  
K Mike Nugent (12), P Kevin Huber (8), LS Clark Harris (8).
Nugent kicks in his seventh Bengals opener against a Jets team that picked him in the second round out of Ohio State in 2005. Only Jim Breech has kicked more Opening Days for the Bengals.