Ken Zampese had Andy Dalton ready for an impressive NFL debut in the pressure of December and January.
Ken Zampese's father, who called plays for Hall of Fame quarterbacks Dan Fouts and Troy Aikman and helped pump the oxygen into Air Coryell during his 28 years in the NFL, and is two months shy of 80 years old, is about to make another call.
Ernie Zampese isn't rolling the three pens in his left hand or muttering those four-letter words, like when Kenny watched him call plays in the Los Angeles Rams press box 25 years ago. But he's making another call when asked if he's got a tip for his son as he starts his first season as the Bengals offensive coordinator.
"Just be yourself. Don't try to emulate anyone else," says Ernie Zampese from his beloved southern California. "That's the only thing I can tell him. It's the only way to handle the staff and the offensive portion of the team. Don't try to be anything you're not. And go from there."
And he'll make this call about the kid he hoped wouldn't go into coaching because he saw how the job hopping chewed up families. Ken Zampese has no tendencies.
"How do you know until somebody's done something?" asks Ernie about what we'll see Opening Day. "He's very bright and the Bengals have a talented team. He knows the drill. He'll do a great job."
Talk about being on the same page even though the kid is now 48 and getting his first chance at calling plays in his 19th season coaching in the NFL, the last 13 as the Bengals steel-belted quarterbacks coach.
How good of a year did Ken Zampese have with his offensive coordinator, Hue Jackson? Starting quarterback Andy Dalton led the AFC in passing while backup quarterback AJ McCarron went 2-1 off the bench and came within a first down of pulling off the greatest post-season comeback in Bengals history.
What exactly is in that playbook, the one where Ernie says he keeps "reels and reels," of film? What is in those mountains of binders where wife Christine has watched him add everything he's ever jotted down? We've seen some of it, but . . .  
 "We'll find out," says Ken Zampese before leaving to scout this week's Senior Bowl. "I'll be the best Ken Zampese I can be. That's me, plus the people I've coached with along the way mixed in with what fits our players and how we can win."
That starts with a guy like Fouts, a guy he used to hand footballs to when he worked Chargers practices as a San Diego high schooler. It comes to now with Jackson, the third and last Bengals offensive coordinator Ken Zampese worked for until two weeks ago when Jackson, the NFL Assistant Coach of the Year,  bequeathed the playbook to Zampese when he became the head coach in Cleveland with the words, "He's smart. He'll do a good job."
"I would think you're going to see what we saw the last few years," Ernie Zampese says. "He really liked Hue, they got along great. He did a nice job. I think you'll see a lot of that and then some of his own plays."
In between Fouts and Jackson there are guys like his Super Bowl mentor in St. Louis in Mike Martz and his first Bengals quarterback in Jon Kitna.
 Ken Zampese on Fouts: "He was mentally tougher than everybody else. He wasn't afraid to lead. He wasn't afraid to piss people off. He said what needed to be said . . . . He would not allow things to fester. He put a lot on his shoulders."
Kitna: "He taught me a lot about playing NFL quarterback. About preparation. How to handle guys and all the different personalities. I value his opinion so much."
But it always comes back to Ernie Zampese, the guy that makes everybody recall a story.
"You say his name and it starts with a story and ends with a laugh," says Kenny Zampese, who was taking notes on Ernie as well as well as Fouts and Charlie Joiner and Kellen Winslow and the rest of the Hall-of-Fame Chargers when he got on the field as a ball boy or whatever else the equipment guys needed.
"He was so engaged with guys, enjoying their different personalities, taking them through their reads, explaining route techniques and why they're different. It was fun to watch. . . . Time of my life."
Ernie didn't know how fun and how much time. After Ken got his degree in business while playing wide receiver and returning kicks at the University of San Diego, he headed to the University of Southern California as a graduate assistant.
With no help from Ernie, even though he became a Troy cult figure in the mid '50s as a 5-8, 160-pound running back when he boomed the longest punt in USC history (85 yards) and in the same season broke a fourth-and-one in the fourth quarter for a 38-yard touchdown run that beat Notre Dame, 28-20.
"I didn't want him to get into coaching," Ernie says. "Coaches bounce all over the place and they've usually got families. They get fired after a couple of years and then they take any job just to have a job.
"I told him I wasn't going to help him. I wasn't going to pick up the phone and call anybody for him. That puts everybody in a tough position."
But, remember, Kenny Zampese is always taking notes. Christine is still always finding them after more than 20 years of marriage. Plays jotted on anything around the house. Napkins. Toilet paper. The backs of envelopes? Anything scrap may be the next big play.
From the time Kenny was born in 1967 in Santa Maria until he was a sophomore at San Diego, Ernie coached at either San Diego State or for the Chargers except for two years he stayed in town scouting for the Jets.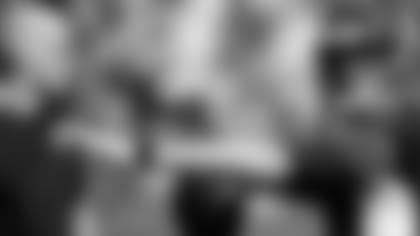 Under Zampese, Andy Dalton has fired up numbers in his first five years matched only by Peyton Manning.
And there were plenty of chances to move. Teams came calling from 1979-86, when Coryell appointed him the Chargers wide receivers coach, then the assistant head coach, then the offensive coordinator during a stretch they ranked first in NFL passing offense six times from 1979-85 while rated first or second in total offense four times.
"He turned down opportunities to stay in San Diego. He couldn't see moving us out of there," Ken Zampese says.  "I remember being around the living room and kitchen and he'd say, 'OK everybody, time to talk. What do you think about going to  . . .?' and he'd say whatever city. Washington or Buffalo or some place that would be so foreign to us. We would just scrunch up our faces and he didn't want to do that to us. San Diego is our home and he didn't want to move us out of there."
It worked out for everyone. When he started answering the calls, he called plays for the 1995 Super Bowl champion Cowboys at age 59 and went on to work in New England, St. Louis, and Washington before retiring at 68.
Kenny Zampese, who has also waited, also had his shots as the Bengals quarterbacks coach, too. Especially when Carson Palmer was in his heyday. But when he arrived with Palmer in Cincinnati in 2003 (how fitting, with the No. 1 pick out of USC), there was also a grade-schooler named Marina and a preschooler named Anthony.
"You get one shot with your kids and you can't make any mistakes," Ken Zampese says. "And if you're in a place that's good for them and you have good players and good people, you don't put your ambitions in front of that because you can handle those down the road somewhere."
There were interviews for coordinator jobs, he says, but he didn't always have his heart in them. How good was the quarterback? How long would he get to turn it around? How many schools would his kids go to? Remember the scrunched-up faces in Ernie's living room?
"I was in a good situation," Ken Zampese says. "I had Carson Palmer, Andy Dalton. Jon Kitna before them. I've had guys who are fun to be around and want to be great."
He kept the same mindset when head coach Marvin Lewis opted to hire Jay Gruden and then Jackson as coordinators while keeping him as the quarterbacks coach.
"I saw it as long as I was still contributing to the game plan and helping make our guys better and enjoying the relationships, it was what I wanted," Ken Zampese says. "The best job is the one you have."
You may not find two more different guys than Kenny and Ernie, but even though Ernie never helped him, they have the same outlook on family and jobs.  Ernie, who had a hard time going to class at USC, ended up getting his degree when he got into coaching. In fact, even though legendary USC baseball coach Rod Dedeaux wanted Ernie to try and play shortstop for him, it interfered with the start of the season at Santa Anita racetrack.
"Ken was a great student. I was terrible," Ernie says with some awe. "Never once did we have to check on him to do his homework. Never. We never had to tell him to do anything. He did everything without having to be told."
But they have this in common even though Ken says, "I stayed in my lane."
When Kenny was trying to figure out what was next after being a grad assistant coach at USC, he got a job at a bank. When he came home after that first day, Christine knew what was next.
"He ripped off his coat and tie and threw them down," she says. "And he said, 'I'm not going back. I can't do it. That's not me.' Two weeks later he was hired at Northern Arizona."
This is him: he doesn't like the track at Santa Anita, but he'll take the Santa Ana winds while lying on the beach listening to the surf and watching the waves. The sound track is supplied by, among others, his fellow San Diegans Blink 182, as well as Smashing Pumpkins. The Cure and The Clash.
It seems this scene is set just right for the Zampeses. Anthony graduates from St, Xavier in the spring. This Friday, Christine gets a scan to determine the latest state of her breast cancer, a disease she has staved off the past nine months through chemotherapy, radiation, a bullet-proof support system from the Bengals and her friends, and an insurmountable will. They love the University of Cincinnati Barrett Center cancer program, where she is in a clinical trial, and now they know why they stayed.
"(The job) comes at the right time," Christine Zampese says. "We'll miss Hue. Hue was a great friend. Ken loved working with him.
"God has blessed us so much with his plan. The kids were able to stay all through high school and I get to stay with my wonderful doctors and all the people that have supported me."
Christine's health is now at the center of every decision. Ken also senses the opportunity and the timing feels right.
"This one is different," he says. "We've got good players and we've got a guy (Dalton) I helped draft and raise from a pup. This one is a little bit more personal. And it works out so well for my family. This is the job I've had the most interest."
Ernie Zampese, who stuck around before he had some of his best days in the NFL, has an idea how it's going to go. He also remembers what he learned on those Hall-of-Fame fields in San Diego.
"Don't do the things that you think great players can do with great plays," Ernie Zampese says. "But fit the plays with the ability that your players have. That's what Ken is going to do. It's a good team. He'll be successful."