Marvin White, the man his mates call "Gator," says they watch him and fellow rookie safety Chinedum Ndukwe argue and say the road roommates act like brothers.
But there was no arguing when Ndukwe told White before Sunday's 19-14 victory that "The future is now," as the winds of change rustling through the Bengals secondary, not to mention the gusts that pistol-whipped Paul Brown Stadium, severely damaged Cleveland's playoff hopes.
The kids helped turn September's Mistake on the Lake to Sunday's Roll on the River by barging into the big-play Browns offense and holding Cleveland to just one play of 20 yards compared to seven in the 51-45 debacle. "I've been starting for awhile," said rookie cornerback Leon Hall, a virtual graybeard after his ninth NFL start. "Talking to Marvin and Chinedum last night, they had a little chip on their shoulder. They wanted to prove to everybody they can play, too."
After the 6-2, 220-pound Ndukwe's two interceptions and nine tackles in his first NFL start, and the 6-1, 200-pound White's veteran checking of tight end Kellen Winslow in his second (one play resulting in Ndukwe's end-zone interception), defensive tackle John Thornton read the mind of Bengaldom.
"With those young guys, when you get an opportunity to play like that, it makes it tough for other guys to get back in there," Thornton said. "We had two safeties hurt, and that's hard going up against Cleveland. Fortunately, our young guys played well."
So did the cornerbacks with Hall and Johnathan Joseph each with an interception three months after Browns quarterback Derek Anderson made life miserable by torching Hall for two touchdowns and Joseph for one on his way to five touchdown passes.
"And they had fun," said head coach Marvin Lewis, shaking his head at what injuries have wrought to his depth.
Once, Lewis checked on the defense before it went on the field and saw only about four guys because everyone else was on the field covering the punt.
"They didn't get much relief today," he said.
Could it be that after going down within 10 minutes of each other in Thursday's practice that free safety Madieu Williams (quad) and strong safety Dexter Jackson (calf) will become Wally and Pipp?
If anyone is counting, a total of 22 starts lined up in the four secondary spots. White, the fourth-rounder from TCU, is the geezer of the group after he turned 24 two weeks ago. Hall just turned 23 two weeks ago. Joseph is 23 and Ndukwe won't turn 23 until March.
"It's a long way from the second game of the season to the next-to-last game of the season," said Hall, who tied the Bengals rookie record with five interceptions. "I'm more comfortable. I'm not trying to do too much. Just playing within the defense." Enter Joseph, the non-rookie making his lucky 13th start. The Browns had come into the game failing to get points in the red zone just four times this season, but when Joseph stepped in front of Winslow on Anderson's pass from the Bengals 17 with 7:35 left in the game for an interception, it marked the third time Sunday that the Bengals had denied Cleveland in the red area.
"I jumped it; it was a crossing route," said Joseph, who had been burned by Winslow for a 25-yard touchdown in Cleveland on a streak down the middle. "It was a similar route, but different defense. Crossing pattern. They were trying to confuse the safety and corner. But you see it after awhile and you can jump it."
OK, the wind was bad. It was nowhere near the perfect conditions of September. But the kids must have gotten everyone lined up right because it didn't look like they had any blown coverages, as opposed to the Cleveland game when people roamed free.
"That was the biggest part of the game. Up there (in Cleveland), we had the explosive runs, the explosive passes, the dropped coverages, and all of those things," Marvin Lewis said. "You've got to make a team earn their way down the field, particularly in (weather) conditions like today."

And their physicality was just the way the Bengals drew it up back in April when they felt Hall, their first-rounder, was the most physical corner in the draft.
Browns running back Jamal Lewis, who rambled for runs of 66, 47 and 31 yards up in Cleveland, didn't have a run longer than 15 yards. With the Bengals going to an eight-man front early, White and Ndukwe took turns in the box and covering Winslow, a more versatile look than in Cleveland when Williams was exclusively on Winslow and Jackson kept an eye on the box.
"That's what we do; we're known as hitters," said Ndukwe, the former Notre Dame linebacker. But Ndukwe's interception with 1:27 left in the first half and his 44-yard return to the Browns 5 harkened back to the days when he was Browns rookie quarterback Brady Quinn's favorite receiver at Dublin, Ohio's Coffman High School. Before he was ruled out-of-bounds, Ndukwe dove and put the ball over the goal line.
"(Anderson) threw behind him," said Ndukwe of running back Josh Wright. "I was just looking at the quarterback and it came my way."
Then with 47 seconds left in the half, Hall made a leaping catch in front of wide receiver Braylon Edwards, the guy that beat him on a 34-yarder up in Cleveland on a double move.
"This was a Cover 2, so I was just kind of hanging back. Yeah, I was surprised they were throwing at that point," Hall said. "When I saw the personnel and formation, I figured they were."
But the prettiest pick came on the first drive of the second half and crushed a Cleveland effort that chewed 6:15 and 63 yards. The Browns reached the Bengals 9, but it went all for naught in the back of the end zone when White was plastered on Winslow, turned his head at the right instant as they both jumped, and batted the ball high enough so Ndukwe could pull it in.
"Good things happen when you run to the ball," Ndukwe said.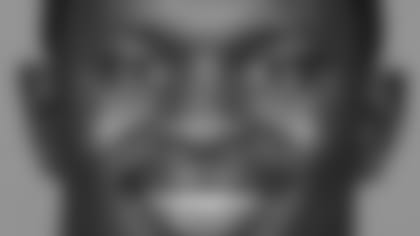 White got the nickname "Gator" for his Louisiana roots, but it could also be for his tenacity. Winslow, who had six catches for 100 yards in Cleveland, had seven catches Sunday, but for just 73 yards and didn't score. After he caught a 22-yarder 4:21 into the game, Winslow and no other Browns receiver had more than a 20-yard catch in the final 55 minutes.
"I was man-to-man on him," White said of the play in the end zone that began when he got physical with Winslow at the line of scrimmage. "I just wanted to get my hands on him. Make him work hard and I got a deflection. Chinedum was there to make the play. It was a great hustle play. I was reading (Winslow's) head. I saw how big his eyes were getting, so I looked back for the ball. The ball was right there."
Anderson thought that was the one interception that got hung up by the wind.
"I was matched up with him all (game). I think I did a great job against Winslow," White said. "I was just trying to disturb his timing so the quarterback didn't have a sure shot to throw the ball to him. The coaches told me to confuse the quarterback and get my hands on him."
The defense really got its hands around Jamal Lewis. White said the Bengals pinched the inside in order to force Lewis to the perimeter on his runs that added up to 92 yards on 21 carries.
"It was kind of the same thing passing," Hall said. "With the wind, the quarterback didn't want to throw it to the outside and he checked it down inside."
Winslow looked to be wide open on the last play, Anderson's fling from the 29 that ended up harmlessly over his head. But White said there was no need to worry.
"We were in a deep Cover 2 (four DBs at the goal line)," White said. "We knew he'd be open around the 10, but we were going to come up and make the tackle."
But leave it to Ndukwe, the kid from the middle of the state, having the biggest say in arguably Ohio's greatest in-state sports rivalry.
"I hope it can be "The Battle of Columbus," the days when Brady is out there full time with me," he said.
Why not? Ndukwe and his band of kids seem to have dibs on the future.