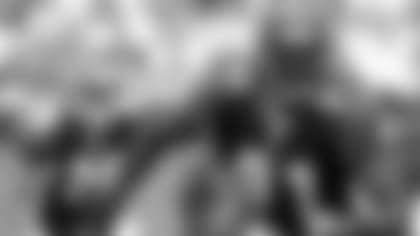 Geathers: Making the switch (Bengals photo)The youngest Bengal has aged a few years this second season in the NFL. Defensive end Robert Geathers Jr., born in August of 1983, nicknamed "June," for "Junior," and getting his second wind in November, is a daily reminder of how young this defense is in spots.
If rookie linebackers David Pollack (playing a new position) and Odell Thurman (playing at a new level) have had to adjust this season, then what about their old Georgia teammate? For the first time in his life, Geathers is playing tackle and for the first time since high school, he's playing every down.
"It's been a load for me. I've got a lot on my plate, but in the last couple of weeks I've been getting more comfortable," said Geathers, who admits he feels better at end than tackle. "But the team is winning, this is what they want me to do, and I'm going to do it. The way to be a great player in this league is to play every down, and that's how I want to be labeled. So let's do it."
This is why defensive line coach Jay Hayes says Geathers is "mature beyond his years," as the son of a former NFL player, Robert Geathers Sr., and the nephew of another, the 62-sack man from the '80s, former defensive tackle Jumpy Geathers.
"He's happy to be playing. He comes from a football family and really knows the game," Hayes said. "Not just football. He's a real intelligent guy. If we need him to do something, he'll do it."
It's a good thing he's wise beyond his years because he doesn't have many of them. He beats Thurman as the youngest on the active roster by 33 days and has as many NFL games as he has years with 22.
10 YOUNGEST ACTIVE BENGALS :
DL Robert Geathers: 8-11-83, Year 2 with 22 games-9 starts MLB Odell Thurman: 7-9-83, R, 8-8 WR Chris Henry: 5-17-83, R, 7-4 DT Matthias Askew: 7-1-82, 2, 5-0 LOLB-DE David Pollack: 6-19-82, R, 7-2 DE Jonathan Fanene: 3-19-82, R, 0 -0 LB Larry Stevens: 1-22-82, 2, 15-0 WR Tab Perry: 1-20-82, R, 8-0 RB Chris Perry: 12-27-81, 2, 10-2 DT Shaun Smith: 8-19-81, 2, 14-2
It's believed Geathers was the youngest Bengal ever when the team took him at age 20 in the fourth round as a Georgia junior in 2004. But he played like he was 30 when he finally got into the lineup regularly as a third-down rush end in the last nine games of the season, finishing the year with 3.5 sacks, game-changing tipped passes against Dallas and the Giants, and a 36-yard touchdown return for an interception in the season finale at Philadelphia.
That earned him a promotion as the starting right end this season. But with the drafting of Pollack at the 17th pick, the Bengals have put the 275ish-pound Geathers inside at tackle and put Pollack at right end on passing downs. Geathers is starting to gather himself with a big play. He got his first pass deflection of the season last week (after five last season) and it produced Thurman's interception that led to the winning points.
"I didn't get to do it in the preseason. If I knew I was going to play inside during the season, I would have preferred doing it in the preseason also, but they drafted him, they want to get him on the field," Geathers said. "They obviously feel like I can make something happen inside and I'm getting used to it."
Geathers is more than just a smart guy. He's been clocked at 4.9 seconds in the 40-yard dash and is a marvelous athlete. Hayes said that moving him inside can open up some one-on-ones against bigger guys lacking his athleticism, and Geathers says he's starting to get around the slow guards.
Head coach Marvin Lewis has noticed lately.
" I think the rigors of the NFL, when you're a first-time starting player for the first time, can wear on you," Lewis said. " But now you start to see over the last couple of weeks, that he's getting his legs back under him and settling down a little bit."
Athleticism is why they made the move.
"Sometimes it is," said Lewis when asked about the difficulty moving from end to tackle and back. "But you've got to look at it the other way: You can get some isolation one-on-one. He has two choices: He can either go inside or he can stand by me (on the sideline). A lot of guys chose to go inside."
Geathers and Hayes say the biggest adjustment has been playing so many snaps. Geathers is taking about 40-50 a game this year after a high of 18 last year.
"That more than anything else; being an every-down player," Hayes said. "He never had been an every-down player in college and that in itself is an issue. He has held up fine, but he's also had some days he's had little meltdowns here and there as to things we want to get done. For the most part, he's played solid."
This isn't the finished product. Both Pollack and Geathers are at the start of their careers, and they believe they can become an effective tandem as they evolve. "We're trying to get our best pass rushers on the field at the same time," Hayes said, and to that end they have occasionally slipped the starting left end, Justin Smith, inside.
With Pollack shelved last week with a knee injury, Geathers played more rush end on third down and, as usual, flashed. Hayes doesn't doubt he's a better end than tackle at this stage, but the thinking is soon they'll have a seasoned two-position threat given that Geathers is so young and there's a chance he still might be younger than next year's first-round pick.
The Bengals feel like they are keeping Geathers out of double-teams in the running game because he's playing against mainly passing formations. Still, Geathers gets his share.
"I'm telling you, it's a load in there," Geathers said. "It's different. I think I'm getting better playing the run. It's a matter of getting comfortable."
Although this is Geathers's first season of continually taking on the running game, Hayes says he has held up and says the jury isn't still out on his play against the run. The Bengals are ranked 22nd against the rush in the NFL, but Hayes says Geathers isn't a guy who has been out of position.
"Not Junior," Hayes said. "Not with his intelligence. He's not out of position. He's getting better at (playing the run) all the time"
Hayes, a college and pro defensive end who has coached the position here as well as linebackers and special teams in college and the NFL, is passionate when he talks about the run defense. He defends his guys not as their coach but as a guy who has done this thing nearly half his life for a living.
"I've spent a long time watching this game not for fun, but for my livelihood, and I've got to tell you that if we're not working as an 11-man unit, we're going to have trouble against the run," Hayes said. "It's not on four guys, it's not seven guys. That's what people have to understand. That we will continue to work, to try and rectify those issues. When you talk with our guys, they understand what we need to do. We'll get it done.
"It's a big test this week. These guys (the Ravens) are in our division and they live by the run."
Geathers finds himself on first and second down in a matchup with perennial Pro Bowl left tackle Jonathan Ogden, a 6-9, 345-pounder who has six inches, 70 pounds, and nine years on him. But Hayes has no worries about Geathers getting gobbled up by Ogden. Geathers disputes that Ogden, a massive run blocker, is slipping because running back Jamal Lewis is averaging just three yards per rush.
"From what I've seen on tape," Geathers said, "the only guy that has really beaten him is (Colts end) Dwight Freeney."
But that won't help Geathers because Freeney is 6-foot, and runs the 40 in about 4.3. "I have to watch guys who play the way I do. I played (Ogden) last year in both games," said Geathers, who is now going to find out how to play him against the run instead of the pass.
But with Pollack questionable again, Geathers may also be testing Ogden's agility on passing downs at end.
Geathers has a great sounding board in Uncle Jumpy, who stayed right smack in that defensive tackle spot for 13 seasons without moving.
"I talk to him a lot and he says he's never seen a young guy do so well while moving this much," Geathers said. "He's telling me that I'm doing great."
The operative phrase there is "young guy." With Geathers, Thurman, Pollack, linebacker Landon Johnson and free safety Madieu Williams all 24 or younger, the Bengals feel the growing pains will soon be less and less against the run.
"Accepting my role," said Geathers, when asked what he's learned this year. "I have to go inside. I wasn't the guy I was last year that played only on passing downs. Learning to be an every-down guy."
The evolution of a young man's defense continues Sunday.