Since Jerome Simpson (1986) and Andre Caldwell (1985) were born after Isaac Curtis retired as the Bengals all-time leading receiver in 1984, he didn't expect them to know him when he introduced himself Friday as they came off the practice field.
Which speaks to quarterback Carson Palmer's take that the Bengals simply "restocked" when they drafted Simpson and Caldwell in the second and third rounds, respectively.
"You have to keep pushing the young guys along because it takes time to develop receivers," said offensive coordinator Bob Bratkowski. "Remember, it took Chad (Johnson) a season and a half before he was productive for any stretch."
So while Bengaldom buzzes with Simpson's basketball hands and Caldwell's track feet, remember that a Bengals rookie wide receiver has caught 40 balls just three times in history. "We definitely hope they can come up big for us, but past history tells you it takes you a better part of a year to get adjusted," Bratkowski said.
Curtis, with 45 in 1973, was one of them. So was Cris Collinsworth with 67 in 1981. If there is any truth to the platitude, "Time marches on," it is those two guys.
Before last weekend, the last time the Bengals drafted receivers in back-to-back rounds was 1981 with David Verser in the first round and Collinsworth in the second when Curtis was 30.
"I guess they were sending me a message," Curtis said with a laugh. "You're getting close."
Johnson and T.J. Houshmandzadeh are, of course, both 30, too. Quarterback Carson Palmer says the draft had nothing to do with Johnson's trade demands and threat to sit out the season.
"Chad and T.J. are both getting older, and it's part of the deal. When a certain position gets older, you've got to restock for the years to come," Palmer told reporters as he came off the practice field. "I don't think it's anything more than that. People talk about Chad and all the other stuff going on, but it's just restocking a position, just like every other team does."
Whether the Bengals need someone to replace Johnson this year is the stuff of Ouija boards. But they definitely need someone to replace Chris Henry as the No. 3 receiver. If not veteran Antonio Chatman, then it will most likely be one of these two guys.
Guys that Palmer checked out before and after the draft in the Bengals video library. The week before the draft, Palmer would scratch messages like "Draft Jordy Nelson" on Bratkowski's grease board.
"He was leaving a bunch of names," Bratkowski said. "I know he likes the two we got."
Nelson faded to black and 36th to the Packers. Simpson arrived 46th and Caldwell 97th. Palmer calls Simpson's film "unreal," and still can't believe Caldwell was sitting there at the bottom of the third. "I think we lucked out just because the knock Florida receivers get that they're system players," Palmer said. "He's fast, he's a team captain, a leader. This is the type guys love to get as a receiver. They're dedicated. They understand the system or else they probably wouldn't be a team captain if they didn't know what was going on.
"Physically, he looks like an NFL receiver and he ends up running a 4.3 (40)."
The 6-0, 203-pound Caldwell may end up being more ready because of the competition at Florida and the fact he played virtually every spot in Florida's spread offense. He's played both outside and the slot, and, like Simpson, played a little bit of both Friday.
"I didn't get a chance to see him play because when he was in, I was in," Caldwell said. "I'm sure he must be able to play if they took him that high."
Caldwell admits he never heard of Simpson before Draft Day, but now they are roommates and it looks like they're going to be together for a lot longer than a rookie camp.
"I knew who he was. Florida Gator. Gator bait," Simpson said. "He's been a good guy to me. I met him when we visited Minnesota together (for a pre-draft visit)."
The 6-2, 190-pound Simpson, he of the 40-plus vertical jump and 11-inch hands, is the chatty one. He does a mean imitation of Coastal Carolina head coach David Bennett.
"There's some fast talkers up (north), Bo," Simpson parroted. "He says, 'Bo' all the time. Everything he says after is, 'Bo. Hey, Bo. How you doing, Bo?' "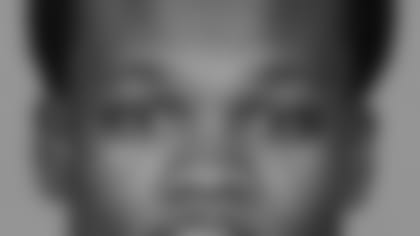 Simpson is doing just fine, Bo. He doesn't mind being the guy nobody knows. Caldwell doesn't chat as much, but his body does. He's laced with tattoos, but the one that stands out is across his chest:
Caldwell says he put it on there about nine months ago.
"The sky's the limit," he said. "Always try to exceed your expectations. I'm always trying to exceed expectations and do better than the next person."
Caldwell says he does that by trying to be physical and "dominate the guy across from me." He's enthused about returning kickoffs for the first time since breaking his leg returning one a couple of years ago.
"I'm not going to shake and bake," he said. "I just use flat-out speed."
As special teams coach Darrin Simmons said, "That's my kind of guy."
Curtis, arriving for the Bengals' annual alumni dinner welcoming the rookies, says both are his kind of guys.
"I didn't get a chance to see much of practice because of the rain," said Curtis as he watched edges of the afternoon session from a Paul Brown Stadium runway. "They look like nice big guys that can run."
Curtis played four more seasons and caught 114 balls after that '81 draft. No Bengals wide receiver has caught more balls past age 30 than Curtis. But Houshmandzadeh, with 83, and Johnson, who turned 30 in January, should easily surpass that.
Certainly no one is saying that either guy is close to done. Not Palmer. Not Curtis.
"Oh, no. Not at all," Curtis said. "Not the way guys stay in shape now."
Or that Simpson and Caldwell can do it right away.
Bratkowski has seen this before. After Friday's second practice, he took the duo aside to soothe them.
"They're swimming right now," he said. "I told them it was no different than what Joey Galloway went through. Or what Chad Johnson went through. Or what Plaxico Burress went through. It's the nature of the position."
Curtis, the original 85, admits he has seen snatches of the Chad soap opera.
"I hope he comes back. I love to watch him play," Curtis said. "He's a football player. Then he needs to be playing football."
With his first catch of the season, Houshmandzadeh ties Curtis on the Bengals all-time receptions list with 416. With the next one, he ties Collinsworth. With the third, he's in third place all by himself behind Johnson and Carl Pickens.
"A great receiver," he said. "The number of balls these guys catch is amazing. I'm surprised I held out this long. The most catches I had in a season was 47. Nowadays, the third receiver gets that."
But will the Bengals No. 3 receiver this year get 40?
Curtis looked at his hands. He heard Simpson had the biggest in the draft.
"I don't know how big mine are," said Curtis, wondering how they calculated. "They never measured them."
But even the calendar eventually took Curtis' measure.
"You've got to keep those fresh legs coming," he said.