---
---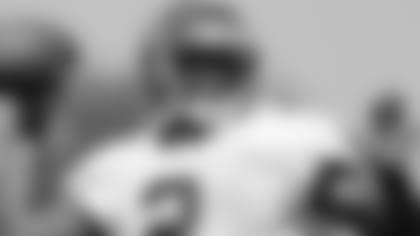 Wright: Looks sharp in Mock Game (Getty Images)
GEORGETOWN, Ky. - Quarterback Anthony Wright had the benefit of the No. 1 offense Saturday and very well may have used it to lock up the No. 2 job in a 291-yard passing effort during the Black's 45-30 win over the Orange here at Georgetown College in the Bengals Mock Game.
An estimated crowd of about 9,300 gave the college a Bengals weekend attendance record of 18,700 and watched wide receivers Chad Johnson and T.J. Houshmandzadeh hook up with Wright for a combined 18 catches, 249 yards and Houshmandzadeh's 50-yard touchdown.
The coaches won't make any kind of No. 2 pronouncements at least until watching Saturday's film and probably not even until then.
"It doesn't really matter. I'm going to do my business," Wright said. "I'll let everything else take care of itself."
In a glorified pitch of flag football, the scrum for the Bengals' nickel cornerback job went to another level when Keiwan Ratliff came up with two interceptions (one for a 33-yard interception return) and four passes defensed playing against Wright's first-teamers. Quarterback Doug Johnson didn't fare as well with the backup line and receivers in completing 16 of 30 passes for 130 yards.
Wright and Johnson had the field all to themselves because Carson Palmer rested his reconstructed left knee after playing three series in Friday night's intrasquad scrimmage. So did Johnson and Houshmandzadeh because Friday's star, wide receiver Chris Henry, sat out the Mock with a hamstring problem as did the other receiving star, rookie Bennie Brazell.
They should be back in a few days, if not Monday, but their hamstring problems don't seem to be as severe as that of linebacker David Pollack. It has been described anywhere from day-to-day to three weeks, although head coach Marvin Lewis pooh-pooed the latter. At the very least, Pollack's appearance in next Sunday night's preseason opener against Washington at Paul Brown Stadium looks to be in jeopardy.
For the second time in 18 hours, Stacy Andrews started at right guard in place of Bobbie Williams (knee) on the first-team offense and Shaun Smith and Domata Peko filled in for tackles John Thornton (hip) and Sam Adams (rehab) on the first-team defense. All except Adams are expected back in the next few days, although Adams's return is unknown.
Rookie free agent fullback Naufahu Tahi broke a small bone in his foot Friday and may be shelved for a couple of weeks.