The Bengals need their young wide receivers to grow up in a hurry and in Friday night's pre-season opener they didn't need fake IDs to get into Paul Brown Stadium and a 17-16 loss to the Vikings.
The wide receiver derby is officially open and everybody but A.J. Green, Brandon LaFell, and Tyler Boyd seems to be chasing rookie free-agent Alex Erickson after what unfolded before 50,737.
Erickson staked his claim to a roster spot when he scored both Cincinnati touchdowns, the last a mind-boggling 80-yard punt return where he broke four tackles and put the Bengals in position to win with 2:45 left.
But the draft picks also showed up with the second-rounder Boyd tracking Andy Dalton's deep ball for 40 yards to set up Erickson's first touchdown and sixth-rounder Cody Core muscling for 33 yards, most of them coming after his three catches.
"That's what they brought us here for, to compete," Boyd said. "If you're afraid to compete at the highest level and face the greatest guys, then you shouldn't be here. We love competing against the top notch guys."
Boyd, the pride of Pittsburgh, is used to big moments in big venues as one of the most decorated players in one of the nation's football hotbeds. Erickson is from the other side of the tracks, a high school quarterback who played flag football at Wisconsin before he walked on with the Badgers.
"As a competitor, anytime you have a chance for something, you feel like you're in it," Erickson said. "I'm not trying to worry about the numbers at all."
The 6-0, 195-pound Erickson came into training camp as an underdog against those top-notch guys. But with the 4-5-6 spots up for grabs on the roster, he's given himself a chance to make it.
As breathtaking as his return, his three-yard touchdown catch from backup quarterback AJ McCarron shows why he may make it. He's reliable and sure-handed.
On second-and-three from the Vikings 3 with 47 seconds left in a first half the Bengals trailed, 7-0, Erickson lined up in the slot and saw the cornerback opposite him ready to blitz.
"The nickel came off the edge, and the safety over the top was playing a little soft, " Erickson said. "And we had the right play call. AJ threw it right where it needed to be, and I was able to walk in."
McCarron has been having fun with these guys all camp since he's the guy throwing to them.
"I feel like the old head. Even though I've only got a year of experience, it feels like five because of all the good teams I played last year," said McCarron, who started the last four games for the injured Andy Dalton. "They listen. They're excellent players and excellent teammates."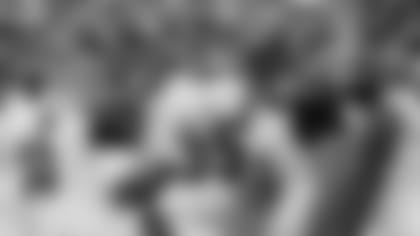 AJ McCarron (5) has taken the young wide receivers under his wing.
McCarron found Boyd right away in the spring and he keeps going to him. On Friday night, McCarron took a shot at him in the first quarter deep and missed. In the second quarter he took another shot and got him with a lovely throw down the left sideline over his outside shoulder, a 40-yarder Boyd corralled on the dead run running past cornerback Jabari Price as he fell to the Minnesota 6.
"That's a good matchup with TB. I like to give him a chance. He did a good job tracking it," McCarron said. "It's the only place I could put it. They did a good job running with us, but staying inside. I had to put it on the outside and he made a hell of a play."
Boyd wasn't supposed to be a deep threat because of his lack of elite speed. But he's made long plays since he arrived from Pitt and has certainly solidified the No. 3 spot in the slot. And with LaFell (hand) not playing Friday, maybe Boyd gets more and more of a look.
"I'm just a real competitive guy. Early on in the game I had the same deep ball thrown to be and kind of got wide a little bit too much and the ball was a little inside," Boyd said. "So I knew the next opportunity I had that I would want to take over … It was just me reacting to the type of defense they were in – man press with one high safety, so we knew we were going to get a deep throw there. It was a great call for that coverage."
Erickson's punt return, of course, is the play of the game and shows just how valuable he might be. It's his first TD return since high school and with 15 immediate family members and friends in the stands going wild, Bengals incumbent returner Adam Jones told him when he got back to the sidelines, "I knew you were going to have a chance when the guy drove the punt back."     
 "Adam has been doing this for a long time and is one of the best in the game," Erickson said. "Watching him every single day it helps to see how he works and how he makes guys miss and the angles he uses and how he sets up the blocks. I learn a lot watching him every single day."
But like Erickson said, it has to be a play of instincts.  You can draw up the right direction, but after that … On Friday Erickson made four guys miss. He basically ran over through two of them, running back Jhurell Pressley and tight end Brian Leonhardt.
"I knew I was going to have a chance to return it, just because the punter drove it – he hit it pretty good. I caught it going backwards, and you want to catch it going forward," Erickson said. "I was able to cut off some of their blocks and got on the punter and outran everybody. On a punt return, that's such a long play. After looking at the clip you can just tell everyone was straining. It makes it fun when you just do your part and everyone else is doing their part as well.
 "When you're driven back, there's going to be more space. There's going to be more room to make guys miss. It also makes it harder on our guys. They've got to run a little."
McCarron calls Core "a baller. He's big and he can run after the catch."  Dalton, who threw just five passes Friday and none to anyone born after 1988, enjoyed the view.
"I liked what I saw," Dalton said.
What he saw is an old-fashioned competition. Sophomore Mario Alford had a good nine-yard punt return and a 14-yard catch. But he left the locker room with a boot on his foot. Jake Kumerow got good separation down the sideline and was open to catch a bomb, but instead of looking for the ball he looked back at the quarterback and lost track of it. James Wright, in his first game back in 21 months, converted a third-and-seven with a heady eight-yard grab over the middle.
 "It's always good to have a lot of playmakers around you because it will make the guys around you better," Boyd said. "So we love to compete with each other but at the same time, we've got to keep each other up."
Cincinnati Bengals face off with the Minnesota Vikings at Paul Brown Stadium in week 1 of the preseason 8/12/2016