Cody Core is also trying to catch on to special teams. 
On Mohamed Sanu's 27th birthday Monday, the Bengals lined up rookie wide receiver Tyler Boyd in a variety of ways during practice and while he has yet to catch an NFL regular-season pass the Bengals can celebrate Boyd's ascension into the derby to start opposite A.J. Green in New Jersey on Sept. 11.
"A lot of guys are in that category," said wide receivers coach James Urban as the staff continues to respond to the off-season departures of the nearly combined 1,000 yards and 100 catches accumulated by Sanu and Marvin Jones last season.
But with seven-year veteran Brandon LaFell returning to practice this week with a damaged ligament in his hand after a 10-day absence, Boyd is the unquestioned leader in the clubhouse as they get set to gauge LaFell in Sunday's dress rehearsal  (8 p.m.-Cincinnati's Channel 5) in Jacksonville.
"We have to see how he transitions through," said offensive coordinator Ken Zampese.
Also making a push is one of the best stories of the year in James Wright. Wright, the 2014 seventh-rounder from LSU, is coming back from a 21-month layoff as he tries to rebound from the most dangerous of procedures, a micro fracture knee surgery.
They fear "the clock," that is on the knee now and wonder how long it can hold up. But so far, so good. It may not be high noon when it comes to his rookie explosion, but he looks to be at about 10:45 and he has been catching everything he gets his hands on.
"Every day," Zampese said. "He does something to get me excited about what he's doing."
 Urban is looking for LaFell to knock off some rust this week, but he didn't get a lot of looks from quarterback Andy Dalton in Monday's practice in full pads. Meanwhile Boyd, the slippery second-rounder from the University of Pittsburgh, just made some more plays like he has since he arrived.
During the scouting process the Bengals gave Boyd high grades and were very impressed with his production at a program that didn't always have the answer at quarterback. After watching Boyd move all around at different positions on tape, Zampese concurred and he's been encouraged by seeing those same elements play out.  
"He catches the ball well," Zampese said. "He has very good instincts. He does a nice job inside feeling holes in zones."
The Bengals signed LaFell to replace the experience lost with Sanu and Jones, so there figures to be a place for him in a six-man receiving corps when you figure Boyd, Wright, and sixth-rounder Cody Core, a former Mississippi safety who has shown he doesn't mind doling it out physically, have a total of five career NFL catches.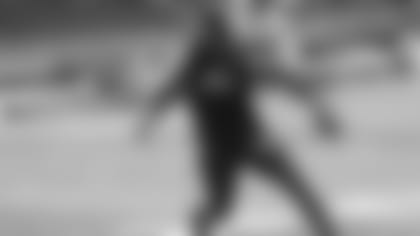 Brandon LaFell hopes to make his Bengals debut this Sunday.
But who that sixth spot goes to is anyone's guess, although a good guess is that it's going to be either veteran Brandon Tate or rookie free agent Alex Erickson in what is your classic Hard Knocks roster battle not lost on special teams coordinator Darrin Simmons.
"When Brandon got out of North Carolina he had more return yards than anyone in the history of college football," Simmons said. "Alex (returned) for about a year at Wisconsin and now he comes in and has the hot hand."
Erickson is the latest darling of the crowd that has been trying to run off Tate ever since he arrived via the waiver wire from the Patriots a few days before the 2011 opener.  And Erickson is worthy of the buzz. The Bengals love the feel and hands he brings to the slot and think he's got some major upside.
Although he's not a spectacular highlight film player, Tate has quietly been an integral part of five straight play-off runs as Adam Jones' alter ego at punt return. Between the two of them they've lost one fumble and have won some games with big fourth-quarter returns while Tate has become the franchise's all-time leader.
And don't forget last season on his first scrimmage snap of the year in the season's fourth game on his 28th birthday when Tate made a tumbling touchdown catch against the Chiefs. It will be recalled that he scrambled to his feet and scored before he was touched and he has brought that same play-to-the-whistle mentality to his annual roster battles.
"One day at a time," Tate said after practice Monday. "I'm just trying to make the team. I'm just getting ready for the game Sunday. Keep fighting. It's never over 'till it's over. Keep my head down and stay positive, man."
All he's done this preseason is make plays that make you wonder how they can cut him. With LaFell on the bench on the preseason's first series, Tate twisted in the air to make a 20-yar d catch on third down. Then last Thursday night in Detroit he slanted for 10 more yards on third-and-one to help set up the first touchdown.
"I try to outwork the younger guys. I try to keep up with them," Tate said. "The young guys keep me going. I just go in with the attitude I'm not going to get beat out."
Tate has watched Erickson pop punt returns of 80 and 30 yards in his first two games and he's been willing to help.
"Erickson is doing great," Tate said. "I want to help all my guys, but about the only thing you can help with is catching it. After that, everyone pretty much does their own thing."
The battle between Tate and Erickson underscores the importance of special teams in the makeup of the six receivers. For instance, it won't only determine what happens at the sixth spot, teams are going to determine who is active against the Jets.
Simmons, who, by the way, cleared Boyd of catching a punt on his own five because he recognized he had enough room to return it 24 yards, is always looking for receivers to not only return kicks, but cover them.
"It's a huge factor. All the good groups we've had here there's been a receiver that has been a part of it," Simmons said. "You kind of steal a position. When you get a coverage player out of a receiver it's a huge thing because it counts like an extra defensive back."
Simmons can tick off his key guys from the past. Tab Perry. Kevin Walter. Andrew Hawkins.
And Wright, who did it all for Simmons as a rookie gunner in 2014. Before Wright got hurt, Simmons thought he could be the best he ever had covering punts. So he wasn't very happy Thursday night on his first punt back when Wright was flagged for coming back on the field from out-of-bounds.
"Can't have fouls,' said Simmons, who is also eyeing the 6-3, 215-pound Core. "(Core) has size, strength, speed. But he has to make the play at the point of attack. He had a chance to do that the other night and didn't finish. He got down there, but that's half the job. You have to tackle."
Core vows he'll be better and he's probably right. Before he became a starting receiver at Mississippi as a junior, he played backup strong safety so he doesn't mind the physical game.
(Just take a look at the second snap of the second half last week. Core took a hellacious hit over the middle and held on a few days after he dislocated a finger in practice.
"I hate the defender was there because I like yards after the catch," Core said. "I was going to hold on to the ball. I knew it was coming.")
Core also believes his safety stint has helped his receiver career when it comes to running routes.
"You've got an idea what the defense is going to do," he said.
He's got more than a little Tate in him. He shrugged when he recalled his reaction to the news at Ole Miss they were switching him to receiver.
"Coaches' decision," Core said. "I'd do whatever they tell me to do. I'm up for it. Just let me get better at it and keep working at it. It's all about my technique."
Which pretty much sums up the 11 days left to the final cut.
Cincinnati Bengals host practice at West Carrollton High School 8/21/2016