Eric Wood at work.

Suddenly, Eric Wood, the grizzled leader of the Buffalo Bills offense, was a kid again last Sunday. Here he was rooting for a Bengals wide receiver to score.



Tyler Boyd, running with the ball and Western New York's redemption, was now Chad Johnson or T.J. Houshmandzadeh, back when Wood was roaming "The Pit," for Elder High School. But he was probably younger than that. Probably closer to nine and 10 when he was just falling in love with football growing up on Cincinnati's west side.


"Darnay Scott and Carl Pickens," Wood is saying this week from the tundra. "And Jeff Blake and that crew. Those were my glory days. Then when I got older it was Ocho Cinco and (Carson) Palmer and Houshmandzadeh and those guys."


Wood has been in the NFL now for nine good years and 120 blue-collar games and the business of the NFL is still business. But as the Bills whooped and hollered and shrieked in the visiting locker room in Miami watching Boyd and quarterback Andy Dalton hook up on a fourth-and-12 miracle with 44 seconds left in the season to beat the Ravens and put the Bills in the playoffs, it wasn't.  

"When you play in the NFL it's such a business .You don't really root for other teams," Wood says. "But you're definitely a fan of players and coaches in the NFL. I've always been a big fan of Marvin Lewis. I've met him on a number of occasions. I know him a little bit now. I've always been a huge fan of him. I always root for him in particular."

After those 120 games, Wood now gets a post-season line in profootballreference.com. He had been telling his mates all week the Bengals were underdogs going in but don't be fooled.

"I kept saying, those guys in Cincinnati, they love Marvin. If this was his last game, I thought they'd play really hard for him," Wood says. "The Bengals went all-out on Sunday and we're appreciative and you know the Buffalo fan base is. They're tremendous. Great fans. It's like playing for a college. When we landed after the game there were several hundred waiting for us and it was about one degree and the wind chill was like minus-15."

You can be sure Wood was watching that last snap.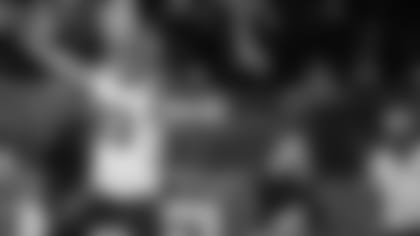 Tyler Boyd wins one for Buffalo.

"The way that drive was going and the weather, it wasn't inspiring a lot of confidence," Wood says. "But I could tell by the way (Dalton) stepped up and ripped it that he saw something. On the TV copy you can't see downfield, but I knew he saw something. And Boyd made a remarkable catch and run."

The playoffs. It also got Wood thinking about his old team.


"First time in 17 years. It's hard on everyone. Fans and players and it was great to deliver and get that monkey off our back," Wood says. "Growing up in Cincinnati the Bengals had a drought (15 years), but when they got over that it felt like they made it pretty much every year.

"Not to think forward, but I hope something similar happens here."

As every school kid in Cincinnati and Orchard Park knows now, the Bengals played hard and it wasn't Lewis' last game. Wood is settled in Louisville, where he played college ball, and he's got a little Bills' fan and one on the way. But he's got to be happy because he's been a Marvin guy from the start and beyond. The Elder kid grew up to play for the South in one of those Senior Bowls Lewis' staff coached the North.

"My mom and step-dad got to meet him that week and he was extremely friendly toward them, which I appreciate because he owed them nothing," Wood says. "I grew up a fan of his. I instantly became an even bigger fan then. I ran into him at Reds games and Super Bowl weeks. Talked to him before and after most times we played the Bengals. Just a remarkable man. There's no question why the guys have played so hard for him over the years."

Now Wood is trying to think of a gift to send him after his team sent the Bills.

"That's the plan," he says.