Sunday is Flag Day, but it is now always Flag Day in Andrew Whitworth's locker.
That's where one Pro Bowler put a gift from another Pro Bowler, first class petty officer Daniel Peterson, when Whitworth returned for his 10th NFL season a few months ago. Peterson, Whitworth's bayou buddy, is just finishing up his six years with the Navy Seals and one of his last missions with those military All-Pros made sure that Whitworth would get one of the American flags that Peterson's team carried through southeastern Afghanistan during four grim months of 2014 as the war wound down.
Back in April, Whitworth leaned the frame in the middle of his locker, between a white No. 77 practice jersey and a hooded Bengals sweat shirt.
"I had no clue what to do with it. It's so nice," Whitworth admits. "It's something I don't want to show off, but it means a lot to me. That's why my first inkling was, whatever I do one day I'd like it to always be in my office, some place where I spend most of my time. I want it close to me and this is where I spend all my time. "
Peterson thought the same thing about another flag when he and his team of 20 were "in country," and they were running more than 50 missions out of a small combat outpost. He kept a Bengals flag above what amounted to his locker in his room. Under the flag is where he put the tools of his trade. A helmet. Thigh pads. A ballistic bullet-proof vest.
That's where he put his stuff after their third day of deployment, a moment shattered in the flames of an ambush. In an instant, teammates down around him. In the next, the haze broken by precise, relentless training. Muscle memory taking command in a fire fight that maybe lasts a half hour. No one dies, but it is one of those bad days.   
"You think about 2013 when we were flying at the top of the world watching the Bengals beat the Steelers on Monday Night Football in a million-dollar suite and the next thing you know it's bullets and bombs," Peterson says. "That's what we're trained to do. But those moments, like in Cincinnati, that's why they're so important. When things get bad, you have memories to draw you back."
That's why there is both an American flag and a Bengals flag tucked in the frame Peterson presented to Whitworth a few months ago back home in West Monroe, La.
"There are different kinds of flags in this world. They mean different things to different people. The most important one is the red, white, and blue," Peterson says. "The Bengals are his family when he's away from his and they showed that with the respect they showed. It just wasn't any NFL team. It's more than a business."
Two flags. Two lockers. Two Pro Bowlers. Two jobs. A fire fight. A balky knee.
But long before the stories merged into a frame in a locker, there was Doc Deal. Lee Hamilton Deal. The boyhood friend of Whitworth and Peterson's brother Michael. Kids from the middle of nowhere who liked to hunt and fish, is how Whitworth remembers his three friends.
"He was 5-9, 160 pounds dripping wet," says Whitworth, the 6-7, 330-pound giant who befriended the kicker in high school and became his college roommate. "But he'd fight a guy my size with no problem. He was always about defending people. Always trying to make himself and everyone else around him better."
 Lee was the kicker and Michael was a defensive end on the West Monroe team that won the Louisiana schoolboy title in 2000 and the three were inseparable. They all went LSU, but when Deal couldn't break into the lineup, he transferred to Northwestern State and when that didn't work out he sought something better and made a run to be a Navy Seal. When he went after a task, Lee would point to the sky and say, "Hope."
Which is why after every national anthem Whitworth shoots Doc Deal a salute. He points to the sky and whispers, "Hope."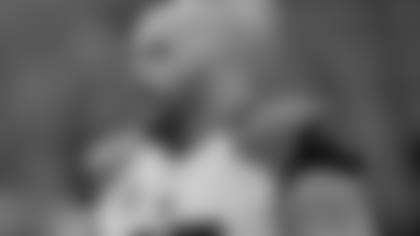 Jump school. Sniper school. Lee got banged up and hurt, but he kept at it and became a Special Amphibious Reconnaissance corpsman attached to the Marines. Then came that spring of '06. Lee went to the Marine Ball with his fiancée and two weeks after he turned 23 his buddy Whit was drafted by the Bengals in the second round.
Then a few days later Doc Deal's Humvee was hit by a roadside bomb in Iraq and his arm was in a sling. The way Whit heard it, when he and Mike came home to be pall bearers, Lee could have stayed back at camp a few days later with the injury. But he went on a mission with his men to clear out a building and died in what Whitworth has been told was an ambush.  
"To me, the national anthem is not a feel good thing," Whitworth says. "That flag represents him to me. All the soldiers that fight for our freedom. To me, that's what the flag is about. That's what it represents. You think of the 13 colonies when it was first put on at the beginning this country, it was everything.  To me, that flag doesn't mean peace. It's a right and a freedom that we get to salute that thing."
The Peterson boys and Whitworth were devastated. They each got a tattoo on their backs of a cross with the word hope etched on it along with the initials LHD and May 16, 2006. The date of death.
"It sent a shock wave through us. It was a wakeup call," Daniel Peterson says. "If you have anything you want to do, you better not put it off."
Daniel, a long snapper and quarterback in college at Louisiana-Monroe, and Mike, who won the state discus title a few times in high school, had talked about serving. It was a matter of timing and the time turned out to be 2009 when they became Navy Seals. But the influence began to creep in when Doc Deal died three years before.
So it was a reflex action by Whitworth when he got a text from an odd phone number in 2013. Daniel's team was training down in Louisville and he wanted to know if he and a teammate from Northern Kentucky who loved the Bengals could stop by and visit.
Whitworth told him to bring the whole team. Twenty guys. The Bengals were opening the Paul Brown Stadium schedule in a Monday night game against the Steelers and Whitworth, already in lather after missing his first game in five seasons in the opener with knee problem that had kept him out of training camp, was pumped up in so many ways. It was an emotional night for Whitworth not just because of Daniel, but he felt like he sent a defiant message to anyone that might have thought he was washed up.
With the help of Bengals management and director of sales and public affairs Jeff Berding, suddenly there were Seals in a suite.
 "It was a shot in the dark. Just stop by," Daniel Peterson says. "We didn't know what to expect because we didn't have any expectations. A lot of the guys had never been to an NFL game. The Bengals rolled out the red carpet. We're thinking we're going to be getting beers spilled on us up in the stands or having nachos cheese on our shirts. The next thing we knew it was 'Right this way, sir.' It was a great time. It was neat how everything fell into place."
Whitworth spent time with them after the game, a 20-10 Bengals win over the Steelers, and he couldn't get over how a lot of those guys reminded him of Lee and how the Petersons were so perfectly cut out for the group.
"They were a bunch of young kids athletically fit. Wiry. A lot of energy," Whitworth says. "You could tell them to go climb that wall over there and they'd go do it. Not afraid of anything.
"Mike and Daniel got the calling and did it and did it at one of the highest levels you can do it. They were both excellent, fit athletes…They're guys that were made for it," Whitworth says. "The Seals are bad news. You've got to want to do it. It doesn't look like an easy process."
Peterson said when they graduated one officer put their months of training in the context of swimming from Cuba to Miami, then running to New York City. Whitworth admires that toughness and the teamwork. It all reminds him of the NFL, except for one major difference.
"They do the work knowing if they don't do it right or fast enough or smart enough, somebody can get killed," Whitworth says. "That mentality, the intensity, the focus, the training, the figuring things out, challenging yourself…It's very interesting to me in a respectful way…I want guys to feel like no matter who  they are, there's not an ounce in my body that won't trust him and he's got my back."
Daniel Peterson felt appreciation to the Bengals, too, so he wanted to display their "B," on the other side of the world. A photo of the team on its base in Operation Enduring Freedom with the Bengals flag is also in the frame Peterson gave to Whitworth.
"Not only did it mean something to the guys personally, we wanted to show our appreciation. It meant a lot to us," Peterson says. "We wanted to take a moment even though we were down range to show that we were still thinking of everybody in America. We gladly accept the honor to serve and we want to show appreciation to Andrew and the Bengals that that's why we do what we do."
A tough road trip. But both flags look like they're at home in the same locker.