Bengals.com writers Geoff Hobson and Michael LaPlaca, along with broadcasters Dan Hoard and Dave Lapham, offer their insights to a series of questions regarding the Bengals.
The group offers their answers to the following question: who could be the team's offensive most valuable player in 2020?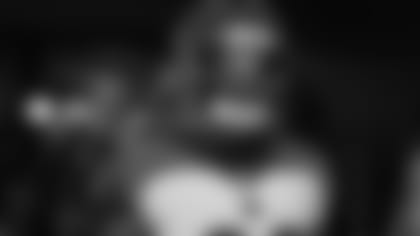 Joe Mixon - RB
Hobson: With A.J. Green a very, very close second.
Green is going to have a big year, no doubt about it. Joltin' Joe is one of the big reasons why because Green doesn't have to carry them every step like he used to do in the few years before he got hurt.
Let's pause and remember just how good Green is. The last time we saw him finish a game, he made two catches of 34 yards in the final 34 seconds, the last being one of his vintage diving, scrambling, utterly necessary 11-yarders that set up Randy Bullock's last-snap field goal that beat Tampa Bay on Oct. 28, 2018.
Since then the Bengals have won three games, but even though he has basically missed the last 24 games Green is still where he was that day he limped off the field. He trails only Antonio Brown, Julio Jones and Demaryius Thomas for most receiving yards since he came into the NFL in 2011.
And when he went down in that 110th career game, only four receivers had more yards in the post-merger era than Green had in his first 110.
That's called not good, but great.
But this has become Mixon's team in Green's absence. Here's a guy who hasn't fumbled the ball in his last two seasons, both 1,000-yard rushing MVP outings for a team knocked flat with an injured offensive line in transition and a remarkable slew of injuries to their best skill players. He has kept them intact without Green these last 24 games as the best NFL running back you don't know and we think he'll be the Bengals' Offensive Player of the Year for the third straight year because he'll keep it on the rails as rookie quarterback Joe Burrow learns on the job.
You have to feel the one thing head coach Zac Taylor and his staff learned on their own job last season is they can't put a rookie quarterback under duress this season. After Andy Dalton led the NFL in pass attempts in the first half of last year, he was benched, they were winless, and Taylor turned to a re-tooled running game.
They only won two games the rest of the way, but things were a hell of a lot better with Mixon leading the NFL in rushes the second half of the season. And when Dalton came back, they were 2-3. Mixon, simply, has been very good and he's on the verge of greatness. He's the league's seventh-leading rusher over the past two seasons and once Taylor, offensive coordinator Brian Callahan and offensive line coach Jim Turner conspired to fix the running game, over the last eight games last season only Derrick Henry had more yards.
And Mixon is terrific catching the ball out of the backfield. He's one of just four running backs over the past two years to have two 1,000-yard seasons with at least a combined 78 catches: Zeke Elliott, Saquon Barkley and Christian McCaffrey.
So Joltin' Joe is the perfect guy to take heat off Seamless Joe. And, think of this. The Bengals are 5-0 in the games Green has played while Mixon has at least 20 carries, including the last one against Tampa.
It all conjures up the memories of the late, great Cedric Benson. When Green and Dalton were rookies in that lockout spring that wasn't in 2011, Benson simplified the playbook and took the load from the kids with 1,067 yards on the ground.
That marked Ced's third straight 1,000-yard season, the last Bengal to do it as Mixon tries to repeat the hat trick in 2020.
And then there's how Mixon approaches the game and the locker room. He plays with a little kid's joy and energy and his team guy positivity is downright contagious. Think back to the game he missed in Atlanta in '18. When Green won it on a sliding touchdown catch with seven seconds left, Mixon's street clothes were one of the first to embrace Green as they rolled around in the end zone, the scope on his knee forgotten. Imagine the two of them in uniform together.
The stage is set for Joltin' Joe.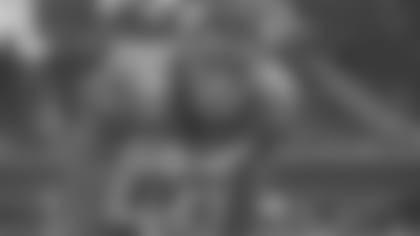 A.J. Green - WR
Lapham: Mike Brown has called Ken Anderson the most important player in franchise history. For the 2020 season the most important player could very well be A.J. Green, a healthy A.J. Green. When Green plays at least 13 games, he is a 1,000-year receiving Pro Bowl Machine, accomplishing both seven times. In the last two years left ankle and right toe injuries have limited Green to participating in just nine of 32 contests.
If healthy, Green can do anything that a wide receiver needs to do on a football field. He checks all the boxes with his size/speed ratio and route running. At 6-4 he can sink his hips to get in and out of cuts as smoothly as I have ever seen. He has an outstanding vertical jump that he perfectly times to high point the football and win 50/50 ball opportunities. He possesses incredible eye/hand coordination. Ever see him juggle? Zac Taylor knows he is elite and is excited to coach him. Burrow knows Green is elite, as well, and cannot wait to synchronize their talent and abilities.
The biggest fear of any defensive coordinator at any level is the one-play drive. An 80-yard touchdown bomb over the top of the defense or a 7-yard slant that becomes a 77-yard catch and run touchdown can deflate a defense. Green can (do) and has done both. Therefore, coverage tilts toward Green.
Defensive coaches have created multiple ways to incorporate corners, safeties, and linebackers to neutralize his talents. The ripple effect becomes huge.
Green's football intelligence allows coaches to line him up outside; inside as a slot receiver; motion him from one side of the formation to the other. This can help the offense make the defense declare coverage. Burrow's adjustment to NFL defenses and coverages will be much clearer with Green part of his arsenal. Fellow wide receivers will face more one-on-one opportunities and have better chances to win. Mixon and his offensive line will be facing fewer defenders in the box. This presents wider lanes for the running game to exploit.
Green checks all the intangible boxes. He is a competitive, prideful, yet humble, superstar. In 2020 his motivation will be at an all-time career high. After being franchise-tagged by the Bengals, if he does not come to terms on a new agreement by July 15, he will be playing for what might be his final contract with any of the 32 NFL teams for the 2021 season and beyond. People are not including him in their NFL Top 5 wide receiver lists. The other thing is Green will be playing with a massive chip is on his shoulder. No one will outwork him. Teammates will observe the work ethic of a talent like him and wonder...am I doing enough? Everyone's bar will be raised as a result. Over the years coaches and players have said, "...best I have ever seen ...privilege to coach him ...makes spectacular look routine ...gets taken for granted."
In a perfect 2020 world, the Bengals offense will boast triplets: Burrow, Mixon, and Green. All three will perform at their highest level possible and feed off each other. In Buffalo the Hall of Fame triplets of Jim Kelly, Thurman Thomas, and Andre Reed lifted each other to four straight Super Bowl appearances. Dallas enjoyed their triplets of Troy Aikman, Emmitt Smith, and Michael Irvin, leading the Cowboys to three Super Bowl wins. Every single one of these Hall of Famers could make MVP cases for their respective offenses. Hopefully, after a successful 2020 season, Burrow, Mixon, and Green will do the same for the Bengals.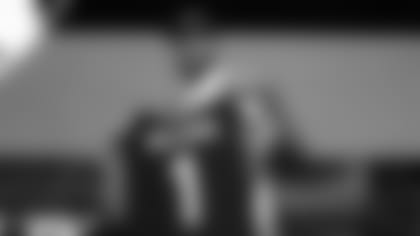 Jonah Williams - OT
LaPlaca: Cordy Glenn, Jake Fisher, Clint Boling, Andre Smith, John Jerry and Fred Johnson. That's who the Bengals have started at left tackle over the previous two seasons.
Only Johnson is still on the Bengals roster after coming over from Pittsburgh last September. The other five are either free agents, retired or on other teams. Inconsistency at left tackle hurts any team. Fortunately for the Bengals, they have an answer waiting in the wings.
Yes, a Burrow, Mixon or Green will garner the headlines and be a more likely candidate for the team's offensive MVP. But for the Bengals offense to reach its potential, they will need strong, consistent offensive line play and that starts with Jonah Williams.
When one looks back at some of the most potent offenses in team history, the Bengals seem to always have great players in the tackle spots. From a Hall of Famer like Anthony Munoz, to perennial Pro Bowlers like Willie Anderson and Andrew Whitworth, the Bengals are at their best with great tackle play. Williams has a chance to be one of the next great offensive lineman in Bengals history.
Remember, the Alabama product was widely considered the best offensive lineman in the 2019 draft. Williams was looking the part in last year's OTAs before suffering a torn labrum. Instead of putting Williams on injured reserve, the Bengals placed him on its physically-unable-to-perform list. That allowed Williams to practice with the team for the final three weeks of the season.
The coaches still believe Williams has the pedigree to seamlessly contribute right away. He's done it before. Williams was an Outland Trophy and Lombardi Award finalist as a junior in 2018. He is used to playing immediately against top competition. At Alabama he secured the starting right tackle spot as a freshman and moved to left tackle as a sophomore, earning All-America recognition.
The Bengals will need Williams to help upgrade a unit that allowed 48 sacks last season. A lack of continuity up front was a contributing factor after 11 offensive linemen started games for the Bengals last season, when Cincinnati finished 26th in yards and 30th in points. Getting up to speed after recovering from a season-ending injury would be a challenge for any player, but it's even more difficult with Paul Brown Stadium closed since March due to the coronavirus. There hasn't been a chance for everyone to get together and work on the offense, other than video conference calls.
Despite all of those obstacles, the Bengals believe that Williams can be a cornerstone left tackle. With his strong work ethic, high character and sharp understanding of the game, Williams will do more than elevate the offense's play on the field. Which is why the second-year pro is an under-the-radar pick for the team's offensive MVP.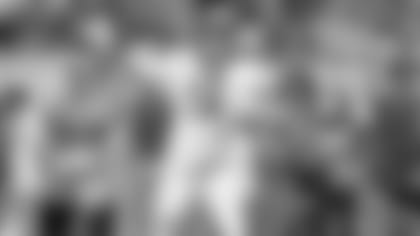 Joe Burrow - QB
Hoard: Remember when rookie quarterbacks used to struggle?
John Elway only completed 47 percent of his passes in his first NFL season. Troy Aikman had a passer rating of 55.7. Peyton Manning threw a rookie-record 28 interceptions.
Now compare those gruesome numbers to more recent rookie quarterbacks.
Dak Prescott completed 68 percent of his passes. Robert Griffin III had a passer rating of 102.4. Baker Mayfield threw a rookie-record 27 touchdown passes (with only 14 interceptions). And seven of the eight quarterbacks to throw for at least 3,600 yards as a rookie have done it in the last nine years.
Joe Burrow will undoubtedly have some ups-and-downs this year, but there's no reason to think that he won't have a highly productive first season in Cincinnati. For starters, Burrow's transition to the NFL should be helped by the offense he ran last season at LSU. It wasn't exactly David Klingler in the run-and-shoot.
"It was an NFL offense because it was (designed by) Joe Brady who was with the Saints and now is at Carolina as their offensive coordinator," said NFL analyst Greg Cosell. "So I think you saw a lot of (NFL) concepts."
Zac Taylor, offensive coordinator Brian Callahan, and quarterbacks coach Dan Pitcher have made it clear that they intend to blend those LSU concepts with the system that Taylor brought to Cincinnati after working with Rams coach Sean McVay.
"If you're thinking of a Sean McVay-type offense, Joe Burrow can make every throw that Jared Goff can make," said Cosell. "And Burrow plays with an uncommon poise, composure and awareness. In some ways, in that regard, he kind of reminded me a little of Tom Brady. Just the poise with which he plays. It seems like nothing is too fast for him, nothing is too chaotic for him, (and) he's very comfortable."
Burrow's ability to make the jump to the NFL should also be boosted by the competition level that he faced as a two-year starter in the SEC.
The 23-year-old quarterback made 12 starts against teams that were ranked in the Top 10 at the time. In those games, Burrow completed 66% of his passes with 32 touchdown passes, 4 interceptions and led LSU to an 11-1 record. In his College Football Playoff starts last year against Oklahoma and Clemson, Burrow threw for 956 yards with 12 touchdown passes and 0 INTs.
And much like he was as LSU, Burrow is surrounded by outstanding offensive weapons. Last year while winning the Heisman Trophy, Burrow had a 1,000-yard rusher in Clyde Edwards-Helaire, and two 1000-yard receivers in Ja'Marr Chase and Justin Jefferson. He has a similar trio in Cincinnati in Mixon, Green, and Tyler Boyd, along with Tee Higgins, John Ross, Giovani Bernard, and others.
So what should we expect out of Burrow in 2020?
Last year there were three rookie quarterbacks that started at least 12 games: Kyler Murray (Arizona), Gardner Minshew (Jacksonville), and Daniel Jones (NY Giants). They combined to average 3,340 passing yards with 22 TDs and 10 INT.
Those numbers are very attainable for Joe Burrow in year one.
And would add up to the team's offensive MVP award this year.