The beard is now speckled with white, but Whitworth thinks he's got at least another year left.
It is Game 168 for Bengals left tackle Andrew Whitworth, 11th most all-time in Bengaldom, one more than the great wide receiver Isaac Curtis and one fewer than the prolific punter Lee Johnson.
Fitting of course on Sunday at Paul Brown Stadium (1 p.m.-Cincinnati's Channel 12) it is against Terrell Suggs and his Ravens. Suggs, the Ravens' all-time sacker, has never nicked Whitworth for one of them, which shows you just how much Whitworth has meant to the Bengals while protecting the blindsides of Carson Palmer and Andy Dalton in the rough and tumble frontier of the AFC North.
For the first time in six years and for just the second time in the last eight, the Bengals aren't going to the postseason with Andrew James Whitworth as their left tackle.  And for the first time in his 11 seasons Whitworth goes into the offseason without a contract, but there seems to be a consensus that he'll be back at age 35.
For one thing, he wants to come back as the left tackle for a 12th season. For another, some high-ranked team officials have already expressed their desire to him to have him back. One called his return "90 percent." And for a very big other, Cedric Ogbuehi didn't look Opening Day ready in his first NFL start at left tackle last Saturday night in Houston  and it is unclear if he'll start against the Ravens.
Whitworth also has a goal. Six offensive linemen have played at least 12 years with the Bengals: Munoz, Anderson, Bruce Kozerski, Joe Walter, Richie Braham, and Bob Johnson.
"I want to be the seventh," Whitworth said this month.
So even though Whitworth figures to come back in 2017, now's a good time for him to take a bow. Hall-of-Fame left tackle Anthony Munoz (185) and all-time franchise right tackle Willie Anderson (181), played more games. But no Bengals tackle ever went to five straight postseasons or six overall. He's the only offensive player drafted under Marvin Lewis to play 100 games, never mind 168, more than iconic Bengals figures like Chad Johnson, Bob Johnson, Bob Trumpy, and Dave Lapham.  
A look through Whitworth in his owns words is a look at how he and a cadre of players changed the culture of a content locker room bloated with entitlement.
Those Bengals of 2006-08 were good with drama, but didn't know how to win enough games in dramatic fashion to get into the postseason. Back then, there weren't enough Willie Andersons and they were classic 8-8, 7-9 under achievers. But unlike Anderson, Whitworth had help. Nose tackle Domata Peko, cornerback Leon Hall, and safety Chris Crocker changed all that. With the Bengals staying home after Sunday, now's a good time to remember how good it has been and why.
To Marvin Lewis' credit, he sensed he had a special group and he let them help him police the locker room, eradicating it of the selfishness that had eaten its way in. Whitworth was a key guy and he supplied one of the key moments during the 4-11-1 season of 2008 in the game the Bengals broke their 0-8 skein to start the season.
After Jaguars tackle John Henderson ran at Whitworth, Whitworth did what Bengals didn't do at that point and stood up to it.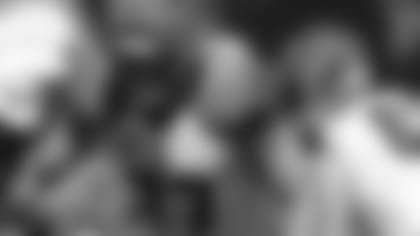 Whitworth is finishing another season amid the NFL's top pass-protecting tackles, according to profootballfocus.com
"He gouged my eyes. My helmet was off. He was coming from behind me. I never saw him. Everybody saw it. I kept punching him and they ejected me. I'll never forget that. As I was walking to the locker room the crowd was chanting. 'Whitworth, Whitworth,' and I was doing my best WWE move, pointing at my back."
The Bengals bonded around the moment. Then against Pittsburgh that year, the Bengals lost but didn't back down when running back Cedric Benson knocked off Troy Polamalu's helmet and Crocker did the same to Hines Ward. Both Steelers had concussions and the Bengals were in their heads instead of the other way around even though the Steelers went on to win the Super Bowl.
That set the table for 2009, a season that began when the Bengals moved Whitworth from left guard to left tackle and staked their season on transforming their offensive line in front of Palmer, a quarterback who had missed 12 games the previous season after getting hit in the elbow.  The reconfigured line was not a bastion of the draft room. But it worked.
"2009 was an awesome year. Starting left tackle in my first year, from day one. We swept the division. It was a hell of a year. James Harrison was at the top of his game, I shut him out that year. Terrell Suggs, I shut him out, too. It was a fun year because it was a bunch of no-name guys. We had maybe two guys starting that year who were all practice squad guys on the offensive line. Dennis Roland and AC (Anthony Collins). Roland was a former practice squad player. ...So was Nate Livings starting at left guard. Kyle Cook was a practice squad player to start the year at center. What a year. That was fun.
"We ran the ball well. Came back to beat Pittsburgh at the end of the game here on a huge run by Cedric Benson. I remember those kinds of plays."
There are games, but more than anything he remembers the opponents and how good they are.
"I think in 2010, in my second year starting at left tackle, that season was rough. I think I gave up like a half sack or sack for the whole entire season. We always seemed to be in a two-minute offense. I played (John) Abraham, (Dwight) Freeney, and that was a hell of a year for me. I felt good about that one.
"I think about '14. I didn't give up a sack the whole season. I think about that run of no sacks. Didn't give up a sack in '14 and '15 went in the middle of it without giving up a sack. It was 20 something straight games. I gave up one in Arizona to Freeney at the end of the game."
The seminal moment of the transition from Chad-Carson to Green-Dalton in 2011belongs to Whitworth. It came a few months after Palmer demanded a trade, refused to report, and Andy Dalton was already in the house straight from the second round and TCU.
Whitworth got wind of a plan hatched by the defense to send a contingent of players to Palmer's self-exile in California to convince him to come back. That hit Whitworth the wrong way. He felt Palmer had made his decision and he had not chosen his teammates. He told the defense that Dalton was this offense's quarterback. Apparently there was no mission to California.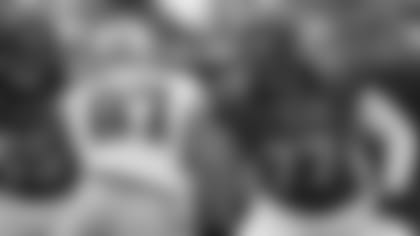 Whitworth changed everything after his 2013 knee injury.
There was CP and the leadership he showed while he was here and how that ended was kind of unfortunate and then Andy Dalton stepped in and has kind of taken it over since.
"This wasn't so much against Carson. It was never meant to be personal against Carson. It was more what would it do this kid's confidence and his feelings of what the locker room would think of him. It would say he's not good enough. We want to go in a different direction. That really would have put us in a situation to go 0-16 because we would have ripped the rug out from underneath the kid they gave the job to and we still wouldn't have Carson back. Knowing him and talking to him, I knew it was solid he wasn't coming back.
"That would have been a real downer of the spirit. So we sat in that meeting, me, Domata (Peko) and other leaders on that team and the agreement was, you know what, no excuses, let's go play the best we can possibly play around Andy. That was a tough fought year. That was a hell of an accomplishment to go to the playoffs under those circumstances. And yeah, it has set a tone the rest of the way."
With the Bengals locked in a sort of constitutional crisis, Whitworth and nose tackle Domata Peko were the designated survivors. They took over a team without a quarterback or the ability to practice because of the 2011 lockout that occurred when the collective bargaining agreement expired and players couldn't talk to coaches.
So Whitworth took the offense and Peko the defense.
"Peko and I were running OTAs on our own as coaches.  We set up the OTAs, had a schedule, a workout time. We did all that. Peko and I had kind of had our little run of coaching there. Installed the plays.  Did all that kind of stuff. That was a fun offseason because it was different. You remember leadership moments like that."
Whitworth and Peko couldn't have drawn it up any better. They went 9-7 and made the playoffs. Then they got a game better in '12, made the playoffs again, and Whitworth went to his first Pro Bowl.
Then disaster set in during 2013 for Whitworth when his knee didn't respond in the offseason and he ended up missing the first two games, the only games he's missed in the last eight seasons.
But as he often has in his career, Whitworth used change to make himself better, like when he moved from guard to tackle.
"2013 was probably the turning point of the year I'd say. It's why I'm here today playing on a patella I shouldn't have played on. I should have let it rest. It's changed who I am. I went from being a guy who used talent and ability, to a guy who tried to outwork everybody in that offseason.
"The way I have changed nutrition, fitness, and training. I've done it all. I've changed it all. Instead of the guy who worked the least, I'm the one who worked the hardest. That changed everything for me. My body type has completely changed. We laugh when we see on film how big and fat I was."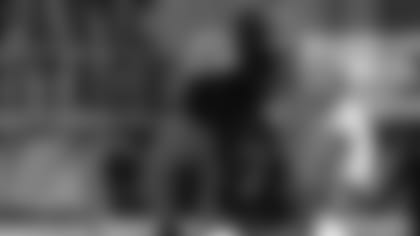 Whitworth has started 126 of the last 128 games.
If he's got one true coach shepherding him through the slings and arrows of NFL life it's his wife, that bottomless well of energy known as Melissa Whitworth. If truth be told, she'd love to see him coaching after he's done playing.
"Sometimes I think she's a bigger fan than me. She doesn't miss a game. She loves watching games and getting into it and seeing who is playing well. She can tell me how we played and who's played well in a hurry. I think she loves it. We'll see what I end up doing. I'm not that interested in the hours (of coaching). But I can see myself around the game. I'm just not sure how."
There are a few non-Whit favorite players in the household.
"Probably her other little son in Tyler Eifert. She cares a lot about him from him living with us a lot early in his career. And A.J. Green, of course. She's a big fan of A.J. of just how humble he is. What a tremendous person he is on top of being a great player.  I think she feels the same way I do about that."
There's been a lot of talk about legacy lately. With at least one more year left, Whitworth goes lightly on that. But there is one.
"I hope it's just passion for wanting to do whatever it took to win. To always be willing to show up, strap it up, take on any challenge. I think I've always been ready for that."
With 70 wins in eight years on the left side, he's got it.