Andrew Whitworth hasn't stopped moving since the end of the season.
It's been more than three weeks since the Pro Bowl and Bengals left tackle Andrew Whitworth is still on the move.
"Sunup to sunset,' is the way he called it Monday at dusk after playing a round of golf back home in Louisiana.
That was after a morning of doing some cross-training. And after an appearance on NFL Radio on Sirius XM.  Which came after a weekend he flew back from Colorado, where he hiked the mountains. It won't slow down next week, either. He's headed to the NFL scouting combine in Indianapolis, where he says he'll be a presidential bodyguard (joke) and sit in on the NFL competition committee meetings (no joke).
At some point in the next week or two, maybe at Indy, he'll also chat with agent Pat Dye about re-signing with the Bengals. Anything is on the table and that includes agreeing to a deal with Cincinnati before free agency opens. But, truth be told, he has no idea where the talks stand or if there has been much talk at all.
"I'm like everybody else," Whitworth said. "I don't really know what's going on. I'm staying away from that mess. I'm just hanging out with the kids, playing some golf, and getting ready for the season. This is my favorite part, preparing and getting ready. I'll touch base with Pat here and see where we are."
Where we are is the Bengals would like to re-sign him and he feels good about the possibility of it happening. Cincinnati is where he and his family want to be.
"The reality is it would be great for everyone if we continue in Cincinnati," Whitworth said. "In 2017 I hope to have a chance to win and I hope it's as a Cincinnati Bengal and if not I hope I'm where I want to be and we have a chance to win."
Whitworth says he always tells young players to listen if they get a chance to be a free agent and he'll do the same.
"That doesn't mean you have to take it, but you give yourself an opportunity to make the best business decision," Whitworth said of what he's told the young. "It's not just about money. It's the chance to make sure they maximize their opportunity."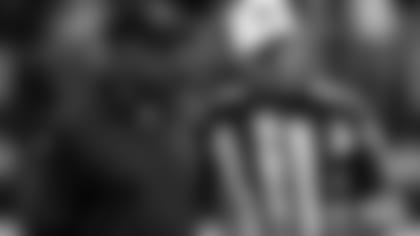 Head coach Marvin Lewis is on the competition committee.
He says from what he understands the Bengals want him to return to left tackle and that fits with where he sees himself at age 35 heading into his 12th year. Like many of these last few seasons, he'll get a head start with some of the players that sit on the preliminary meetings of the competition committee in advance of its March meeting in Florida before NFL owners vote on its 2017 agenda at the March 26-29 annual league meeting in Phoenix.
"I'm going to be a bodyguard for Mr. Winston. Make sure nobody bothers him," Whitworth said of Bengals tackle Eric Winston, president of the NFL Players Association.
The NFLPA has informational gatherings for players at the combine and Whitworth is going to check out some of them.  But he really enjoys meeting with the competition committee, where Bengals head coach Marvin Lewis is a member.
"Knowledge is power,' Whitworth said. "Any opportunity I can get to learn about the game, it can only help me and the guys around me."
Whitworth isn't going to be pounding on the table, even if he was the Bengals' most penalized player on offense.  He's not looking for any rule changes. He would just like to hear some explanations. Forget about his four holding calls. He's still steamed about the false start against the Ravens.
"I'd love to see things the defensive line has to adjust to because one of the glaring things from this year I see on film is how much you see referees and umpires get warnings from the side judges about tackles needing to scoot up on the ball. But if you clip film, you see how many times defensive linemen are lining up past the football (on the offensive side of the line of scrimmage) with their helmets. It's absurd how bad it has gotten. I kind of made that point (against) Baltimore when I got called for false starting  and the guy is completely lined up past the football and jumps and they still called me for a false start even though at no point before the snap or during the jump was he onside.
"It's crazy how bad that part of the game has gotten. You can't tell O-linemen to scoot up to the ball and have a D-lineman pass the ball. Both sides have to have the same rules. If we line up on the ball, they have to get off the ball, or just leave the guys alone. I'd love to hear them explain it."
Whitworth is a "leave-them-alone-guy,' when it comes to the refs. If he has some advice it is to simply let them play.
"I think football is meant to be a tough and physical and fall-to-the-ground-and-push-each-other-to-the-ground-game," Whitworth said. "That's what makes it great to me. I'm always on the side of guys being physical, letting guys play. I think the head shots and stuff like that definitely needed to be gone. But as far as letting guys get after each other; fight and tussle and push and shove … that's natural. To me that definitely makes the game good when you have a lot of physicality."
Sounds like he's ready for another round and both sides sound like they hope it is in the Bengals corner.