When it comes to Bengals tackles, only Anthony Munoz and Willie Anderson have played in more Pro Bowls than Andrew Whitworth.
Carlos Dunlap got the call on Tuesday and Andrew Whitworth got the call on Wednesday to come off the bench for the AFC in the Pro Bowl, but it puts them both on the front line of Bengals history.
Dunlap, the left end off an eight-sack season, became just the fifth Bengals defensive linemen to go to back-to-back Pro Bowls. Whitworth, the anchor left tackle of six post-season runs, became only the fourth offensive linemen to turn the double to join franchise powerhouses Anthony Munoz, Max Montoya, and Willie Anderson.
Munoz, considered the greatest left tackle of all-time and the Bengals' lone Hall-of-Famer, went to 11 straight Pro Bowls dominating the 1980s. Anderson is regarded as the Bengals all-time right tackle after going to four straight Pro Bowls in the first four seasons of head coach Marvin Lewis' tenure from 2003-06 while Montoya earned the mantle of the franchise's best guard when he went to three Pro Bowls on the right side in the late 1980s. 
No less a figure than Munoz validated Whitworth's third Pro Bowl berth, the 18th player in club history to go at least three times.
"He deserved to go as a regular, not as an alternate," Munoz said Wednesday. "That's how well he's playing as he gets older."
Munoz played with Montoya during Montoya's last 10 seasons with the Bengals and Whitworth played with Anderson in the last two seasons of Anderson's dozen seasons in Cincinnati.
"I know all those guys. It's humbling to be mentioned in the same stratosphere with them," Whitworth said. "It's an honor. But I think anyone who knows me knows I don't see myself with guys like that."
Like Munoz, the web site profootballfocus.com sees him ahead of his peers. PFF ranks Whitworth as the second best pass blocking tackle in the NFL behind only Green Bay's David Bakhtiari. The site ranks him the third overall tackle, ahead of the two guys he joins in the Jan. 29 game in Orlando, Fla.,  Cleveland's Joe Thomas (ranked fourth) and Tennessee's Taylor Lewan (seventh), as well as the guy he replaced because of injury, Oakland's Donald Penn (eighth).
"Any time you get a chance to go to a Pro Bowl, you have to take it," Whitworth said. "Everybody deserves an opinion whether they play or don't play.  Some guys choose not to play and worry about injury. To me, it's an honor to go. Not just for you, but the people that support you so much."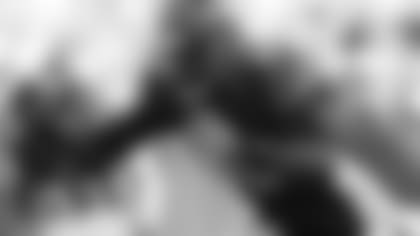 This time Carlos Dunlap gets to play for the AFC.
Which is why Whitworth politely delayed a call from the media Wednesday so could roll through his contacts and inform family members they were invited to save the date of Jan. 29 in Orlando, Fla., on the Sunday before the Super Bowl.
With four children six and younger and the game set for Disney World, that's a pretty easy call even though Disney has been a staple vacation for the Whitworth enclave the last couple of years.
"Any opportunity to just say the words 'Disney World,' and 'Mickey,' they get pretty excited," Whitworth said. "It's their version of the Pro Bowl."
Whitworth and Dunlap are excited enough  that they're going to play despite watching teammate Tyler Eifert tear his ankle ligaments in the fourth quarter of last year's game in Hawaii, an injury that knocked him out of the first four games of last season.
"You can't think about it. If you do, you're going to have problems," Dunlap said. "I'm just going to go out there and do my job."
Whitworth has no qualms going in without a contract.
"I'm excited to play in the Pro Bowl. I like to play the game. That's why I play," Whitworth said. "If something happens, I'll deal with it."
Whitworth knows the Pro Bowl has questions revolving around "Just exactly how hard are these guys really trying?" He thinks if fans get into a brisk training camp practice, they won't mind watching this.
"Last year there were different tempos in the game. It changed a little bit. I think near the end both teams got after it a little more," Whitworth said. "You have to be guarded. It's much like a practice. People make way too much of it. The reality is it's pretty similar to a training camp practice. Guys are trying to play hard and they're trying to execute plays, but they going to do their best to stay on the ground.  I just don't think it's that big of a deal."
Both guys sound happy that the game is switching back to the original AFC-NFC format after a three-year experiment with mixed clubs. For one thing it means Dunlap can rush the passer with teammate Geno Atkins on the AFC front and practice against his old college buddy at Florida, Steelers center Maurkice Pouncey.
If the Steelers lose to New England in this Sunday's AFC title game.
"It's going to be great playing again with Reggie," said Dunlap of former Bengals safety Reggie Nelson, now a Raider Pro Bowler. "And Geno and I will be out there again. That will be fun."
Whitworth has played in both formats and likes playing for the AFC. He thinks that adds a little more juice.
"Little pride to represent your conference," Whitworth said. "Love (the format). The only good thing about the other format was spending time with players from the NFC we don't see much."
Also new at the Pro Bowl is a series of skills and games, such as dodgeball, a sport Dunlap perfected growing up in Charleston, S.C.
"Yeah, that should be pretty interesting," he said. "Of course, I weighed 60 pounds less than I do now and I was a couple of inches shorter."
Whitworth hasn't stopped working out. When Penn didn't play in the Raiders' Wild Card Game in Houston because of a knee injury, Whitworth had an idea he'd be going. But this has become his regimen anyway and it's probably why he now joins defensive end Coy Bacon in 1977 as the oldest Bengals Pro Bowler at age 35.
He's been going year round for the last five years or so. He worked out the week after the season and when he went to Colorado last week he supplemented a few workouts hiking in the mountains. Now he's back in Cincinnati this week and has showed up at Paul Brown Stadium early in the mornings to get in the weight room.
"That's my lifestyle now," Whitworth said. "It's one of the things, maybe the biggest thing, that has kept me playing this long and kept me healthy and fit. I don't take that much of a break. I kind of groove right into the offseason."