Willie Anderson: time for a Hall pass.
Willie Anderson, the Bengals franchise right tackle, has as many credentials to be in the Pro Football Hall of Fame as the 1,252 yards Corey Dillon averaged running behind him in Dillon's first six seasons at the turn of the century when Anderson set the tone of grime and punishment on the right side in a bone-crunching ballet.
In three of his 13 seasons that were played in a kind of golden age of the pass rusher, where the top 13 all-time sackers worked during Anderson's run from 1996-2008, he allowed no sacks. While helping Dillon produce two of the greatest single-game rushing efforts ever, Anderson blanked sack artists ranging from the Minister of Defense (Reggie White) in a one-night revival against the Packers to T. Sizzle (Terrell Suggs) in semi-annual division fare against Baltimore.
Anderson can remember all the sacks allowed. There weren't that many. He thinks there were maybe something like 10 in 13 years. But after running through the list of the greatest sackers, even Anderson is amazed by this:
During his 181 games for the Bengals, he faced nine of the NFL's 11 current leading all-time sackers and it's believed he allowed only one sack. The only ones he missed were DeMarcus Ware and John Randle and that one he gave up was to all-time leader Bruce Smith with 19 seconds left in a game the Bills led by two touchdowns.
Anderson was a rookie at left tackle, and Smith was burnishing his case for what ended up being his 1996 Defensive Player of the Year award.
"I'm in the huddle feeling pretty good about holding down the great Bruce Smith, a player I grew up watching Anderson says. "I'm watching him on the sidelines in the last minute and then all of a sudden I see him throw his hat down and grab his helmet and I'm thinking why is he coming back on the field?"
Anderson is not only still wondering about that, but marveling at his accomplishments against such a list. He doesn't know whether to be proud of it all or just-plain sick that he's never mentioned for a berth in Canton.
If Ken Anderson is the no-brainer as the Bengals' best senior Pro Football Hall of Fame candidate (followed closely by Ken Riley), then Willie Anderson as the best right tackle of his time takes his rightful claim as the club's best modern day Hall of Fame candidate.
Certainly Chad Johnson, the only receiver besides Jerry Rice to win four straight conference yardage titles, has to be mentioned. So does Corey Dillon, who as a Bengal broke long-held single-game rushing records by legends Jim Brown and Walter Payton, and led New England to a Super Bowl title Tom Brady never would have had if not for Dillon's career year.
They're deserving on several fronts. Anderson is in Ken Anderson's no-brainer category with a lucid and compelling argument that he and Cowboys great Erik Williams are the two best right tackles of the last 25 years. Johnson  and Dillon can get in at some point but like the good offensive lineman, Anderson should be holding the door for them.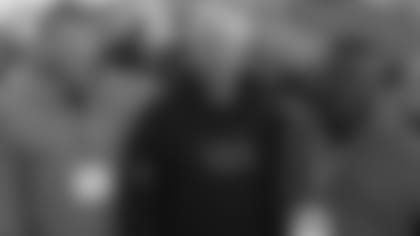 Anderson with his two NFL line coaches. Paul Alexander (left) and John Matsko (center), the Ravens line coach in 2008, the year Anderson was in Baltimore.
Like the four-time NFL passing titlist, the Bengals' other Anderson labored in splendid obscurity for more than a decade. In the wake of the most recent Hall of Fame selection earlier this month in Houston, it became clear that Willie Anderson is in danger of falling through the cracks just like his quarterback namesake.
When former Jaguars left tackle Tony Boselli emerged as a top ten finalist in a meeting where Bengals.com has the Cincinnati vote on the Hall of Fame Selection Committee, he showed enough strength that he's on the verge of getting in despite playing just 91 games in a career shortened to seven seasons because of injury. Although with Ray Lewis, Randy Moss, and Richard Seymour eligible in 2018, there may be another wait.
Boselli deserves to be in. But if Boselli deserves to be in, so does Willie Aaron Anderson, a four-time Pro Bowler, a two-time alternate, and the one thing the Hall doesn't have enough of in Canton.
A great player on a good or bad team. There are plenty of good players on great teams getting the Hall call these days. (Hello Terrell Davis.) This is why Dillon and Chad Johnson have to get some run as well.
Joining Davis in the Hall this year is Jason Taylor, the seventh most prolific sacker of all time who had no sacks against Anderson in two games.
"Boselli's a great player," Anderson says. "But so was I."
You won't get any argument from peers that went against him, like defensive linemen Chuck Smith and John Thornton, or coaches that game planned for him and against him, like Marvin Lewis, or the owner that made him the highest paid offensive lineman ever in May of 2000.
"Willie is right there with the peers from his time. As good as them and better than some others," says Bengals president Mike Brown, whose team's only primary Hall-of-Famer is left tackle Anthony Munoz. "You knew pretty much that Willie would block his guy. You didn't have to worry about it. You put him over there and that was that. Like Munoz."
Those peers are on the all-decade teams that serve as an excellent guide for the 48-member selection committee, which is comprised of representatives from each of the NFL's 32 cities, two Hall-of-Famers (James Lofton and Dan Fouts), and 14 at-large votes.
*Willie Anderson (71) was a force in the running game, where he helped pave the way for the five best rushing seasons by a Bengal. *
But if you were a right tackle in the '90s and '00s, you didn't make it.
In the '90s, Willie Roaf and Gary Zimmerman were on the first team and Boselli and Richmond Webb were on the second team. Only Roaf made it through to the next decade and joined Orlando Pace on the second team. Walter Jones and Jonathan Ogden were first teamers and have joined Roaf and Pace in the Hall in selections since 2012.
Roaf was the fifth pick in the 1993 draft. Thanks to Ki-Jana Carter, Boselli was the second pick in 1995. Ogden and Anderson were the fourth and tenth picks, respectively, in 1996. Pace was the first pick in 1997 and Jones went No. 6.
"I went against all those guys," says Chuck Smith, who had 58.5 sacks for the Falcons in the last eight seasons of the '90s. "And I got a sack against all of them but Willie. Willie was special. He's a Hall-of-Famer. He's in that same class with Roaf and Ogden. Willie is as good as it gets."
Nowadays Smith and Anderson help each other's businesses in Atlanta. Anderson has an academy for offensive line play and Smith is a pass-rush guru who is again working in the offseason with top college prospects as well as NFL pass rushers.
But one of the reasons Smith was drawn to Anderson is because of the enormous respect he had for him as a player. He counted him as an elite guy even as they teed it up.
"He wore you down on every play. He was physical every snap," Smith says. "Some guys when the play isn't run to their side, they'll jog down field or stay away from you. But Willie was a finisher. He would always finish you off and keep after you on those weak-side leads. He'd keep coming at you. I'm telling you, the guy was a beast."
Bengals offensive line coach Paul Alexander doesn't doubt Anderson walks with those Hall guys and he goes a step farther.
"None of them would have played right tackle as well as he did," Alexander says. "He was a more powerful run blocker."
Certainly Jim Washburn, regarded as one of the game's great defensive line coaches in Tennessee, viewed him much the same way. Thornton, a defensive tackle, played the Bengals twice a year from 1999-2001 as a member of the Titans in the old AFC Central. So by the time Thornton joined the Bengals as Lewis' first major free-agent signing upon his 2003 arrival, he knew what Anderson was all about.
 "All those guys were great tackles, but we could come up with a way to beat most of them," Thornton says. "Boselli was tough, but maybe the one way we could beat him was if we bull-rushed him. Willie was the one guy we had no answer for. When it came to Willie, Jim would just say, 'Good luck.' He was too big and strong to bull and too athletic to beat him outside.
"We were beating the Steelers. We were beating the Ravens. But not Willie. I remember one game they put me over him and put our best rushers over the other guys and I wasn't going to beat him."
The rookie Anderson had all-time sack leader Bruce Smith blanked until 19 seconds left.
Thornton shouldn't worry about that because the best pass rusher the Titans had in that stretch, Jevon Kearse, never got a sack off Anderson. That's the way Anderson remembers it and Thornton agrees.
"We would move Jevon around and one time he had two sacks against the Bengals," Thornton says. "After the first one I remember they came out of the huddle and Willie pointed a finger at him and said, 'You didn't get that one of me.' Willie knew. We knew. We had that kind of respect for him. I mean, Jevon was beating everyone."
In fact, both Thornton and Kearse made their NFL debuts against Anderson's Bengals in the 1999 opener won by Tennessee in Nashville. Kearse would go on to be everyone's Rookie of the Year with 14.5 sacks and "The Freak," was at his freakish best from 1999-2001 when he had his three best seasons of 14.5, 11.5, and 10 sacks from 99'-01, but 0.0 in six cracks against Anderson.
The opener was a harbinger of things to come in that 1999 season the way Anderson remembers it. Two weeks later Anderson blanked the Rams' Kevin Carter on his way to Carter's NFL-best 17 sacks, 2.5 more than the runner-up Kearse. Anderson also blanked three others that finished the season with 12 sacks each: two shots against the AFC Central's Tony Brackens of Jacksonville,  the Colts' Chad Bratzke, and Carolina Hall-of-Famer Kevin Greene in his last season.
(The only sack Anderson says he allowed that season came against Baltimore, when he prepared all week to face Peter Boulware. But after the game's second snap head coach Bruce Coslet benched left tackle Rod Jones, put Anderson in there, and he ended up giving up a sack to Ravens Pro Bowler Michael McCrary, one of his 11.5 during the season.)
"We never used help protections with a tight end or back with Willie when he was in his prime," Alexander says. "It actually forced him to become a great protector and we were able to distribute our help and release everywhere. It really was amazing."
But the Bengals lost all those games that season on the way to a 4-12 record. It was the same thing when he blanked White in Green Bay during a Bengals' loss in 1998. And when he shut down another future Hall-of-Famer, Chris Doleman, as a rookie in San Francisco, it barley registered.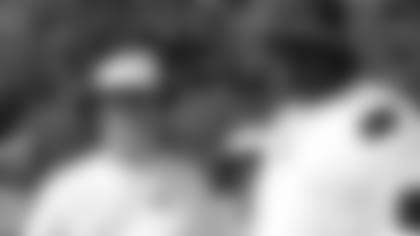 Bengals president Mike Brown (left), with Anderson at the last training camp, believes he is Hall worthy.
"No one cared. That's the game Dave Shula got fired," says Anderson of the Bengals head coach. "Nobody said a thing about going against Reggie White. I guess because we weren't winning. Nobody was really looking to talk about that stuff I guess because we were really struggling."
Anderson wonders what his Hall chances would have been if had listened to a friend of one of his agents.
"He told me, 'You've got to stop the humble stuff. You've got to talk about yourself,"' Anderson says. "But I played the good offensive lineman. I talked about the team and I was known as a great locker room guy. What's that mean? When it comes to this stuff, who cares if you're a good locker room guy?"
But down deep Anderson knows they do and that it matters profoundly.
"People who were around the game and knew football, they knew how good Willie was," Thornton says. "When I played with him he was such a great professional, great work ethic. It just made you respect all that much more."
And people were noticing. When the estimable Paul Zimmerman of Sports Illustrated put him on his 1999 All Pro team with Boselli ("Boselli,
quicker and more mobile, was going after people the way he did as
a rookie in 1995. Anderson started slowly but received
near-perfect grades from his position coach after midseason.), Anderson said, "That's back when Dr. Z's Pro Bowl team was big."
Anderson says he posted sack-less seasons in '02 and '03, but by this time Marvin Lewis had arrived to turn around the Bengals and that, in turn, shone a light on their best players. Anderson went to the first of his four straight Pro Bowls in 2003, about four years too late, according to his teammates and coaches.
"Small market, bad team. I think that's the only explanation" Thornton says.
Or, as Chuck Smith says, "It's like the thing with Terrell Owens. The true Hall-of-Fame receiver there is my man Isaac Bruce. He was just always so quiet, no one ever really noticed him."
After giving up one sack in the 2005 run to the AFC North title to the Colts' Robert Mathis, Anderson had one more gem left in him in 2006 when he doesn't recall allowing one the entire season and this time he was doing it in games the Bengals were winning.
The season's highlight was probably when he blanked Carolina's Julius Peppers, on his way to 13 sacks, in the Bengals' 17-14 win at home. He also stoned another 13-sack guy in Baltimore end Trevor Pryce, as well as the Ravens' 11-sack rusher Adalius Thomas and Suggs' 9.5 sacks. Anderson faced all three in the two games the Bengals split with Baltimore, going against Pryce on first down and Thomas and Suggs flopping on third down.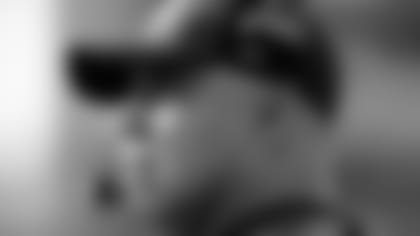 When Marvin Lewis arrived in 2003, Anderson started going to Pro Bowls.
He also solved the flopping Jared Allen and Tamba Hali in Kansas City in the opener the Bengals won on the road, a duo that went on to rack up a combined 15.5 sacks that season. Anderson blanked two more '06 double-digit sackers at Paul Brown Stadium in San Diego's Shaun Phillips (11.5) and Oakland's Derrick Burgess.
"They were saying at (age) 31 I was getting better," Anderson says. "I wasn't. I was doing the same thing when I was 22, 23 years old. People were just starting to notice, that's all. By then, with Marvin and Carson (Palmer) there, I was the last of a breed."
Although he's frustrated by the absence of his name in the elite discussions, he takes great pride in his reputation as a team leader and locker room savant as well as the crushing running combo he formed with Dillon.
They helped author what may have been  the greatest rushing season ever during a 4-12 year in 2000 when Dillon averaged 4.6 yards per carry despite starting quarterback Akili Smith averaging 4.7 yards per pass.
Look at how he shut down the NFL's best sackers and then there's this.
"We were doing that and Corey was still having 1,300, 1,400-yard seasons," Anderson says.
Ken Anderson can only get on the Hall of Fame ballot if the five-man senior committee nominates him as a senior candidate, which automatically makes him a finalist and up for discussion. As a modern era candidate, Willie Anderson has to move from the preliminary list of hundreds to the semifinal list of 25. Then after a vote to the final 15, those finalists are up for discussion on Super Bowl Saturday and need 80 percent of the 48 votes.
"He," Alexander says, "shut out the best of them."
Enough of them so Anderson should avoid a Hall shutout.
Bengals.com early Mock Draft. We couldn't wait. Neither could you.