ATLANTA - At the end of the long and exhausting media circus at the Super Bowl, one of the countless inquisitors of Rams left tackle Andrew Whitworth stumbled.
He had caught Whitworth musing about his first NFL start in the second game of his rookie year against the Browns and piped up excitedly, "Your first start was against the Browns with (Bill) Belichick?"
Hey, Whitworth is old, but he's not that old.
Yet that Paul Brown Stadium opener back in 2006 is relevant to him because in the run-up to Sunday's Super Bowl LII he has been watching tapes of all his past run-ins with Belichick, the Patriots 21st century Paul Brown head coach, most of them as the Bengals left tackle. And that one against the Browns counts even though he started at left guard in place of the injured Eric Steinbach because the Cleveland head coach was former Patriots defensive coordinator Romeo Crennel.
"I was laughing because I'm being asked if this is possibly my last game if I retire," Whitworth said, "and my first start in the NFL came against a Romeo Crennel two-gap defense and it's funny, here I'm facing an old two-gap defense."
Whitworth, 37, was the biggest grade schooler in West Monroe, La., when Belichick began coaching the Browns in 1991. But big nose tackle Ted Washington, who was a rookie that year, was still playing at age 38 and gave the 24-year-old Whitworth a glimpse of life in the AFC North. It's a life he'll re-live Sunday against another defense coordinated by a Belichick disciple headed to a new head coaching job when Brian Flores leaves the Mercedes-Benz Dome for the Dolphins.
"The style of the defense that people play, you do get a lot similar to what New England plays," Whitworth said. "A lot of big-guy-two-gap-butt-press type of defense in the AFC North. Just a bunch of big D-linemen. Definitely there's some preparation I'm used to."
No one has had much success against Belichick and quarterback Tom Brady and Whitworth's Bengals won just one of six games against them. That will happen when Brady completed 67 percent of his passes at 7.7 yards per throw for 13 TDs, three picks and a 105.4 passer rating while sacked nine times.
So Whitworth takes special note of that 13-6 win over New England at PBS on Oct. 6, 2013 best remembered for the monsoon that let loose the instant Brady got the ball back one last time with 1:48 left. He threw a desperation pick with 16 seconds left, but he didn't throw a TD in the first dry 58:12, either, and saw his skein of 52 straight games with a scoring pass broken.
And Whitworth knows why. The Bengals sacked Brady four times and Cincinnati running backs BenJarvus Green-Ellis and Giovani Bernard split 32 carries for four yards per as they kept the ball for more than 34 minutes. Their two biggest plays of the day, a 28-yard run by Bernard and Andy Dalton's 28-yard pass to wide receiver Marvin Jones, came on the last two snaps of the third quarter in the game's only touchdown drive.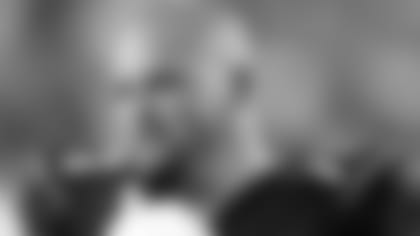 "Against this team, man, you have to execute and play good on defense because Tom is special," Whitworth said as he ran through his memories of that day. "If you don't affect him or get near him, you'll have a long day. Just the physicality. Their style is to play physical and keep Tom safe. And on defense make it where you have to march the field every time. If you can find a way to get explosives on them, if you can find a way to really run the ball well, you can have a chance. But you know what? Those are some of the things you have to do to beat the New England Patriots because they're not going to beat themselves."
The Bengals have not been far from his thoughts this week or all the others since they parted before the 2017 season. While he was waiting to play in L.A. on Sundays, a text message or two would sometimes get to the press box just before the kickoff. He says he envisions visiting Cincinnati often after he stops playing.
"I love the place," he said. "I watched every Cincinnati game and paid attention to all the guys and have been rooting for them, Seeing how things were going and who is getting better and who is a player for them. Guys may act like they don't pay attention to a place they played at forever. I don't think that's true. They are watching, I've never held that back."
So naturally while getting ready for the biggest game of his life, Whitworth has been relying on several moments from his 11 seasons as a Bengal. He recalled a conversation he had with Rams defensive coordinator Wade Phillips about moments.
"One of my favorite things is there is always going to be a moment in a game and literally that's the image I can remember," Whitworth said. "I can remember being in Pittsburgh in a huge game on the road at night and the towels waving and the music on and its third and eight. You're just sitting there waiting to get the call during the time out … I can remember those moments of the adversity, the crowd and you take a second and just look around and say, 'Man, this is amazing.' You can see why guys struggle when they get out of this because there is no moment of exhilaration and passion you'll ever have in those kinds of moments."
A lot of those moments are Bengals moments and one of the strongest is when they had the ball and the lead with 1:23 left in a PBS filled with a dancing, weeping throng of the faithful.
"Multiple moments. Big games. Big opportunities where you look around and say, 'This is why I love it,"' Whitworth said. "Even in '15 when we thought we had the play-off game won. The crowd is going crazy and you have an opportunity to win the game by just running the clock out … That's why that loss hurt people so bad … There's lots of moments in games where you reflect how special it's been to you."
He doesn't know when, but he knows another one is coming.
"Definitely. On the Super Bowl stage, I'm sure there'll be a moment. 'This is why you play the game.'"
Footnote: Whitworth's first NFL start on Sept. 17, 2006? The Bengals won, 34-17, behind running back Rudi Johnson's 145 yards. Mr, Gurley, Mr. Anderson and the rest of the Rams' running backs, the stage is yours.