INDIANAPOLIS - Count Bengals offensive coordinator Brian Callahan firmly in the John Ross Camp.
Wednesday morning head coach Zac Taylor and director of player personnel Duke Tobin shot down the Ross trade rumors and Wednesday afternoon Callahan outlined why.
How many receivers have the chance to revive their careers without leaving town and keeping the same quarterback? Ross gets that chance when Taylor and Callahan bring a new system built from proven runs with the Rams and Broncos.
"I'm excited about John Ross. I think he's got ability that is rare," Callahan said. "His speed is rare. Usually a guy is one of two things. Straight line (speed) guys are really fast or really quick and not very fast. He's both. His quickness jumped off the tape more than anything. His change of direction is really good."
The Bengals were mystified where Tuesday's report came from that said they were shopping Ross, their first-round pick in 2017. From their perspective, who is their third receiver behind A.J. Green and Tyler Boyd if not Ross? From the Ross camp perspective, talking a trade from the Bengals publicly is akin to running into a brick wall. Just ask Chad Johnson and Carson Palmer.
So where did the report originate? It doesn't seem to matter now because the Bengals turned aside the calls that came after the report.
Sure, Ross is still trying to find himself by taming his wild inconsistencies. He may have just 21 catches in two seasons, but seven are for touchdowns. That's got Callahan's appetite whetted.
"His production in the red zone was really interesting because you don't look at him and think 'red zone target.' His speed dictates he'd be something other than that. If we get seven touchdowns out of him again, I'll be really happy. That's really good production in this league. As for where he fits outside the red zone, I think there's a lot of places we can find the ball for him."
Maybe the best thing about Callahan is that he's not comparing Ross to anybody. People love to invoke Tyreek Hill or DeSean Jackson or T.Y. Hilton or … Callahan just wants Ross to be Ross. That's unique enough.
"I'm excited about finding a role for him in our offense," Callahan said. "He can play inside, he can play outside. It's our job on offense to get the most out of him. It just takes time in this league. Sometimes there are guys that have an impact immediately, but there are other players it takes one, two, three years to make the jump to be professional. I think it's a great challenge for us and John to make the jump and be a productive part of our system."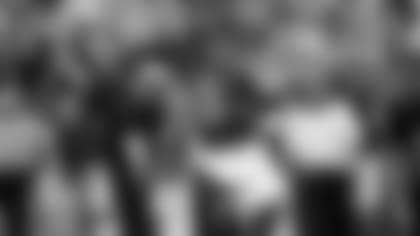 TIGHT FIT: Callahan would love to have a healthy Tyler Eifert and Tobin says they'll talk to the injury-plagued tight end about re-upping for another year. But Callahan isn't going to build the offense around him and he can't. The man has played 14 games in three years.
And this is one of those examples reflecting Taylor's vision of flexibility in all three phases. As long as you've got a tight end that can do both catch and block well, you can make it work.
"You don't always have that guy and you don't always need that guy, either," Callahan said. "Sometimes it's a luxury when you have someone that can go out there and be mismatched on safeties and linebackers and you know is going to win on third down and you know is going to win in the red zone. That's always nice to have, but I don't know necessarily you have to have that in today's NFL to be a good offense. I think the Rams kind of showed that last year.
"They're both solid players, but neither of them is going to strike fear in anybody as a match-up problem."
Not only is Eifert a free agent, so are the two tight ends behind him on the depth chart, Tyler Kroft and C.J. Uzomah. Callahan would like them back, too, because he says they can do enough catching and blocking.
"There are certain traits they have to fit," Callahan said of his tight ends. "They have to be able to do some things in the run game well enough and they have to do some things in the pass game well enough. Do they have to be great at either one? Not necessarily … I don't think you have to have a dominant tight end to be a good offense in this league. It's always nice to have one. But I don't think you have to have a player that excels at just one thing. As long as you've got a guy that can do a bunch of things well enough, I think you can have a productive tight end unit."
BUT …. But make no mistake about it. Callahan would love to use Eifert how the Raiders used tight end Jared Cook last season. They put him everywhere to torture safeties and backers. Callahan couldn't miss it on the tape of the Bengals' 2018 season that got swallowed up by injury.
"From start to finish, injuries certainly played a huge part in the difficulties down the stretch," Callahan said. "I hadn't realized how well they played on offense early in the year. There's a lot of good football put on tape offensively until the injuries derailed the momentum from early in the season. With a healthy unit, a healthy A. J. (Green), a healthy Andy (Dalton) for them last year with a healthy Eifert, that's a game-changing group of people playing well enough to win a lot of games."
COACHES NAMED THURSDAY: Taylor indicated he's announcing his roster of coaches Thursday, which means there are probably going to be seven holdovers from Marvin Lewis staff: special teams coordinator Darrin Simmons, secondary coaches Daronte Jones and Robert Livingston, wide receivers coach Bob Bicknell, quarterbacks coach Alex Van Pelt and offensive assistants Brayden Coombs and Dan Pitcher.
Simmons is the last man from Lewis' original staff in 2003 and in 16 seasons he's built an impressive resume that Taylor couldn't ignore. And with Taylor tied up hiring his staff, Simmons has been invaluable getting his side of the ball squared away.
"Darrin has been outstanding. He's been one of the premier special teams coordinators in this league for a long time," Taylor said. "He's got a full knowledge of the full roster and so certainly someone that I've leaned on. Darrin has been really impressive just in my short time around him. ..
"(It's) critical that you have that guy in place who has full knowledge of the roster, who is a really good coach, one of the best special teams coordinators in this league. All three phases are equal, so to have that one taken care of right off the bat was a big deal."