INDIANAPOLIS - It was fitting that director of player personnel Duke Tobin went to the podium 30 minutes before head coach Zac Taylor Wednesday, the day the new face of the Bengals management team made its national debut during the NFL scouting combine.
It was Tobin who chaired ownership's search that yielded Taylor, but the two have just begun to work together. When he assumed command earlier this month, Taylor vowed a same-page culture throughout the organization and that's where his relationship with Tobin and his staff sits as he's set to unveil his coaching staff on Thursday. Tobin realizes there is work to be done getting in sync with new coaches after 16 years of knowing the nuances of head coach Marvin Lewis' staff.
But they're off on the same page. Enough so that when some people at Paul Brown Stadium have gone looking for one of them, they have hurriedly coined a combination of Duke and Zac. Zuke. Or Dak:
_They agree that the John Ross trade reports are bogus and envision the third-year speedster remaining in Cincinnati.
"He's got a bright future here," Taylor said.
_They agree quarterback is not a need with Andy Dalton set to learn another set of plays from his fourth offensive coordinator in six seasons.
"We wanted guys that felt good about our situation," Tobin said of the search. "We talked to a lot of guys and almost unanimously people were positive about Andy and our situation at quarterback and having the opportunity to work with him. They like his experience level and his talent level."
_They agree that injury-riddled tight end Tyler Eifert supplies enough of a difference when healthy that the Bengals should at least talk to him about returning again after signing a one-year deal last year.
"At one point we're 4-1 and he was a big part of why we were 4-1. And unfortunately he got hurt again. And these are injuries that nobody can control," Tobin said. "I felt really bad for him because he was really starting to emerge as he did early in his career. But we'll be talking to Tyler in the offseason and see if there is a fit for us going forward. He's obviously a talented a guy. He's obviously a guy that can make a difference on your football team if he's on the field. I know he's as frustrated - probably more so than I could be or anybody else associated with it - but he's a prideful guy and I know he's going to work to get back on the field. "
_They agree that slot cornerback Darqueze Dennard, a key free agent, is a guy the club would like to re-sign. Taylor, who has visited briefly with Dre Kirkpatrick, one of his starting two cornerbacks, likes what he sees in the secondary.
"There's a lot of talent there. He's in the building. I see him walking around the weight room," Taylor said of Kirkpatrick. "Good personality. Good talent. Like all those DBs. That's a really good room back there. I think those guys have played well and will continue to play well. I'm excited to work with Dre and all those guys in that room."
_They agree that even though the coaching staff has been set late, it's better than panicking two weeks ago to get it done. And, they agree there's a proper dosage of college coaches (Jim Turner on the offensive line, James Casey at tight end) and pro coaches (returning special teams coordinator Darrin Simmons and defensive coordinator Lou Anarumo.)
"We've got a really nice blend of guys who understand the college game and understand the NFL game," Tobin said. "We thought that was important to add to our staff. How do you attack guys that are playing in that college game, because that game is coming into the NFL. So we were very mindful when we were putting our staff together on how to do that."
Taylor has no apologies for wrapping up the defensive staff so near the combine that the first acts of the defensive line coach and linebackers coach are going to be to scout prospects here this weekend.
"There's still a lot of time left. The important thing is evaluating our roster defensively, free agency and the draft. We'll get the scheme," Taylor said. "There might be some long weekends, some extra time put in. It was about getting the right people. You don't want to make that mistake and rush to hire people who a year from now you're going to regret … They'll be able to get the most out of these players because we do have a lot of playmakers on defense and it's important we play to their strengths and that's what we intend to do."
That's a big reason Taylor got the job. His view of the game matches up well with Tobin and ownership. There is much work to be done. But his feel for Taylor during the search was strong on such issues.
"It'll be a new group of guys and we'll have to gel and we'll have to figure out how we see players, and maybe we're seeing them the same way and just talking about them differently and so forth," Tobin said. "There will be a learning curve a little bit with some of the position coaches. Zac and I have been aligned from the start on what we're looking for and how we want our team to look, so I don't anticipate any issues there. My job is to make our coaching staff successful and help in any way that I can. The vision for that team will come from Zac."
When Tobin took over running the Bengals draft about a decade ago, he instilled a draft room culture of each selection is the Bengals' pick. Not a coach's pick or a scout's pick. That wasn't easy in a process once dominated by coaches in an organization founded by a coach that was also the team's best scout. (That's how you get your name on a stadium.)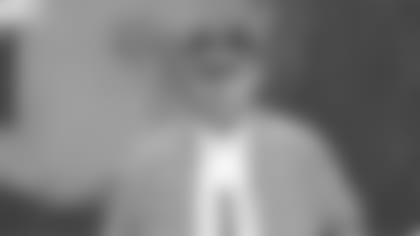 Lewis and Tobin made it work and Tobin is looking to keep a partnership going with Taylor.
"When we draft a guy, we want the guy to be all in on who we're bringing into the building. And so everybody that touches that player has to be on board," Tobin said. "And that's what we work so hard to get. We work so hard to get that, and then it feels good when you can pull a guy off the board, he's available to you, and everyone is pulling him in the same direction and not saying I didn't want him or you didn't want him. And that's something we've worked really hard to accomplish with Marvin and we'll accomplish that with the new group as well."
Reporters keep asking Taylor about that Super Bowl whirlwind. Coaching for the Rams in the biggest game of the year one minute and then running the Bengals the next. He's had Tobin at his side virtually all the way.
"We speak daily, hourly almost, making sure our communication is in line and we're all on the same page," Taylor said. "Working with Duke and his staff has been exceptional thus far and we're still early in the process. I really think the chemistry has been there and will continue to be there going forward."
It looks like Zuke and Dak are turning page one.