Lou Anarumo is multiple. Just the way Zac Taylor likes his football and his coaches.
Anarumo, installed Thursday as the Bengals defensive coordinator, is a Staten Island guy who raised his kids in the Midwest. The kid that went to Giants Stadium regularly growing up to watch his favorite player, Hall-of-Fame linebacker Lawrence Taylor, grew up to coach a Giants safety to the Pro Bowl. The guy raised in the NFL on former Bengals assistant Kevin Coyle's 4-3 defense in Miami got a blast of the 3-4 last season under James Bettcher with the Giants.
If that's not multiple enough for you, he's got three kids all born in a different state. New York (the Merchant Marine Academy). Massachusetts (Harvard). West Virginia (Marshall). The classic sign of career coach grinding up the ladder. Except on Thursday the 52-year-old Anarumo reached one of the top rungs when he was named a coordinator for the first time on any level.
"You never know," said Anarumo when asked if he had ever given up hope. "The league is volatile. One day it's this and the next day, there's the door. Concern? No. I value myself, I value the work ethic I have. I'm certainly not a guy that has an ego or any of that stuff. Good guy who works hard and respects people. At some point you'd like to think you get a shot. That's how I approached it."
Not only does he value it, Taylor covets it. Taylor had plenty of chances to go big time for a big-name-former-head-coach-DC after timing didn't help him early with a couple of his early moves. That's what the critics wanted. But Taylor was steadfast. He apparently wanted a certain kind of guy. "Good guy who works hard and respects people." He gave him his shot.
And here comes Anarumo with no gray areas; a no-frills-black-and-white-guy and solid customer from seven NFL seasons that is going to come up with a multiple (there's that word again) scheme that fits his talent and can communicate it looking players in the eye while calling plays from the sideline.
When he was the quarterbacks coach in Miami from 2012-15, that's what Taylor saw Anarumo do in the Dolphins secondary, the last 12 games as the interim defensive coordinator.
"He built a great relationship with his players and then was able to demand the best from them," Taylor said. "As a quarterback coach that went against his DBs and then as a coordinator that went against his defense, I always saw great detail in the technique and the back end always did a great job of communication. That starts with the DBs coach and then the coordinator, when he was the coordinator. I always thought the world of Lou. When you're on the opposite side of the ball and you go against him every single day, it was clear cut he was a good teacher, a good communicator and sound with his scheme when he became a coordinator."
Taylor feels like he can work with Anarumo because he already has. They're already used to barging into each other's offices.
'We would talk all the time. He'd come down to my office and, 'OK, what are they trying to do with this coverage?' Or, 'what's this defense?' I would go to his office and, you know, kind of go back and forth about the different schemes and how, 'Hey Zac, how did you see this? Where's the quarterback's reads?' That kind of stuff helps. It helps the players, it helps you as a coach and Zac has always been a detailed guy. He's always been a guy that's too the letter of the law in terms of staying on his guys and just an overall great guy and really polished and it's a great opportunity to get a chance to work with him again."
The Bengals once again showed Thursday they are all in on Taylor. As one Bengals insider said, 'The Zac Train is leaving the station,' and they are decidedly on it. Taylor has had a clear directive to assemble a staff and set up his program as he sees fit. While Anarumo met in Taylor's office with the two remaining coaches off last year's defensive staff, secondary coaches Daronte Jones and Robert Livingston, the drills hammering into place the new office space were deafening.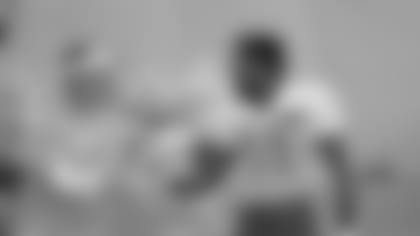 Taylor also has been ignoring the noise about taking more than two weeks to find a DC. The offensive staff has been set pretty much since he came in, but it didn't take the Bengals or him by surprise that it took some time to find his defensive staff given that he coached the Rams quarterbacks up until the last minute of a season that ended Feb. 4 in the Super Bowl.
"I just felt that, that was the right thing to do, not put together a staff until after the game was over," Taylor said. "It was easy to hire some guys on offense because I knew them all along, but I just really wanted to start that process when the game ended. IT feels like it's gone on forever because we're the last team to make these hires, but in reality, it's taken the same amount of time that you would normally take with a new head coach and the hires we've made. Again, it's just about the right people. There's plenty of really good coaches out there, we just had to find the right one that fit what we wanted to do, and we found that with Lou."
They now have a first-year head coach calling plays for the first time in the NFL paired with a first-time full-time DC. But Anarumo has been around. His M.O. in Miami and New York is that he's intense, but gets along with everyone, and that includes players and media. He's coached in a big media market in South Florida and an even bigger one in his hometown, so he's not fazed by the challenge.
"I think there is always going to be some things like, 'Maybe I would have done it this way' or maybe you'd lean on somebody," he said, "but I've been coaching a long time and I've been around a lot of great coaches, so I have some things I can go to based on experiences and guys I can call if there is something I need to, but I feel pretty confident in my ability to get this done and get these guys going."
Anarumo is looking to fill out his staff over the weekend with a linebackers coach and a line coach he can take to next week's NFL scouting combine. It sure sounds like he's keeping Jones and Livingston in the secondary, especially since Jones was his assistant for two years in Miami. The word in Miami was he had a good relationship with good players like Pro Bowlers Brent Grimes and Reshad Jones and he considers it a must.
"I'm going to be brutally honest and transparent," Anarumo said. "The only way for this to work, not only as a coordinator but certainly as a position coach, is if you don't have a line of communication and the players don't trust you, you have no chance. I've had really good relationships with my players throughout the years and it's something I've always been able to rely on. It's all good out on the practice field and in the meeting room. Stuff starts not going good on Sundays, that's when it's important to have a bond and a relationship and you're able to sit the guy down and have those hard conversations. If you don't have a relationship, you've got no chance. That's what I pride myself in."
Taylor seems to like the fact that Anarumo worked in Coyle's 4-3 that has some similarities to the scheme the Bengals ran so effectively under Mike Zimmer with the Double A gap blitz and taking advantage of press corners. That look got over hauled by different calls and technique last year with a new coordinator and they finished last in the league.
So is it back to the future?
"Lou has great familiarity at what's been happening here in Cincinnati for the last 15 years. We did a lot of that in Miami, and Lou has had other influences as well," Taylor said. "I know what I want to do but I wanted to hire people who had been influenced by other schemes throughout so that we could make this the Cincinnati Bengals. Same with Lou. Lou has a background as a 4-down scheme with a lot of people who have had a background here in Cincinnati, but he's also been influenced by a lot of other people he's coached with. He gets to bring all that to the table and find out what suits us best, and we'll put together a pretty good defense."
Because it sounds like Anarumo wants to use some of that 3-4 stuff, too.
"Obviously Kevin Coyle, I have the upmost respect for. He kind of raised me in this league and I think that a lot of the things that they did here at Cincinnati," Anarumo said. "Kevin had his own spin on things, too, down there. I think there will be some of that and have worked with James Bettcher at the Giants last year and their 3-4 scheme at Arizona that they had been so successful with. That, to me, is exciting because now we have a bunch of different things we can do. Be multiple is key."
Asked if he's tearing it up, Anarumo remained, well, multiple.
"It's just too early and I wasn't here, so I don't want to comment on what has and what hasn't been," he said. "I just know that I have an idea of what we want to do. If there's some carryover, great, if not then the guys will learn the new stuff we put in front of them."