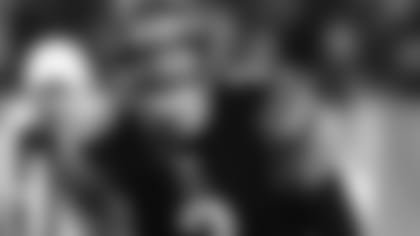 Kitna leaves Cincinnati after five seasons with the Bengals. (Bengals photo)
Jon Kitna leaves the Bengals as a playoff team Tuesday five years after arriving in tumult, and he's one of the reasons why.
Kitna, who showed up at Paul Brown Stadium to help rescue a team saddled with the struggles of a franchise quarterback, found himself looking through the glass again after signing a four-year deal in Detroit thought to be in the $10.5 million range but is more like $11.5 million for a $2.8 million average.
"They didn't sugarcoat it," said Kitna of his role on a team where Joey Harrington may no longer be the No. 1 QB now. "The main reason they want me is for my leadership. They need leaders there to toughen the resolve. I was one of the pieces (in Cincinnati) and I was happy to be a part of it."
The Bengals are still searching for that guy to replace Kitna as Carson Palmer's backup with Jamie Martin's visit not appearing to end in a signing. For the first time since that glorious Comeback of the Year season in 2003, Kitna thinks he's got a good shot at becoming "the guy" again for new a Lions coaching staff vowing jobs must be earned.
"Or else I wouldn't be coming here," Kitna said. "I think I've proven when I'm the guy and I've got nobody looking over my shoulder, I do pretty well."
Leaving Palmer is the hardest thing about leaving the Bengals, he said.
"My best friend in 10 years of (the NFL)," Kitna said.
Kitna indicated Tuesday if the money had been right back in October when the Bengals approached him about a contract extension, he would have stayed. It's believed the Bengals offered in the $1.6 million per year range, which would have put him in the top three of backup quarterbacks.
He certainly wasn't going to get the money he got from the Lions ($3.5 million to sign), but he said it was more about football than money. He admitted he got the urge to be a No. 1 quarterback again and there was nowhere else to go in Cincy.
"When that process went down, I just felt like it was God's way of telling me to move on," Kitna said. "It's no one's fault. It's just the way it is. I had a great five years in Cincinnati. A great ministry. It's going to be tough to leave, but we never thought we were going to be here forever."
Kitna, a Tacoma, Wash., native who played his first five NFL seasons with the hometown Seahawks, had never lived outside of Washington until he came to Cincinnati. He liked it well enough that he settled his family in West Chester, Ohio, and sent his foster son to Lakota East High School.
After touring Detroit last weekend and meeting with the new Lions staff led by head coach Rod Marinelli and offensive coordinator Mike Martz, Kitna said he and wife Jennifer felt comfortable. Much like they did on their first visit to Cincinnati. He called Marinelli "a straight shooter," like he did then-Bengals head coach Dick LeBeau.
And, like he had his old Seattle offensive coordinator Bob Bratkowski in Cincinnati, Kitna could tell Bengals quarterbacks coach Ken Zampese had worked under Martz in St. Louis.
"A lot of the stuff is similar because Kenny has been with him," Kitna said. "They do a lot of the same things."
The similarities are downright eerie. When Kitna arrived in Cincinnati, the Bengals were coming off a 4-12 season and quarterback Akili Smith, the No. 3 pick in the '99 draft, had been demoted as LeBeau went into his first full season as coach. These Lions under Marinelli are coming off a 5-11 season and Harrington, the No. 3 pick in the '02 draft, has struggled miserably. Kitna is confident it will be his job at some point.
"We'll see what happens," he said. "Joey is still here and he's a first-round guy. We'll see how it works out.
"I don't think it's the same that much. When I got there, Akili had only 12 starts, and the talent wasn't neary as good as it is in Detroit across the board."
Kitna easily ticked off the highlights of his five Bengals seasons Tuesday, led by his first game when the Bengals beat the eventual Super Bowl-champion Patriots at PBS in the 2001 opener.
"Then after 9/11 we beat the Ravens the year after they won the Super Bowl," Kitna said. "Even as bad as 2002 was at 2-14, it was the tightest-knit group of guys I've ever been with. Marvin's first season ('03) was great, the win in Pittsburgh and then (in '04) when Carson drove down the field to beat Baltimore. And there were some special moments last year. It was great the way this town came alive as we were going to the playoffs."
But what Kitna may end up remembering most is the first Bible class.
"There were two of us. There was me and there was Tom Carter," Kitna said. "Now it's thriving. Marvin has done a great job with that along with (chaplain) Ken Moyer."
A lot of prayers have been answered since then.
And Kitna is a reason why.
"When God tells you it's time to move out," he said, "it's time to move out."