William Jackson eyes a spring of healthy snaps.
The Bengals hold their first of nine voluntary practices Tuesday morning, which amounts to their first appearance on the field for the 2017 season.
So we'll volunteer that if defensive coordinator Paul Guenther has most of his spots locked up, he'll experiment a bit with whom to play with whom and when with an eye to jacking up the pass rush. While the offensive line faces transition early, the Bengals are putting the hat on an experienced but younged-up defense that didn't allow 20 points in six of the last seven games.
Welcome to Paulie G.'s spring lab. (Age and NFL years in parenthesis.)
DEFENSIVE LINE: DT Geno Atkins (29, 8), NT Andrew Billings (22, 2), DE Ryan Brown (22, 1),  DE/T Will Clarke (26, 4), DT David Dean (24, 1); LE Carlos Dunlap (28, 8); RE/T Wallace Gilberry (32, 10); NT Ryan Glasgow (23, R); T/E Marcus Hardison (25, 3); RE Michael Johnson (30, 9); NT Pat Sims (31, 10); DE Chris Smith (25, 4); DT Brandon Thompson (27, 6); NT Josh Tupou (23, R); DeShawn Williams (27, 2); RE Jordan Willis (23, R)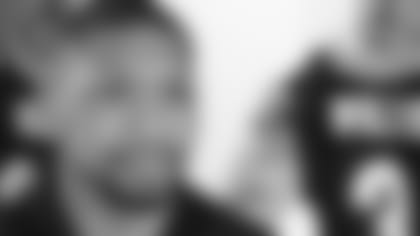 Jordan Willis, the third-round pick, puts his practice tenacity on display vs. the vets.
Don't think this is a tough business?   That's 16 guys for what figures to be nine spots with traditionally five ends and four tackles and about the only thing you can find out about these guys in May and June is how they look in their numbers. The pads mean everything in the trenches. So as iconic Bengals nose tackle Tim Krumrie would snort, "Underwear football," tells you nothing.
Except where they're thinking of putting guys. With the drafting of Willis and pass-rushing linebacker Carl Lawson, that could give them the chance to see their two long-time starting ends in occasionally different spots. Like maybe Dunlap at right end or perhaps Johnson inside in nickel for a few snaps.   
And, isn't that an interesting crew at tackle trying to replace Domata Peko next to Atkins? Billings, who was so impressive before he hurt his knee in his rookie training camp, says he's 100 percent. He may have a leg up for the job, but no one is counting out Sims. A seasoned run stopper, if Sims plays all 16 games this year he would quietly become the 10th defensive linemen to play 100 Bengals games.
But the young guns are lined up. Blue-collar, productive fourth-round picks like Glasgow have been big finds on this line and the gargantuan 350-pound Tupou may have the best shot of the undrafted rookies to make it. If Williams ("Pocket Geno,") has the kind of training camp he had in 2015 as a rookie, it would be tough to keep his inside pass rush off the 53.
 And don't forget Thompson, not seen since he tore his ACL in the 2015 finale during a season he and Sims split games on a defense that finished seventh against the run.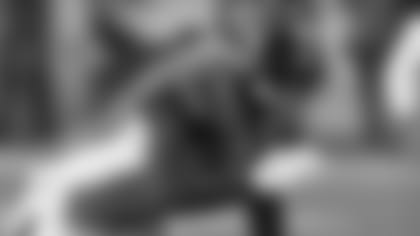 Wallace Gilberry's roster bid features experience and toughness.
Hardison is another intriguing fourth-rounder, but who knows if they may have a find here? He hasn't been healthy since that 2015 draft, but if his athleticism translates they would figure to have a guy that can rush from the inside as well as swing to end at times. And versatility like that is going to decide the end spots backing up Dunlap and Johnson. Those binoculars may be trained on a knock-down-drag-out training camp rumble among Hardison's athleticism, Clarke's youth, and Gilberry's savvy leadership.
Even if there are no pads, the debut of Willis should be a treat. Projected as a starting end down the road, he fights back questions about his size (6-4, 255 pounds) and strength with an out-of-this-world motor. His middle name is "Relentless," and as the South's Most Outstanding Player in the Senior Bowl and Big 12 Defensive Player of the Year at Kansas State Willis brings as many chops to the table as any rookie D-lineman to The Paul in recent memory. This quote from Willis' hard-to-please college Hall of Fame coach Bill Snyder is worth the price of admission:
 "Jordan is the epitome of what our program is all about.  He comes to practice exactly the same way he goes to a ballgame. If you were unaware of the setting, you couldn't tell the difference between what he does on the practice field and what he does on the game field. Like I have said so many times, he is a young guy who gives you his very best of every second of every minute of every hour of every day of every week. He has learned the value of that and what it has meant to him. He has allowed that to carry over into every aspect of his life. He is going to be a highly successful young guy in a lot of ways, because he is that committed to doing the best that he can."
LINEBACKERS: Bryson Albright (23, 1); Brandon Bell (22, R); Vontaze Burfict (26, 6); P.J. Dawson (24, 2); Jordan Evans (22, R); Marquis Flowers (25, 4); Carl Lawson (21, R); Kevin Minter (26, 4); Hardy Nickerson (23, R); Vincent Rey (29, 7); Nick Vigil (23, 2).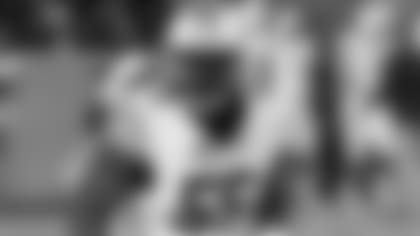 Auburn's Carl Lawson tries his hand at linebacker.
This has to be the toughest spot to crack on the roster, where they traditionally keep six.
 Maybe the most interesting thing to see is if Burfict gets any snaps in the middle in the base defense. He gets them in nickel, but with former Cardinals middle linebacker Minter on the scene we'll see if there are times they flip Burfict and Minter to keep the offense   guessing. If they want to, this is the time to try anything.
But don't ask head coach Marvin Lewis about SAM or WILL or MIKE because he'll tell you, "A linebacker is a linebacker." If all goes as expected, Vigil most likely starts out at SAM with Burfict and Minter, and Rey has often been the first guy off the bench in the nickel with Burfict.
Vigil figures to get a long look in the nickel, as does Evans, the sixth-round pick who blew through his 40-yards dash in 4.51 seconds. They may really have something here because he's every bit 6-3, 235 pounds, but they won't know Evans' physical side until the pads come on. But no matter, Evans is destined to get plenty of work for specials teams coordinator Darrin Simmons.
The most scrutinized guy here is going to be Lawson. After a career as a pass rusher at Auburn, he moves to SAM backer on first and second down before lining up as an edge rusher on third down. He figures to get 15-20 snaps a game there, but he's an athletic, all-out guy they'd like to get on the field more than that.
That's already six guys and there are still some formidable names beyond them in Flowers, who has 11 teams tackles in 32 games, and Nickerson, a take-charge middle backer who doesn't play like a rookie.
And then there is Dawson, a third-round pick in 2015 who has shown flashes of his pure playmaking at Texas Christian but hasn't been able to harness it consistently and took a detour to the practice squad last year.
You think this is a tough league? That's just six spots and a shoehorn.  
DEFENSIVE BACKS: CB Bene Benwikere (25, 4); S Demetrious Cox (23, R); CB Darqueze Dennard (25, 4); S Clayton Fejedelem (24, 2); S George Iloka (27, 6); CB William Jackson (24, 2); CB Adam Jones (33, 11); CB Dre Kirkpatrick (27, 6); CB Tony McRae (24, 1); CB KeiVarae Russell (23, 2); S-CB Josh Shaw (25, 3); S Derron Smith (25, 3); S Shawn Williams (26, 5); S Brandon Wilson (22, R).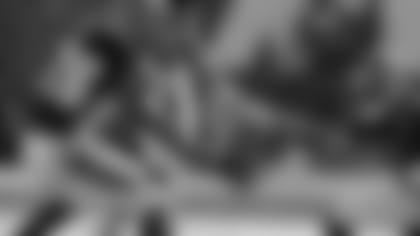 Josh Shaw (26), after the pick that secured last year's opener, is the secondary's swingman.
This position is about as cut-and-dried as it gets. Six corners. Four safeties. Jones and Kirkpatrick, fresh off a five-year deal, are the starting corners. Iloka and Williams, in the second year of multiple years, are the starting safeties. Unlike the D-line, you can get a pretty good idea what you've got for DBs in the spring even though they're not allowed to press the receivers.
But now the questions start.
-Can Dennard, in his fourth season after they took him with the 24th pick in the draft, anchor himself in the slot after a career of fits and starts? While they gauge Dennard, how much time is incumbent slot man Shaw going to register at safety?
-When it comes to first-round corners, does Jackson, as impressive last year as Billings before he suffered a rookie season-ending shoulder injury, pile up the snaps he missed while Jones and Kirkpatrick ready for training camp?
-When it comes to the slot, can Benwikere rehab his career with the Bengals?  He played 37 percent of his 800 snaps in the slot for the 2015 NFC champion Panthers and was rated by profootballfocus.com as the 50th best corner in the NFL. That came a season after the web site rated him 17th as a rookie.
-As the swingman Shaw gives them the ability to keep five corners and five safeties. Will the status quo of Smith and Fedjelem behind Iloka and Williams hold up? It's hard to see Wilson going anywhere after they traded up to get him in the sixth round. He hasn't had a lot of experience on defense, but his return ability has all the earmarks for a core special teamer.
-Is Fejedelem ready to make a run as a cover linebacker in nickel? They were really encouraged by the progress of last year's seventh-rounder and while he made a big impact on special teams they also think he might be able to help them from scrimmage in various packages.  He'll have some company as the Bengals look for that big safety to cover tight ends, like Shaw and Williams.
Tough league? Four first-round corners, two second contract safeties, a seasoned swingman and a coveted rookie? Welcome to the NFL.
Cincinnati Bengals host off season workouts at Paul Brown Stadium Practice Fields.