This was no Idle of March.
Not this week in Bengaldom. Here are six takes, a six-pack to kick back.
1. FREE-AGENT FRENZY: The week just ended may have been the Bengals' most aggressive and frenzied action in the first week of free agency since the unfettered process began 14 years ago.
Even more than head coach Marvin Lewis' first weekend that netted three defensive starters in tackle John Thornton, linebacker Kevin Hardy and cornerback Tory James, and an offensive anchor in tight end Reggie Kelly.
This time the Bengals emerged with Titans defensive end Antwan Odom, but not before they were forced to adjust in a fluid rush in which $100 million got shuffled around in a binge of contingency plans that began the morning free agency dawned last Friday.
They never stopped until they physically brought Odom back from the airport to sign the five-year, $29.5 million deal Monday night that ended the wackiest 72 hours in Bengaldom.
The week began with the mantra: Get The Best Defensive Lineman, and so it opened in negotiations with Detroit for the infamous no trade of Shaun Rogers.
The Bengals will forever be drilled on this one even though a guy that was heavily involved in the trade, Rogers agent Kennard McGuire, insists the Bengals weren't at fault when the NFL voided the trade because of a technical problem in the roster bonus language. That gave the Lions and Browns a second life.
McGuire reiterated this Friday that the Bengals have been wrongly portrayed. From willing to take the hit on a $1 million roster bonus to laying out the parameters of a long-term mega deal, McGuire said again, "The Bengals did everything they could to get Shaun. The fans shouldn't be left with the impression that they weren't aggressive or that they made a mistake."
Indeed, when the NFL voided the trade because of a technicality in the March 1 roster bonus language, both the Bengals and Lions objected strongly. But in the window of time it took the league to reflect on its decision and let the clubs know that, yes, the trade actually could go through the next morning, the Lions were allowed to leave the Bengals deal and go to Cleveland to make the trade for the player they wanted in cornerback Leigh Bodden.
And, McGuire insists that when Rogers moved his roster bonus date back a couple of days to help Cleveland get around the technicality that hung up the Bengals, which was merely to protect themselves if Rogers flunked the physical, McGuire said that his client would have done that for any team when he was told it was the best way he was going to get out of Detroit.
By the time the story hit the Internet Friday night, the Bengals were already in more trade talks, this time with the Jets for tackle Dewayne Robertson and over the weekend they agreed to send fourth- and fifth-rounders to New York provided they could work out a new deal for Robertson that would have to border on something like $20 million over the next three years because his original deal called for $18 million over the next two.
The numbers were close enough that Robertson got on the plane Monday morning and the story got leaked, but what happened next on Monday afternoon as the trade died is anyone's guess. Bengals head coach Marvin Lewis said it wasn't a matter of money and reports in New York surfaced about Robertson's bone-on-bone knee condition.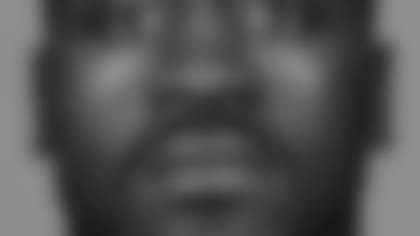 In between the Bengals were kicking the tires on Cardinals linebacker Calvin Pace, another major money player that ended up getting $22 million guaranteed from the Jets. As the Bengals mulled being competitive with Pace, who shares agents with Robert Geathers, they never pulled their eyes off Odom once they set up the Monday visit with him in the first hours of free agency.
At 26 and off an eight-sack season in his first season as a starter, Odom, is that kind of "ascending player" player Marvin Lewis loves.
Whether they could have signed both Odom and Rogers, Robertson, or Pace is a guess. The fact is they turned to Odom as quickly as they did Robertson and while they got Robertson on the plane, they kept Odom off a plane bound for Phoenix.
It was that kind of week.
2. TRIO GONE: Landon Johnson became the third Bengals defensive starter to leave via free agency in seven days when he went to the Panthers on Friday.
With the loss of Johnson, the club's leading tackler in three of his four seasons, and right end Justin Smith, fourth on the all-time sack list, the Bengals lose two productive guys stats-wise. In free safety Madieu Williams they lose speed and ball-hawking.
Johnson is the guy you would have liked to have had: Tough, smart, stoic, versatile.
As much as you might love Smith's motor, $45 million should bring 12 sacks. As much as you might love Williams' potential, $7 million per year is too much to pay a guy that was in the middle of defenses that finished 30th and 27th the past two years.
You get the feeling that if the Bengals offered him in January what they offered him Thursday night, he would have stayed. He can play all three backer spots so reliably.
It seemed to come down to starter money and the club must see guys like Ahmad Brooks, Odell Thurman, Eric Henderson and Rashad Jeanty making their moves. It's understandable for some housecleaning. The Bengals have been no better than No. 27 in defense with guys like Smith, Williams and Johnson the past three seasons. But Johnson was the guy in the moon suit who always cleaned up the mess.
He was always there when Nate Webster, David Pollack and Ahmad Brooks got hurt, and Thurman got suspended.
If the kids emerge and Dhani Jones can do what Johnson did in all three spots, the Bengals will take it.
3. BACK TO THE FUTURE?: Nine years and 11 months after the Bengals drafted them in the first round, linebackers Takeo Spikes (cut by the Eagles) and Brian Simmons (cut by the Saints) are on the street.
Spikes just turned 31. Simmons turns 33 in June. Both want to keep playing, but it doesn't look like the script is going to play out. At least right away.
Spikes couldn't be reached for comment. Simmons, cut by the Bengals just before free agency started last year, said he wouldn't cross anyone off the list.
"I'd consider it if they'd consider it," Simmons said. "I sure didn't play (much) last year, so I'm fresh. I know I can still play."
Just a few weeks ago at the NFL Scouting Combine, Spikes talked about how highly he regards Lewis.
You'd have to figure for anything to happen there, it wouldn't happen until closer to training camp and the Bengals discovered a sudden need. 4. NEXT?:
With about $4 million to spend and free agency plucked to the bone, the best place to look might be to the current roster. The first guy, of course, is Pro Bowl wide receiver T.J. Houshmandzadeh with one year left on his deal. It doesn't look like much is bubbling there at the moment. McGuire, his agent, has been tied up with Rogers and Javon Walker.
But there are also young established starters who have a year or two before they come up that could be targeted in defensive tackle Domata Peko and left guard Andrew Whitworth. The one thing free agency proves every year is that it's cheaper now than later.
5. PICKS FOR GRABS: The nice thing if the Bengals can lure tight end Ben Utecht away from the Colts in restricted free agency is that it would almost be like picking up two picks for defense. They don't have to give up one for compensation and they wouldn't have to use a draft choice on a tight end.
That would be big because you'd probably be talking about a guy fairly high, in the second or third round, and maybe the fourth.
But this one will go slowly because the Colts have the right to match, so he'll take a visit to the Jets and maybe New Orleans.
Another thing free agency reminds is that draft picks are like gold because, say, if you don't get a defensive tackle in the draft, you have to mortgage the house in free agency, make a trade, or shake your head.
Johnson's signing in Carolina means the Bengals probably get a compensatory draft pick in 2008 that is higher than a seventh-rounder. The formula takes into account the new contract and playing time, among other things.
6. FIRST-ROUND WORRIES: Maybe this is why the fans are out of sorts when a wide receiver and running back are discussed at No. 9 for the Bengals in the draft.
The Bengals top all-time runners and receivers have almost never come in the first round.
OK, for receivers, Isaac Curtis went in the first round. So did Eddie Brown. But Chad Johnson, Carl Pickens and Cris Collinsworth all went in the second and T.J. Houshmandzadeh went in the seventh.
Of the Bengals top all-time seven rushers, only James Brooks is a first-rounder and he was drafted by San Diego. In fact, none of the team's top 10 rushers were picked first by the Bengals.
Ohio State's Archie Griffin and LSU's Charles Alexander were first-rounders at Nos. 24 and 12, respectively. But in '76 the Bengals picked Oklahoma wide receiver Billy Brooks at No. 11 with their first first-rounder, and in '79 they opted for Washington State quarterback Jack Thompson at No. 3 before taking Alexander nine picks later.