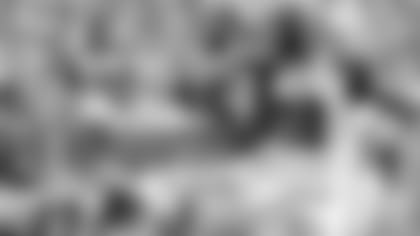 ](http://www.nfl.com/castrol-edge)
A.J. Green caps big day with game-winning TD catch, Andrew Luck's fourth-quarter comeback, Josh Norman's game-saving interception, Charles Woodson halts Browns and Julio Jones' two touchdowns key Falcons' come-from-behind victoryare the nominees for the CASTROL EDGE CLUTCH PERFORMER OF THE WEEK for Week 3, the NFL announced today.  The Castrol EDGE Clutch Performer of the Week is the best performer or performance of the week that represents strength in key moments. 
Fans may vote for one of these five performers on www.nfl.com/castrol-edge through Friday at 3 PM ET to determine the CASTROL EDGE CLUTCH PERFORMER OF THE WEEK. The winner will be announced Friday on NFL Total Access on NFL Network and then posted on NFL.com.
](http://www.nfl.com/voting/players-air-and-ground/2015/REG/3)
Quarterbacks Andy Dalton(Bengals), Tom Brady(Patriots)*andAaron Rodgers(Packers) and running backsDevonta Freeman (Falcons),Latavius Murray (Raiders) andAdrian Peterson (Vikings) are the nominees forFedEx Air & Ground® NFL Players of the Week* for Week 3, the NFL announced today.
In honor of Super Bowl 50, FedEx is celebrating epic air and ground performances from yesterday, today and tomorrow. Will this year's rookies become air and ground stars? Which veterans will join the ranks of air and ground legends?
Fans have the chance to weigh in and vote for the one quarterback and the one running back they feel had this week's most epic Air & Ground performances. Voting is open until Thursday at 3:00 p.m. ET at NFL.com/FedEx. As part of the FedEx NFL Air & Ground program and its commitment to serving the community, FedEx will support the American Red Cross by making weekly $2,000 donations to the local chapters of the winning players' cities. The funding is used to help assist the American Red Cross in its efforts to provide disaster relief and health services to Americans nationwide.