Western Michigan's Corey Davis is a small-school player with a big-time game.
INDIANAPOLIS - Here in the capital of conventions the Bengals are looking for a running mate for Pro Bowl wide receiver A.J. Green and the off-season long vetting continued at the NFL scouting combine.
From everyone's No. 1 wide receiver prospect (Clemson's Mike Williams) to a third-day projection (Texas A&M's Josh Reynolds), the Bengals are looking. Williams said he had a Friday night appointment with the Bengals for a 15-minute formal interview and Reynolds reported the Bengals put him through the paces on the grease board Thursday night.
"They corrected me on some stuff," said Reynolds with a smile during Friday's media availability.
But there's a big difference talking about taking a receiver at No. 9 and actually doing it. Especially for a team that only takes receivers in the top 15 when they need a No. 1: Green at No. 4 in 2011, Peter Warrick at No. 4 in 2000, Eddie Brown at No. 13 in 1985, David Verser at No. 10 in 1981, and Isaac Curtis No. 15 in 1973.
Green, as you know, is still around. But a young edge rusher is not. And with 58 wide receivers here this week the conventional wisdom is that, even more than usual, you'll get a good receiver no matter where you pick him.
But what kind? A serviceable No. 2 in the third or fourth rounds? Or a potential game-breaker with speed in the top 50 picks? This is a deep enough draft that when asked what the Bengals could get with their second-round pick at No. 41, one of their coaches allowed, "Anything you want."
They also believe there are a lot more receivers than last year, when they took slot receiver Tyler Boyd in the second round. Boyd is coming off the most productive rookie year of a Bengals receiver not named Green in the last 35 years and now that he's got a year under his belt they're looking for him to increase his yards after catch and plays down field.
They're hoping to re-sign wide receiver Brandon LaFell after his solid year starting opposite Green but they're looking for more over-the-top speed so that defenses get back to playing them like they did when Marvin Jones gave them something to fear on Green's flank.
They may have it in a long-strider in Cody Core, last year's sixth-round pick who clocked 4.47 seconds here last year in the 40-yard dash.
"Cody Core is fast. He can go over the top," said offensive coordinator Ken Zampese in the hallways this week during a combine break. "We just need reps doing it with him where we're comfortable with landmarks, tracking speed, throwing the ball to that body at that speed.
"He's really green. He's learning the spot. He's learning our offense and the things he does well we're able to see. Catch balls down the field. The speed and the strength running through arms. He's a very strong, a very strong runner."
But the Bengals could make a bold statement about their offense by taking at No. 9 Williams or Western Michigan's Corey Davis, the draft's two best receivers. The only doubt that seems to be lingering with the 6-3, 218-pound Williams and his monstrous red-zone presence is his speed and since he passed on the 40 here there won't be a new time until his March 16 Pro Day. There won't be a new 40 time on the 6-3, 209-pound Davis until mid-April, when he should he healed from two torn ankle ligaments.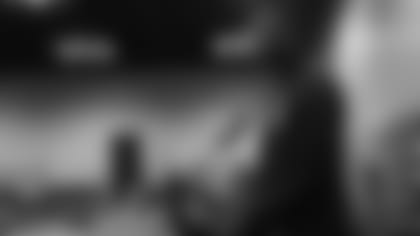 Mike Williams has an eye on A.J. Green.
But Davis is going to run well. The only doubts with him seem to be his college competition even though Pittsburgh's Antonio Brown bolted out of his conference to snag the league's richest receiver contract last week.
"My mindset is I can compete with anybody," Davis said Friday. "It really doesn't matter who's across from me. They bleed red like me. I'm not afraid to go against anybody. As far as the level of competition, we've played Big Ten teams and we've competed with those guys, so I'm not afraid of anybody."
You can check the Big Ten box. Davis finished a productive ten career games against the Big Ten when he had six catches for 73 yards and a touchdown against Wisconsin in the Cotton Bowl and he seems to fit the box that Bengals director of player personnel Duke Tobin says a small-school player needs to pass muster.
"When you look at small school tape the benchmark is you don't have to be
an NFL scout to pick the guy out," Tobin said. "Anybody can pick this guy off of that tape. If that's not the case you might want to move on to another guy. He's got to dominate that level. He's got to be a real factor for his team and he's got to be recognized around the conference as a real guy, not just a guy not producing."
The numbers say it. Davis is the first player in FBS history with 300 receptions, 5,000 yards and 50 touchdowns in a career. His 17 touchdowns led country this year and he's the FBS's all-time leader in receiving yards.
"I would think the hardest position would be offensive line," says Bengals head coach Marvin Lewis of judging small-school talent. "I really think that would be hard. I think cornerback could be hard. Some of your most important positions to your football team would be hard because the skill level and the characteristics of the people they're competing with probably aren't on a par week in and week out with what they're going to have to be productive and win against in the NFL.
"I think with wide receiver the measurable is speed and function and if a guy dominates at that level and he has physical tools, and the intellect and so forth, he's got an opportunity. There's been a number of wide receivers who have been very, very productive as players in the NFL that didn't play in your major BCS schools.
But under Lewis the Bengals haven't taken small-school receivers. Really, no small-school players of any note. Of the 21 receivers the Bengals have drafted since 2003, only two, Nevada's Maurice Mann in 2004 and Coastal Carolina's Jerome Simpson in 2008, got the call. Since Green got drafted in 2011, the nine Bengals receivers have come from the SEC, Pac 12, Big Ten, the ACC, and the Big 12.
But Davis clearly has what the Bengals are looking for in a receiver.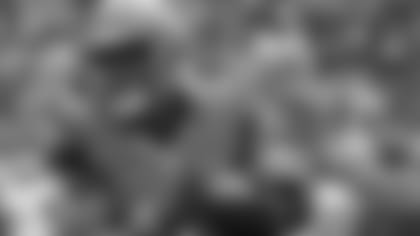 Cody Core, last year's sixth-rounder, is looking to run with Green, too.
"We've always liked production. We've always liked guys that have meant a lot to their college team, that can be a focus of the college team," Tobin said. "I'll give you an example: Boyd last year at Pittsburgh. He was the focus of what they did there for a number of years. If it's good enough for them – they have talented coaches – they can see what the talent is, and they can choose to feature a guy or not. We like when a guy is featured. Doesn't mean he has to be featured, but that's a very positive trait that we look for."
The rugged Williams has all of that, of course. Especially the ability to make something happen after he catches it and on big stages like the national championship game.
"Obviously we look for size, speed we like guys that can catch in traffic," Tobin said. "That shows certain toughness. That's how you kind of weed out the guys who might be on the fringe whether they really like the game or not. Do they catch in traffic? And can they hold on to it in traffic? And then the other component that is really valuable to us is the ability to run after the catch. Are you a down easy guy? Do you catch and fold? Or do you catch
and run? We're looking for guys to catch and run."
It turns out that Williams is the polar opposite of LSU running back Leonard Fournette. Fournette watched nobody growing up and watches nobody now.
"I take stuff from every receiver in the NFL," Williams said. "A.J. Green, Antonio Brown … I just try to make everybody's game part of mine.
"Just(Green's) speed, versatility. You know he can go up and get a deep ball, you know he can run by you, have fun blocking you also, making big plays on the edge."
Williams likes the way Green goes up and gets the jump ball and he would mind if the Bengals called and he wouldn't always be the focal point.
"That would be perfect," Williams said. "Just to have somebody on the other side who is a playmaker. That would be something special."
Williams, who carries himself quite confidently but doesn't bang you over the head with it, isn't worried about that 40.
"Jerry Rice didn't run a fast time. Antonio Brown didn't run a fast time. He's the highest-paid receiver in the league right now," Williams said. "It's all about just playing football if you look at it at the end of the day."
That's how the Bengals look at it, but they're also looking at the receiver times in the Green-Dalton Era and the only one that didn't break 4.4 and still got drafted in the first round was Laquon Treadwell last year. Williams is still going to go high, but the 40 will probably tell you how high.
And even if he blisters it, history says he, and maybe even more Davis, are Bengals longshots. Williams seemed to get that sense, too.
"They got AJ, they have a great quarterback to get him the ball," Williams said. "We'll see what happens."
A look at the NFL Combine Fan Experience.