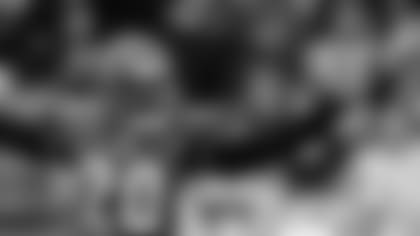 James: Calming veteran presence (Bengals photo)
The rookie stood in front of the forest of microphones to accept the accolades and the veteran planted himself next to him and egged him on.
Then Brian Simmons moved away with a smile and Odell Thurman, the reigning NFL Defensive Rookie of the Month, called after him, "Oh yeah, I couldn't have done it without (No.) 56."
This is what Simmons likes about this team. The mix of veterans and rookies. The mix of veterans who have survived here and the mix who have won elsewhere, and the rookies that play fast, hungry, and well.
"We used to bring in guys who were on playoff teams, but they were more like innocent bystanders," Simmons said. "Now we have guys who were big contributors."
If the Bengals sound like they are ho-humming 3-0, indeed sound like they expected to go 3-0, and are talking only about playing on instead of playing off, it's because they have guys who have done a lot more than this.
There are guys like defensive tackle John Thornton, who has started seven playoff games, cornerback Tory James, who has three playoff interceptions, and safety Anthony Mitchell, who ran the Ravens into the AFC championship game on a 90-yard sprint with a blocked field goal to break open a divisional playoff.
And there is a grizzled Pro Bowler like right tackle Willie Anderson (145) and a franchise staple like center Rich Braham (132) who have played a combined 277 games for the Bengals without going to the playoffs.
NFL'S TOP ACTIVE NON PLAYOFF GAME STREAKS:
Lions S Bracey Walker 153 regular-season games without a playoff appearance, starting in 1994 Bengals T Willie Anderson 145, 1996 Bengals C Rich Braham 132, 1994
If the Bengals sound grounded, it's because they have players who have done both. Simmons has played in 34 wins since he arrived in 1998. The Bengals have a combined 38 postseason games on the active roster.
Thornton actually mused earlier this week, "Whatever we are, 2-0 or 3-0, I don't know," and why not? During his first two years in the league, he was on a Titans team that had back-to-back 13-3 seasons before it went 11-5 in 2002, his last year with the team.
"It's just way early," Thornton said. "Eight and one, 9-2 then you can start watching yourself. We're not good enough to think to be reading what people are saying about us. I don't need to read what people say is going on here because I know. We're going to stay hungry and play with energy."
BENGALS PLAYOFF GAMES active roster only (Denotes starts):
CB Tory James, Denver, Oakland 11 (3) DT John Thornton, Tennessee 7 (2) S Anthony Mitchell, Baltimore 6 G Bobbie Williams, Philadelphia 4 (2) FB Nick Luchey, Green Bay 3 TE Reggie Kelly, Atlanta 2 (1) OL Larry Moore, Indianapolis 2 (2) QB Jon Kitna, Seattle 1 (1) DL Carl Powell, Chicago 1 CB Deltha O'Neal, Denver 1 DT Bryan Robinson, Chicago 1
James has become a mentor for not only cornerback Deltha O'Neal and his playoff game with Denver, but for the young players in the secondary who have never been better or worse than 8-8.
"Keep up what you're doing. We're playing as a team. That's what matters. We really are playing together," James said. "I talk about it with them all the time. I don't mind being (the elder statesman), it's what I am."
It's why James, Thornton, and linebacker Kevin Hardy were Lewis's three signings in his first 36 hours of free agency.
"You've got to have veterans with some grit and understand what winning and losing is all about," Lewis said.
Veterans who know the only thing won in September and October is the right for heartbreak in November and December.
"Playoffs? It's too warm to be talking about January," Anderson said. "Things can go in the other direction pretty quickly. If we're still winning along Week 10, then you can get pumped up. I remember (Patriots quarterback) Tom Brady saying last year, that's when the good teams start revving it up and the bad teams pack it up and go home." <:p>Thornton, who only played in one Super Bowl despite a 44-20 record with the Titans, said "It's hard even after going 7-1, 8-2."
In his 11 seasons he was an assistant coach with the Steelers, Ravens and Redskins, Lewis didn't go to the playoffs five times. He knows what kind of guy gets there. The number of postseason games on the roster grows to 43 when defensive end Duane Clemons returns from suspension Monday, 42 of which Lewis added.
"Fred McAfee in Pittsburgh. In Baltimore, Shannon Sharpe, Ben Coats, Sam Gash," Lewis said. "Here, it's why those three guys from winning programs were brought in."
As if on cue, Sharpe, in town for CBS, walked off the practice field Thursday looking like he could win a fourth Super Bowl ring as a Pro Bowl tight end.
"You have to have guys that understand what it takes to win," Sharpe said. "What it's like to go to practice every day, go into the training room to make sure you get your treatment. You need the older guys to be there to teach the younger guys that nothing else matters here. World affairs, religion, politics, that's not here. Here is for football. Guys that have been used to being in playoff games, or Super Bowls, or Pro Bowls, that helps your coaches. They're not the guys in the locker room."
Working toward a common goal
James played in a Super Bowl for Denver and started one for Oakland. He has been saying it's early, but this team is playing together and being together as well as a team he's been on in his 10 seasons.
"I've been on three Super Bowl teams and the one thing on each of them is that the core guys knew it didn't matter who got credit for the success," Sharpe said. "Everyone is going to have their day. It doesn't matter. If you're going to be a playoff team, you need guys that sincerely care about each other's well being. Chemistry is extremely important."
Bengals defensive lineman Carl Powell played two games for the Super Bowl Ravens of Sharpe (and Lewis) and remembers the strong veteran influence of guys like Rod Woodson, Ray Lewis, Tony Siragusa and Jamie Sharper. Powell, a seventh-year player like Thornton, says, "John Thornton is a young guy."
"This is a totally different team than that one because this one is younger," Powell said. "That was a real veteran team. But there are still enough guys around here that know how to practice and know how to win. It is a good mix."
Safety Kevin Kaesviharn, who has been here since 2001, says the Bengals are clearly playing with the confidence of a team that's been there even though it hasn't.
"That has to be a help to a lot of our guys that haven't been in this situation much," he said.
When Clemons returns, that will make a dozen players who have played in at least one playoff game, still less than a third of the roster. But enough.
"I think one thing Marvin knows from Baltimore is you have to have the right mix," Sharpe said. "You can bring in some guys, but the backbone of your team has to be the first, second, and third-round picks. If those guys don't make it, then you have to bring in free agents and overpay them. I don't think that's something they really had here before. They'd have a first-rounder and let him go in two years, or he wouldn't make it, and they'd have to move on."
Sharpe can definitely smell a whiff of the build-by-the-draft Ravens at Paul Brown Stadium. The linchpins of the emerging defense are second-rounders in Thurman and free safety Madieu Williams. First day picks Anderson, Carson Palmer, Levi Jones, Chad Johnson, Eric Steinbach, Chris Perry, and Chris Henry populate the diversified offense.
Name a category of player, and the Bengals have it. From a street free agent like Kaesviharn to a two-time Super Bowler in James. It seems to explain the clear-headedness.
"I think it's because we've been on the other side, too," Thornton said. "We've been 0-3 and 1-4. We know what can happen. Let's let it play out. And the coaches have been doing a good job of keeping everyone in check."
It sounds like, at 3-0, this has been a coach's week. Lewis didn't rely on his savvy veterans. He did some research and let his team know that last year the Texans were 0-2 and went into Kansas City and knocked off the Chiefs.
Oh yeah, he's been there, too.
On Sunday, Lewis coaches his 36th game for the Bengals. He's coached 13 in the playoffs.
"I got them this week," Lewis said.